As the second biggest Proof of Work network by market capitalization, Ethereum not only has the biggest blockchain developer community, but also serves as the base camp of GPU mining.
Ethereum was launched in 2015 as an open-source blockchain supported by a global system of nodes that enables the creation of smart contracts and distributed applications. It has an associated cryptocurrency, ether, a digital asset that fuels the network.
In early 2016, f2pool became one of the earliest pools in the world to support pooled Ethereum mining. Now, let's explore the world of Ethereum mining together!
What is Ethereum mining?
General overview
Mining is a way of producing blocks and verifying transactions, securing the network, and receiving rewards based on the current iteration of Ethereum's Proof of Work consensus.
Ethereum mining requires GPUs to compete for newly minted ether from the network. The Ethash mining algorithm Ethereum uses utilizes a DAG (directed acyclic graph) file, which is a data block uploaded into the memory of the video card. This means you may have to upgrade your GPU's memory when the DAG reaches a certain size.
Basic information
The economics of mining
The Ethereum network does not have an established limit of ether in circulation, which means it is inflationary. However, with multiple inflation changes, hard forks, and protocol updates, the issuance will eventually stabilize.
In addition to receiving newly minted ether in the form of block rewards, miners also receive transaction fees, which have seen highs in recent days due to the booming DeFi sector.
Two block reward reductions have taken place so far. At this time, newly mined blocks pay out a block reward of 3 ETH and a block is mined approximately every 13 seconds on average.
Unlike many other blockchains, Ethereum is designed to reward miners for producing blocks even if they don't make it to the longer chain. This is known as a stale block, which can be included in the chain as an uncle block. Uncle blocks earn 75% of the regular block reward.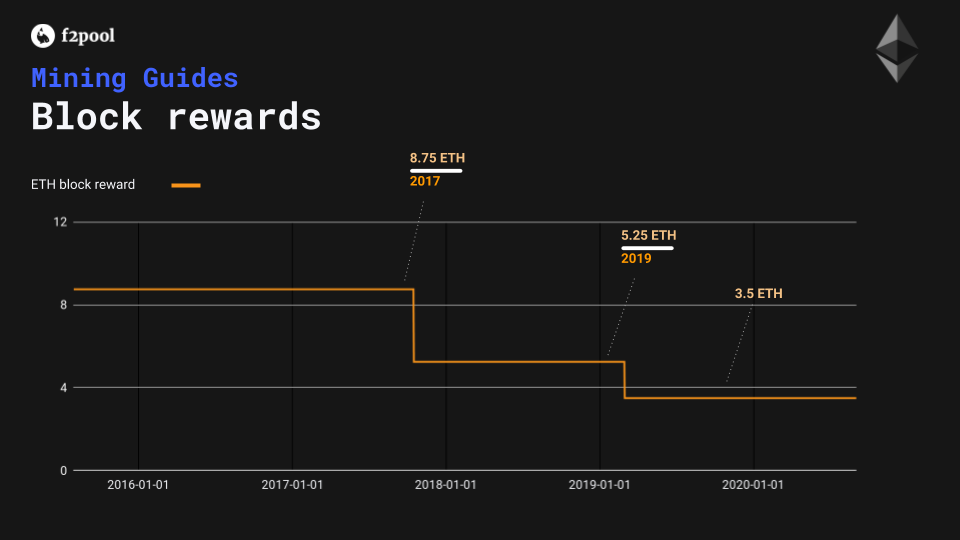 The future of Ethereum
According to the initial design of the network, Ethereum has had a long-term aim of transitioning to Ethereum 2.0 with Proof of Stake consensus.
During the first stages of the PoS Eth2, PoW miners will still receive rewards from mining, but they will gradually decrease after the improvement proposal EIP-1599 decreases transaction fee revenue.
Traditional miners will be able to continue mining Ethereum on the PoW chain until Phase 2 of Ethereum 2.0. This is not expected to take place for approximately 1 to 2 years. The launch of Eth2 is planned in 4 phases, but as with many software projects, there is uncertainty around the timing of each Phase.
Current Ethereum miners can still look into the staking field. Starting with Phase 0, users will be able to stake their ether and earn rewards by running their own validators or by delegating this task to professional validators like stakefish, which offers non-custodial, hands-off staking services for 0.1 ETH per validator.
What hardware do I need to mine Ethereum?
✅ Ethereum can be efficiently mined with Ethash ASIC mining machines and GPU devices over 3 W/M.
❌ Ethereum cannot be efficiently mined with CPU cards or standard GPU devices
💡 Some models will fluctuate between profitability and unprofitability due to changes in the Ethereum price
Hardware requirements
The DAG file size increases by 8 MB every 30 thousand blocks, and a DAG is created every epoch. As time goes by, GPUs with more memory capacity are required to mine Ethereum.
Together with the network hashrate increasing and higher difficulty, today's GPU devices suitable for mining Ethereum have at least 3.3 W/M of power.
A few ASIC models have also been developed for Ethereum mining, usually mining at higher profitability with lower power consumption.
Some home mining still takes place, but today mining operations are typically run by professional firms with mining farms in parts of North America, Russia, China, and other regions that can offer low electricity prices. Lower electricity prices mean lower operating costs and better profit margins. Many mining farms provide plug-and-play solutions, including device purchasing, hosting, transportation, deployment, maintenance, and so on. Please refer to our Mining Farm page for more information.
Mine more efficiently
The lower the unit power consumption compared to the hashrate, the higher the mining efficiency.
The latest ASIC models can reach unit power of about 1.5 W/M and achieve electricity cost rates of less than 10%.
Check out the f2pool Popular Miners page for detailed information such as hashrate and power consumption for Ethereum mining devices.
Ethereum devices can also be used to mine other cryptocurrencies that use the same mining algorithm as Ethereum. For this case, use our [Popular Miners page](Popular Miners to review the most profitable coins to mine with your device.
How do I set up the software and create an account?
Step 1: Create a wallet address
Creating a wallet address is always the first step when diving into a new blockchain network. You'll need a wallet address to check and receive payouts to mine Ethereum with f2pool.
You can choose to run a full node as a wallet or use another wallet solution. An extensive list of wallet options is available on the ethereum.org website. You can also choose an exchange. Note: You should always do your own due diligence when choosing a wallet provider or exchange.**
Step 2: Create an f2pool account
You'll need to create an f2pool account before mining Ethereum. If you don't have one yet, please click here to register.
Set a username. This will be required for configuration. You are free to create multiple subaccounts to monitor your workers/miners.
Now add your Ethereum wallet address created in Step 1 and add enter it in the payout settings. You can set a payout threshold and check hashrate changes and your rewards once you start contributing mining power.
You can add or change your payout address in your Payout Settings. f2pool distributes mining revenues on a daily basis to every user who reaches the payout threshold.
Step 3: Configuration
Now that you have a wallet and an f2pool username, you can proceed to obtain the mining software for your mining device.
Claymore's Miner and Bminer are popular options for mining Ethereum. Custom f2pool versions pre-configured for our pool are also available.
You can also check our Mining Hardware Tools page to download the necessary software for setting up your device.
After you have downloaded your chosen mining software, uncompress it, find the start.bat or start.cmd file, right-click on it, and click Edit.
Replace the file's existing commands with the commands from the chart below that correspond to your chosen mining software.
| Software | Commands |
| --- | --- |
| Claymore | EthDcrMiner64.exe -epool eth.f2pool.com:6688 -ewal username -eworker worker_name -epsw x -asm 2 -dbg -1 -allpools 1 -mode 1 |
| Bminer | bminer -uri ethproxy://username.worker_name@eth.f2pool.com:6688 |
Replace username with your mining account name or Ethereum wallet address.
Finally, save the start file and exit. Double-click the start file when you're ready to start mining.
Ethereum mining pool servers
| Location | Server |
| --- | --- |
| EU | stratum+tcp://eth-eu.f2pool.com:6688 |
| NA | stratum+tcp://eth-us.f2pool.com:6688 |
| CN | stratum+tcp://eth.f2pool.com:6688 |
Example configuration
A miner with the mining account username oceanminer and a worker named bigfish1 who wants to connect to the NA server would configure his device as follows:
URL: stratum+tcp://eth-us.f2pool.com:6688
Username: oceanminer.bigfish1
Password: 123456
Once you've configured your device and saved your settings, you're ready to start mining and earning rewards. You are not locked into f2pool and can enter and exit the pool freely at any time. However, you will only earn mining rewards from f2pool while connected to an f2pool server.
How do I check my rewards?
Now that you've started mining, you can calculate the revenue your devices are generating. We'll also give you an overview of how fees and payouts work with f2pool.
Check the block reward on-chain
Visit the Ethereum block explorer to get a better understanding of the decentralized world you're powering with your hashrate. Input your wallet and transaction details to find on-chain information, such as payouts from f2pool.
Calculate what you can earn
Measure your revenue
The number of coins you can earn is primarily based on how much hashrate you have. You can measure estimated daily revenues using your Mhash/second to calculate the number of coins you can mine and multiplying this number by the current exchange rate for your target currency (e.g. USD or EUR). You can use this hashrate conversion tool if you prefer other units than Mhash/s.
Factors affecting profits
At a given Ethereum price, the biggest factor influencing your profits is your costs, which are highly dependent on your mining machines. In turn, electricity and the overall cost of your hardware are the main factors that influence your costs.
Mining difficulty, payout schemes, and fees can also affect your profits.
f2pool calculator tool
You can use our calculator tool to easily estimate your potential revenue from popular mining machines.
Verify your payouts from f2pool
Once your device has started mining and submitting data to the pool, you can access real-time reward records from f2pool.
View your records
As long as your miner is submitting your hashrate successfully, you will receive payouts from f2pool.
To view your real-time Ethereum mining payout records, visit the f2pool website and sign in to view your records.
The f2pool app is also a convenient option for checking your rewards.
How f2pool calculates rewards
f2pool calculates rewards using PPS+ (Pay Per Share+) and charges 2% from your rewards as commission. When the coins in your account reach the minimum threshold of 0.1 ETH, you will receive a payout within 24 hours.
Details about our payout method and fees can be found here.
Other options to consider
If it is not easy for you to purchase a mining machine or spend time maintaining the hardware, there are platforms that allow you to rent hashrate. Learn how to use popular hashrate rental platform NiceHash to mine with f2pool here.
Start mining today!
Now that you have all the info you need, it's time to start securing the network!
If you run into any problems mining Ethereum, please feel free to reach out to our customer service team at support@f2pool.com, open a support ticket, or start a conversation on Reddit.
To stay updated with the latest Proof of Work news and developments, follow us on Twitter!
Happy mining!