Dogecoin's all-time high was in early 2018 when it reached $0.017 a coin. This resulted in a total market cap of around $2 billion. Its history has always been a little bit random, but in 2014 random block rewards were forced to RIP.
Not everything in the cryptocurrency world is deadly serious. In between the projects trying to change the global financial system and those that are outright scams, there's the 400-million-dollar meme called Dogecoin (DOGE).
Part joke, part attempt to make cryptocurrencies appeal to the masses, Dogecoin was announced on bitcointalk in 2013. It was developed by Billy Markus and is based on the Litecoin blockchain. This means that every time Litecoin is upgraded, Dogecoin also benefits from the improvements. f2pool has supported DOGE mining since the very beginning, and miners continue to receive DOGE in 2020 through merged mining with Litecoin itself.
Much random, so wow
Similarly to Litecoin, Dogecoin mining uses the Scrypt algorithm. However, when it was first launched, the founders leaned on the underlying meme's randomness as much as possible.
So random, much random. In fact, as f2pool co-founder Chun Wang explains in this video, it ended up quite random. At least for a while.
Instead of the steady block reward of 6.25 BTC offered by Bitcoin, the original Dogecoin reward could be anywhere from one DOGE per block up to one million DOGE per block. But nothing is truly random on the blockchain.
In the original version of Dogecoin, the random seeds were actually generated from the previous block hash. This meant that the previous block determined the next block's value. Armed with this knowledge, f2pool was able to mine only high-value blocks and leave low-reward blocks to other miners.
Chun was well aware that Dogecoin was laying golden eggs, and f2pool didn't want this advantage to be noticed by others straight away.
Dogecoin was laying golden eggs. We wanted to keep this opportunity alive as long as possible, so we didn't try our hardest.

Chun Wang, Co-Founder at f2pool
Even though we made sure not to mine only the highest-value blocks, we were not the only ones who discovered the exploit.
Not so random after all
In early 2014, Reddit user DisappointedShibe made the following post to the /r/dogecoin subreddit:
Something is rotten in the state of doge mining
The "random" DOGE rewards per block are not random. In fact, the value of each block is predetermined by a simple equation applied to the hash of the previous block. A creative miner can take advantage of this fact to mine Dogecoin when the potential reward is high, and switch to Litecoin when the potential reward is low.
DisappointedShibe had noticed that, on average, the network was finding high-value blocks faster than it was finding low-value blocks. When the block was of low value, it would take up to 10% longer to mine than it should, and when it was of high value, it would take about 5% less time than it should.
The game was up.
Not long after, Reddit user u/paul_miner shared his own analysis to the same subreddit:
Some miners are getting a disproportionate number of big blocks
The analysis identified certain miners that were receiving more than the expected average of 500,000 DOGE.
Reward distribution in the past 12,694 blocks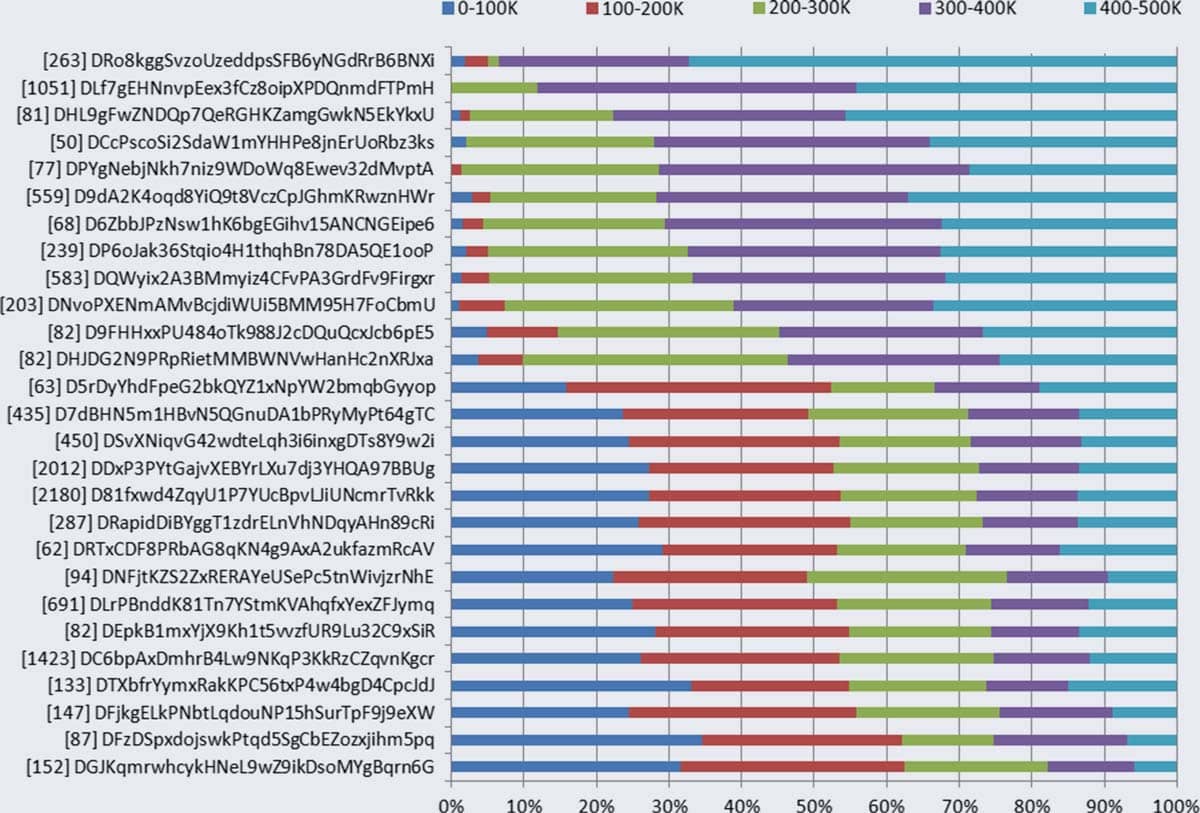 After these discoveries, the Dogecoin community explored a few solutions to fix the problem. Eventually, they decided to remove the randomness aspect of payouts all together.
Dogecoin's TikTok glow-up
Like many cryptocurrencies, including Bitcoin, Dogecoin's all-time high was in early 2018, when it reached $0.017 a coin. This resulted in a total market cap of about $2 billion.
Over the years, Dogecoin found its way onto the NASCAR racetrack:
Dogecoin has also been a hit on the slopes of Sochi. A crowd of self-proclaimed "Shibes" donated more than 26 million DOGE (worth around $33,000 at the time) to the Jamaican bobsled team, which was raising funds via Indiegogo. Those coins are worth about $86,000 in 2020.
Apart from the increase in the overall cryptocurrency market cap, one of the reasons DOGE has maintained its value in recent times is the recent push from TikTokers to try to get it up to $1 a coin. They may have underestimated just how much money would need to be poured into an asset with a supply of more than 125 billion coins to achieve that goal, but it gave the price a boost and probably helped introduce another generation to cryptocurrencies.
Much adoption, wow.