Block reward halvings for Horizen and Zcash have been scheduled, Bitcoin Cash has forked, and AION has an upgrade scheduled for December.
Bitcoin also reached a new high for 2020.
Bitcoin
For yet another week this year, the Bitcoin price has reached its highest point. Despite this, with BTC transaction fees cut by ¾ from about 200 BTC per day last week to about 50, mining revenues have not surged with the price increase.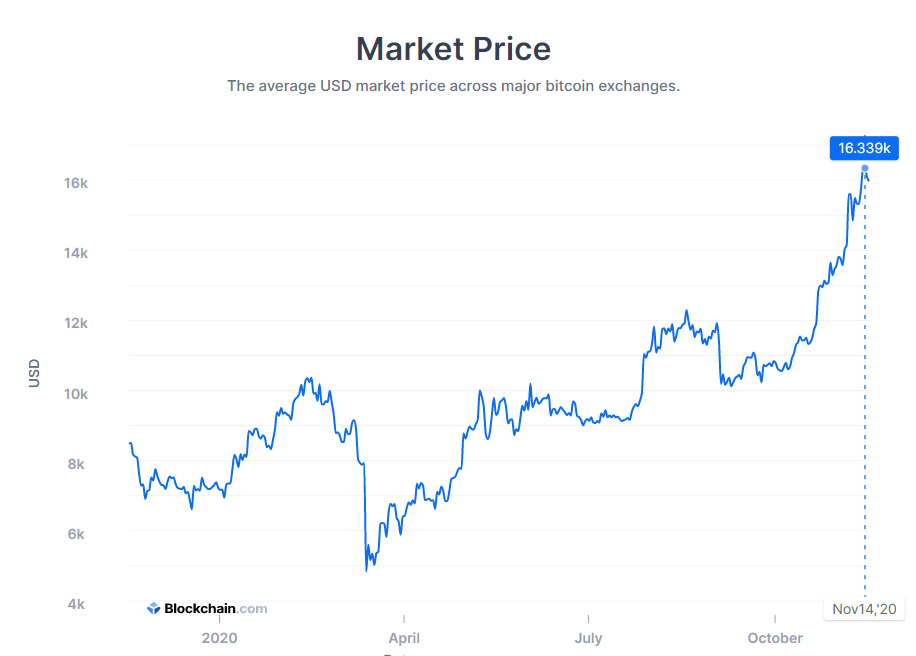 Source
Ethereum
On Nov. 11, at block #11234873, a chain split occurred that lasted 30 blocks, impacting users who had not upgraded to the newest version of Geth.
Geth released a post mortem of the event explaining further details.
Additionally, Geth released another update, v.1.9.24, a security release that fixes a consensus issue related to mining, which could have potentially triggered another chain split.
Ethereum Classic
In preparation for the Thanos hard fork (ECIP-1099), Core Geth v.1.11.17 has been released.
This update contains security fixes and solves an previous issue where some nodes of the same version could fail verification and reject some new blocks accepted by other nodes.
Zcash
The Zcash block reward halving will occur at block #1046400, which is estimated to be mined on November 18, 2020.
The portion of the ZEC block reward miners receive will be halved from 5 ZEC to 2.5 ZEC. This halving is periodic and programmed into the Zcash network's code.
Zcash v4.1.0 has been released. This release will bring faster synchronization during initial block sync for miners. It also brings a migration to Clang and static libc++, among others.
Horizen
Horizen's first block reward halving will occur at block #840000, which is estimated to be mined on December 2, 2020.
This halving will happen exactly every 840,000 blocks, or approximately every 4 years, which helps to keep inflation of the currency under control.
Bitcoin Cash
The Bitcoin Cash network completed its scheduled upgrade at block #661648, resulting in a hard fork splitting the network into Bitcoin Cash Node and Bitcoin Cash ABC.
Aion
On December 16, the Aion Network will go through a mandatory hard fork. The hard fork will bring an update to the Aion mining pool software, Aion Pool 3 (v0.1.2), which will recognize the new block reward system after the hard fork.
PoW Round-Up is our weekly report on the major news and mining insights in and around the Proof of Work ecosystem. Monitor and help secure the PoW world with f2pool. To stay updated with the latest Proof of Work news and developments, follow us on Twitter.