Despite the Bitcoin and Ethereum networks reaching new all-time highest difficulty levels, mining remains profitable, with even long-unprofitable second-hand machines being switched back on.
Learn about industry news, development updates, community happenings, and other aspects of the PoW world.
Mining industry
Bitcoin
The Bitcoin network has once again reached its highest all-time difficulty, led by the deployment of more mining equipment in the current market frenzy, where at current Bitcoin prices even second-hand machines are profitable again.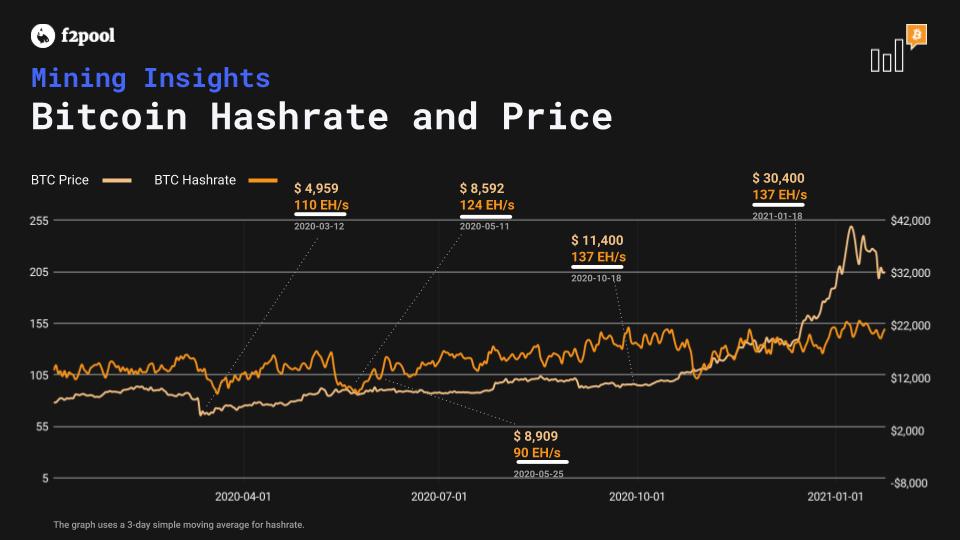 Big North American companies are purchasing large amounts of mining equipment, and manufacturers are running short of chips for new mining machines.
Ethereum
With the Ethereum price having breached its former all-time high, more and more GPUs around the world have joined the network, increasing the total network hashrate to reach the highest mining difficulty ever.
Development and network
Bitcoin
Bitcoin 0.21.0, with Schnorr signatures and Taproot, was released.
Grin
Grin completed its 4th hard fork on January 16. Grin-29 was dropped in favor of the non-ASIC-resistant Grin-32 algorithm. f2pool mined block 1,048,320, the block at which the hard fork occurred.
Firo
The Firo network is activating LLMQ chainlocks soon, which will force all wallets to be updated immediately to the latest release, v.14.4.0, for a smooth user experience.
Firo has been undergoing a 51% network attack. The issue was addressed at the 2nd community meeting of the new rebranded chain.
AION
The team behind The OAN network will focus on a new project, Moves, focused on the gig economy. Read about the details here.
Monero
A new C# RPC client built on .netstandard2.1 has joined the Monero ecosystem.
Sia Sia will be undergoing a hard fork on February 3. There will not be any changes to the Sia mining algorithm.
Vertcoin
Vertcoin will perform a hard fork at block height 1,500,000, when the algorithm will be changed to Verthash. The estimated date of the hard fork is 2021-01-30.
Ethereum Classic
Hyperledger Besu Release v20.10.4 is out. This version optimizes performance on the ETC client and includes a necessary bug fix.
Beam
The latest Eager Electron 5.2 release enables mobile nodes for Beam mobile wallets, Brings also as well as two new features: offline transactions and max privacy.
Community
Ethereum Classic
The Ethereum Classic ecosystem is in the process of debating ECIP-1098, a proposal to establish a treasury system on the blockchain to provide incentives and finance client and protocol development.
---
PoW Round-Up is our bi-weekly report on the major news and mining insights in and around the Proof of Work ecosystem. Monitor and help secure the PoW world with f2pool.