Today, we talk about the Eth1/Eth2 chain merge plans heating up, Bitcoin once again reaching its highest ever difficulty and hashrate, and more.
Learn about industry news, development updates, community happenings, and other aspects of the PoW world.
Mining industry
Bitcoin
Bitcoin mining difficulty increased by 1.95% after the last adjustment on March 20, making it the highest ever, together with the highest network hashrate at 175 EH/s.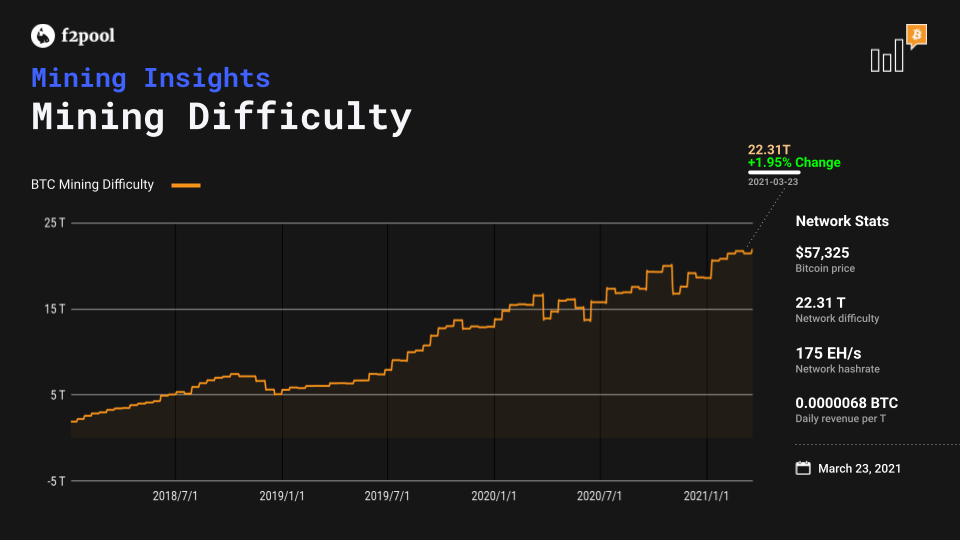 Ethereum
The Ethereum network reached its all time highest hashrate at about 470 TH/s. Mining fees have increased lately due to the high usage of the network caused by many NFT project launches.
An Nvidia driver update accidentally unlocked RTX3060 for Ethereum mining.
Dev and network
Bitcoin
There will be a new upcoming release helping to rescue any Lightning Network transaction funds lost where the creator of the transaction mutated its transaction id and lost the funds, as a pre-signed refund transaction is not valid.
Ethereum
After Vitalik's quick merge proposal of the PoW chain with the PoS chain, there have been plans to anticipate the merger right after London, release it in the Shanghai hard fork, and make it the primary focus of the Ethereum core developers.
Litecoin
Litecoin's MWEB is finally "Code Complete" and ready for auditing.
The finalized code will be incorporated into Litecoin's main codebase and will be ready for node operators and miners to signal support for.
MWEB is an upgrade that will improve Litecoin's fungibility and privacy.
Dogecoin
Community efforts are being made to maintain the Rosetta API implementation, which could result in a long-awaited Coinbase listing for DOGE, as this is a main requirement Coinbase has for any listing.
Recent tests on Dogecoin block maturity and interval were successful. The next steps will include changes to the blockchain parameters.
Monero
The first testing round for BTC to XMR atomic swaps is out, and more tests will be done prior to launch. The community is asking its members to test it before going live.
Beam
The upcoming 6.0 release will bring a network upgrade, thus requiring a hard fork. The date for the fork has not yet been decided.
Application
Ethereum Classic
Saturn Protocol v2, with planned launch in Q2, will mark the completion of the Prometheus stage of the Ethereum Classic roadmap and empower the protocol with a decentralized exchange.
DigiByte
DigiByte is now live on Ethereum after community efforts to bridge DigiByte to Ethereum through Ren Protocol.
Users can now mint and burn DGB to renDGB and start enjoying the liquidity mining program.
Beam
The next release of smart contracts, or shaders in Beam terminology, will enable the added functionality to build out various DeFi protocols on top of Beam.
Conflux
Conflux has partnered with Decentology to integrate DappStarter. This partnership aims to facilitate the creation of dapps on the conflux network by simplifying the process.
Community
Ethereum
FATF aims to kill DeFi with insanely restrictive AML guidance.
Decred
Voting to activate the new decentralized treasury started on March 12 and will run until April 9. Once voting finishes, the new rules will activate and the treasury will become a stakeholder-driven DAO.
---
PoW Round-Up is our bi-weekly report on the major news and mining insights in and around the Proof of Work ecosystem. Monitor and help secure the PoW world with f2pool.