ETH has hit a new all-time high, while Visa announces support for stablecoins in transaction settlement and PayPal adds support for crypto payments.
Learn about industry news, development updates, community happenings, and other aspects of the PoW world.
Mining industry
Bitcoin
On April 4, the Bitcoin network underwent another difficulty adjustment, with an increase of 5.48%, reaching its highest ever difficulty at 23.14 T.
At the same time, as more machines are being deployed, the hashrate is increasing day after day. At this time, close to 166 EH/s is securing the Bitcoin network, near its highest point ever.
Despite these two factors, which would normally drive Bitcoin mining revenues down, mining revenues are still increasing due to the Bitcoin price continuing to reach new highs.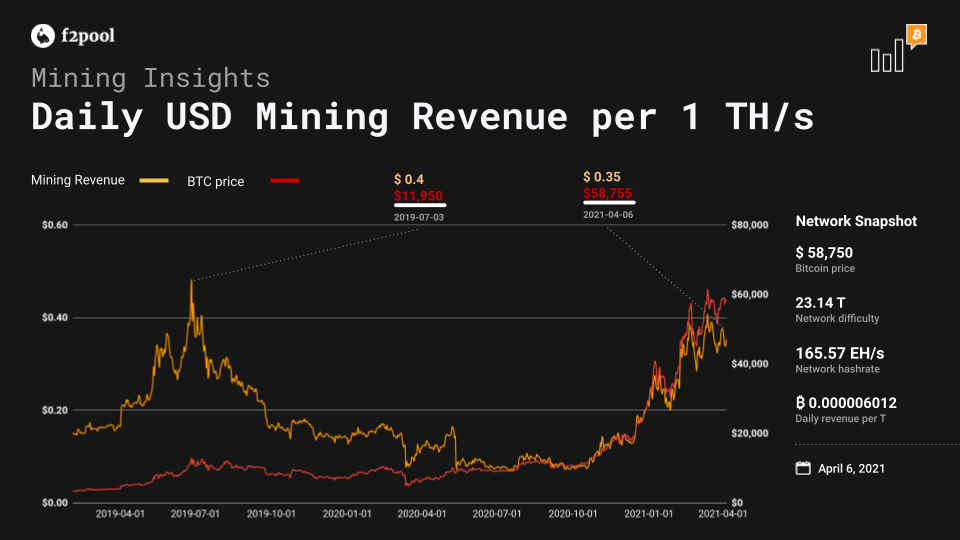 Ethereum
Ethereum hit its all-time highest price ever when it reached $2,097. This increase, combined with network hashrate not adjusting fast enough, has led to mining revenue increasing significantly to $0.15 per Mh/s.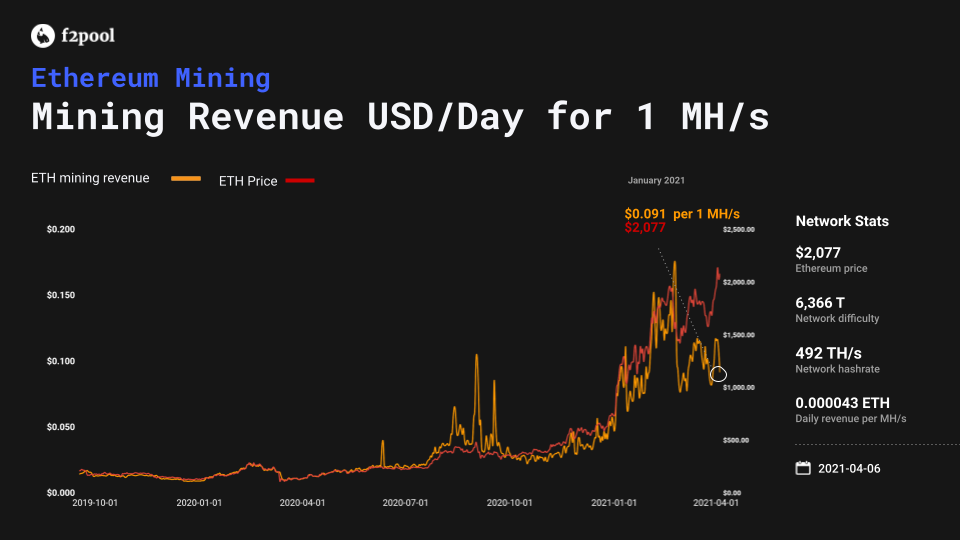 Dev and network
Bitcoin
The code for Taproot could be ready for users to activate in the Bitcoin Core client via "Speedy Trial" in May of this year. If successful, Taproot will be activated in November.
New code in Bitcoin Improvement Proposal 8 (BIP8) will set the parameters for the Taproot activation, which will determine when to lock in the upgrade based on block height. Read more here.
BIPs #1080 updates BIP8 to make it compatible with the Speedy Trial proposal, which would allow miners to activate Taproot but would not begin enforcing its rules until roughly six months after the release of software implementing Speedy Trial.
Ethereum
A new proposed EIP, EIP-3416, aims to implement a transaction pricing mechanism with a fixed-per-block network fee and a median inclusion fee.
Berlin is live on testnets and is coming to mainnet on April 14 at block 12,244,000.
London is being prepared: EIP-1559 implementations are underway, and the scope of the upgrade is being kept tight to hit the July/August deadline.
The focus of Shanghai is still being discussed: either core developers will shift most of their attention to The Merge, or a last set of highly requested EIPs will be deployed as the merge gets prototyped.
Dogecoin
Dogecoin developers released Operation Such Frensly, an implementation that aims to ease the user experience of the Dogecoin Core wallet.
Ethereum Classic
Hyperledger Besu v21.1.1 now officially supports Keccak256 mining and the Astor Testnet for Ethereum Classic.
There is now a highly secure, enterprise-grade, and full-featured Keccak node client for ETC.
Decred
Another upgrade for Decred mining is coming with dcrpool v1.2.0 RC2.
Horizen
A new version of ZEN (2.0.23) has just been released. All exchanges, mining pools, node operators, and full node wallet users must upgrade to ZEN 2.0.23 prior to block #920000, which will be mined around April 21.
Application and Adoption
Bitcoin
Tesla now not only supports Bitcoin payments, but is also operating Bitcoin nodes to support the infrastructure.  The BTCPay Server 1.0.7.1 release fixes several security vulnerabilities. It also includes a number of improvements and non-security bug fixes.
Ethereum
Visa has announced the use of USD Coin (USDC) to settle transactions with Visa over the Ethereum public blockchain.
Going forward, Visa plans to flesh out its crypto-native services by "supporting reconciliation and currency conversion for stablecoins such as USDC" and creating "settlement reports" with blockchain wallet addresses to verify transactions.
Litecoin
PayPal has launched Checkout with Crypto, a service that enables merchants to accept Litecoin. Litecoin can now be used for any payment settled through Paypal.
Firo
stFIRO (wrapped FIRO on Ethereum) has been approved for rewards for providing liquidity on SushiSwap.
Community
Dogecoin
The dogecoin.com website got a remodel by some community members, with a new and fresh design for newcomers to have everything in one convenient place.
Firo
Firo had its third community call on March 27. Discussion centered on Lelantus reactivation, the Electron wallet launch, and the Elysium tokenization layer.
Monero
Monero organized its monthly meeting to discuss Monero news, developments, and other community conversation topics.
---
PoW Round-Up is our bi-weekly report on the major news and mining insights in and around the Proof of Work ecosystem. Monitor and help secure the PoW world with f2pool.