Coinbase's long-awaited public stock listing finally happened, while Dogecoin has reached price levels never seen before. Bitcoin saw a big dip in hashrate, while the Ethereum market experienced a flash crash.
Learn about industry news, development updates, community happenings, and other aspects of the PoW world.
Mining industry
Bitcoin
Last week the Bitcoin network hashrate decreased nearly 20% and resulted in an increase in mining revenues.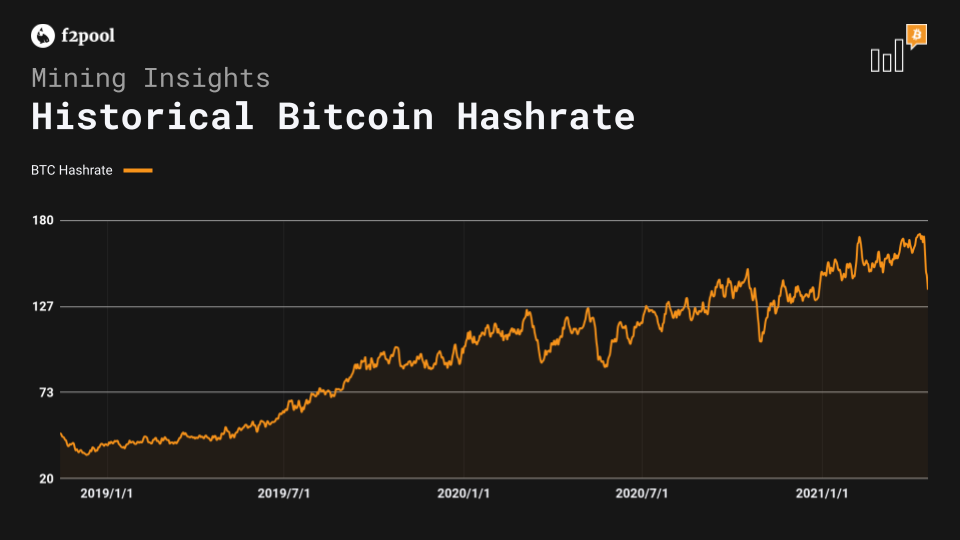 Ethereum
During last weekend's market flash crash, many leveraged traders got their positions liquidated, and opportunities for bots to conduct trading arbitrage increased, creating congestion in the Ethereum network, where the average price to broadcast a transaction was 600 gwei.
The consequence for Ethereum miners was that such high transaction volume generated a spike in mining fees.
Dogecoin
Dogecoin prices raise, again, to levels never seen before.
Mining revenues from Litecoin mining have skyrocketed with the merge mining with Dogecoin implementation. As of today, Dogecoin rewards from mining Litecoin are higher than the ones from the Litecoin block subsidy.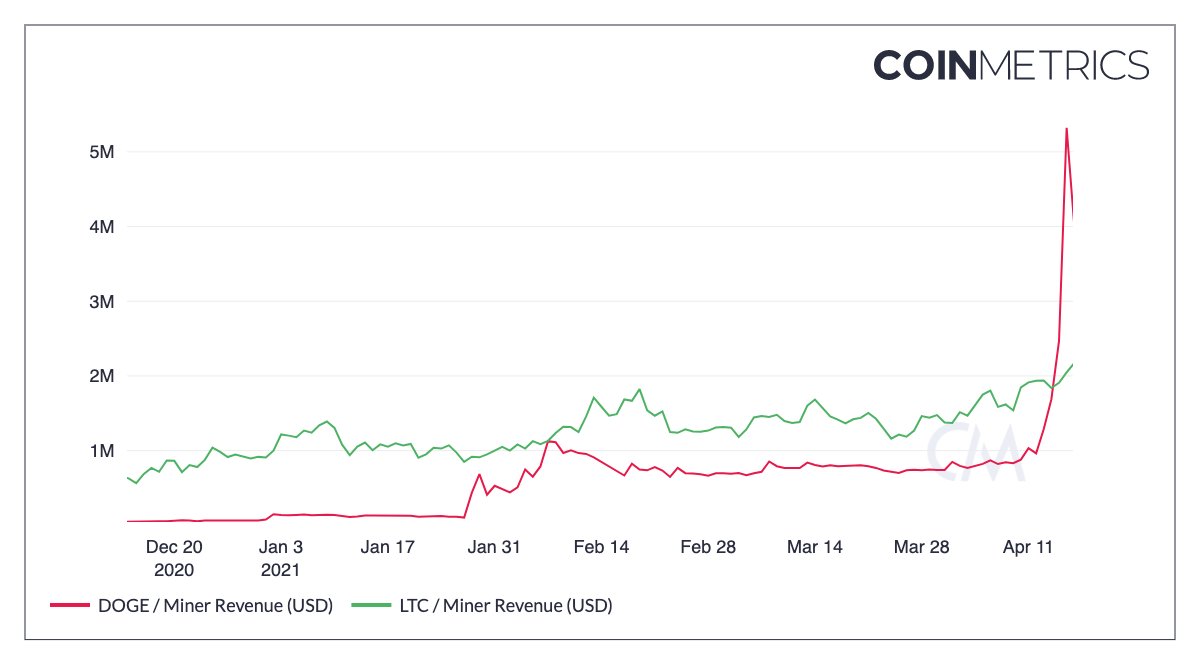 Dev and network
Bitcoin
The latest code change Bitcoin Core #21594 adds a network field to the 'getnodeaddresses' RPC to help identify nodes on various networks.
Bitcoin Core 0.21.1 release candidate 1, which includes Taproot, is now available.
Ethereum
The Ethereum Berlin network upgrade was activated at block 12,244,000, and it included optimizations to gas fee usage mitigating against possible DoS attacks.
OpenEthereum had a bug a few hours into Berlin and thus it went down. After it, a newest version was released fixing the bug.
Dash
Dash Core v0.17 has been released. This is a major release and will be a mandatory upgrade for all masternodes, miners, and users before the coming hard fork.
Decred
The consensus vote to enable the new treasury system has been approved and should activate around May 7, at which point nodes running software older than v1.6 will be forked off the network. See the full release notes and downloads here.
Firo
A new software update has been released, v0.14.6.0. All nodes are requested to update before the hard fork scheduled at block 365544, approximately April 22, 2021.
This update will patch a Lelantus vulnerability and also includes extensive hardening measures.
Monero
GUI 0.17.2.1 'Oxygen Orion' has been released. This minor point release fixes the transfer on macOS among other minor bug fixes of the GUI software.
Beam
Beam will execute the third hard fork at Block Height 1,260,000, expected to be reached on 29th / 30th May 2021. This hard fork will enable running Shaders within the Beam nodes, enhancing privacy features to the Beam network.
Nervos
Nervos Force Bridge is a trustless bridge that allows for the seamless cross-chain transaction between CKB and Ethereum currently. A possible integration set for the end of Q2 would add BTC together with other chains support.
Application and Adoption
Ethereum
Gelato v2 is live: bots that execute automatically. Now doesn't need proxy contracts, and data generated off chain.
Community
Bitcoin
Coinbase went public last week. As we did after the last halving, we commemorated the occasion by including a message in the first block mined after the public listing.
Handshake
Handshake has implemented a system to allow TLD owners to earn an income from selling subdomains to it. This will open a new revenue stream to all domain owners.
---
PoW Round-Up is our bi-weekly report on the major news and mining insights in and around the Proof of Work ecosystem. Monitor and help secure the PoW world with f2pool.