Volcano-mined Bitcoin and Ethereum's upcoming hardfork are just two significant developments in the top two PoW cryptocurrencies making headway into the world's broader adoption.
Learn about industry news, development updates, community happenings, and other aspects of the PoW world.
Mining industry
Bitcoin
According to the recent block time and hashrate, there is a large estimated negative adjustment coming at around 12%. This is the 2nd highest negative adjustment in percentage this year.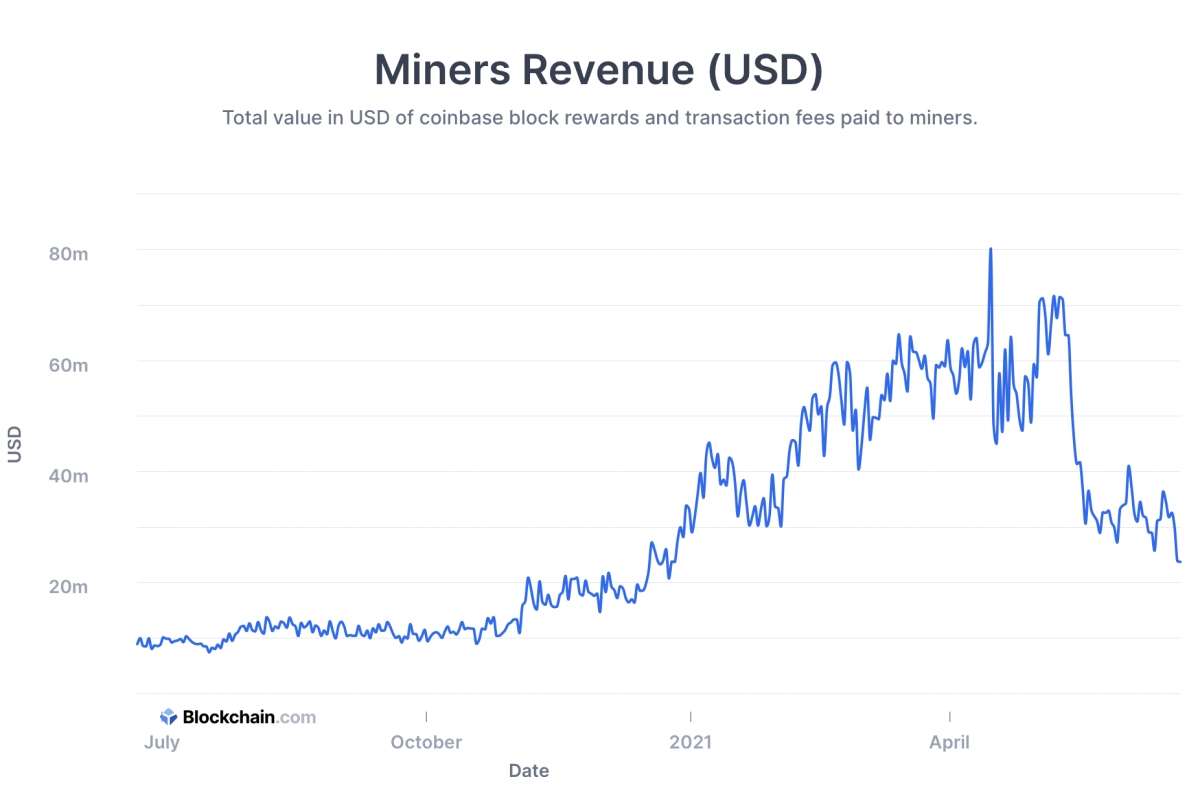 The green mining narrative continues. Beyond El Salvador's volcano mining, Miami's mayor has also been calling for nuclear power usage for bitcoin mining.
More hashrate growth is expected with Genesis Digital Assets' purchase of an additional 10,000 mining machines From Canaan.
Bitfarms, a mining farm located in Québec, Canada, will start trading on the Nasdaq, June 21, 2021. It is currently powering approximately 1% of the Bitcoin network with more than 99% green hydroelectricity.
Ethereum
Gas prices plummet from 1000 GWEI peaks, 500 GWEI "normal" to 20 GWEI normal in days as MEV adoption gets widespread and PGAs turn off.
Dev and network
Bitcoin
Bitcoin Taproot was finally locked in after 1815 blocks were signaled in this signaling period. It will be activated this coming November.
🚨 TAPROOT LOCKED IN 🚨

With block 687284 signalling for taproot, there are 1815 signalling blocks in the currency difficulty period.

Taproot will activate in block 709632, somewhere in November 2021.

So long, and thanks for all the fish.

See you all at @anyprevout. pic.twitter.com/NrTU2UbmM6

— Taproot Signal (@taproot_signal) June 12, 2021
Ethereum
Ethereum is marching on to the London hardfork! There will be five EIPs included in the London hardfork that includes EIP-1559 changing the fee market and the EIP-3554 which delays the difficulty bomb to December 2021. The testnet upgrade will first go live on Ropsten, around June 24, 2021.
Vitalik released an article explaining Verkle trees which are shaping up to be an important part of Ethereum's upcoming scaling upgrades.
Ethereum Classic
Ethereum Classic's Magneto hardfork will happen on block height 13,189,133 which is estimated to land in about a month. The hard fork proposals are included in ECIP-1103, which contains a series of EIPs from Ethereum's Berlin upgrade with critical security enhancements important for the network. You can monitor the hard fork via this explorer.
Dash
Dash v0.17.3 was released with a few minor bugs fixes since the first release of v0.17.x. Miners need to upgrade before the hard fork and will begin signaling starting on July 1 with the earliest activation date being around July 15.
Firo
Firo launches Receiver Address Privacy (RAP) addresses on mainnet to provide on-chain recipient privacy. Transaction privacy will now be available which hides how many payments you have received and which transactions are yours even if someone has your RAP address.
Beam
Beam's hard fork at height 1,280,000, bringing confidential Smart Contracts to the Beam blockchain, has been completed successfully. See what's new on Beam here.
Application and adoption
Bitcoin
Lightning network has crossed the 1,500 BTC capacity milestone. Check real-time lightning network statistics here and read Bitcoin magazine's post for more information. The world is seeing more Lightning adoption. Notable node runners include the advisor to the president of Colombia!
Ethereum
The Optimism scaling solution has continued to receive more adoption. ConsenSys announced support for Optimistic Ethereum. Infura, Truffle, and MetaMask will release a suite of developer tools to support dapps deploying on it.
Ashvini, the long-anticipated Raiden Light Client was released on Ethereum mainnet. It provides users with convenient and easy ways to interact with the Raiden Network without having to run a full node. This will remove some load on the Ethereum mainnet and lower transaction costs. Read more about the functions here.
Nervos
Nervos has deployed a new version of their sUDT and anyone-can-pay (acp) lock contracts on the Nervos CKB mainnet. The contracts were audited by Trail of Bits and the full auditing report can be found here.
Community
Decred
The first payout to Decred contractors from the decentralized treasury has just been published. it should take between 10 and 14 days for the transaction to be voted on and mined. Learn more about Decred's decentralized treasury here.
Horizen
Horizen Labs and Grayscale have a zoom webinar for a deeper dive into Horizen's technology. Playback is now available to view.
---
PoW Round-Up is our bi-weekly report on the major news and mining insights in and around the Proof of Work ecosystem. Monitor and help secure the PoW world with f2pool.