Bitcoin suffered the largest difficulty drop so far, hashrate bounced afterward. Ethereum all 3 testnets running for London.
Learn about industry news, development updates, community happenings, and other aspects of the PoW world.
Mining industry
Bitcoin
Bitcoin network difficulty experienced the largest drop ever with a 27.94% decrease or 5.8 T on July 3rd. As a result, the average block time during that period increased from 10 min per block to close to 14 min.
The difficulty decrease was produced by a sudden drop in hashrate from around 100 EH to 58 EH, but it recovered swiftly back to 94 EH. Despite this sudden drop, the average hashrate during the last 2 weeks remained 102.78 EH/s.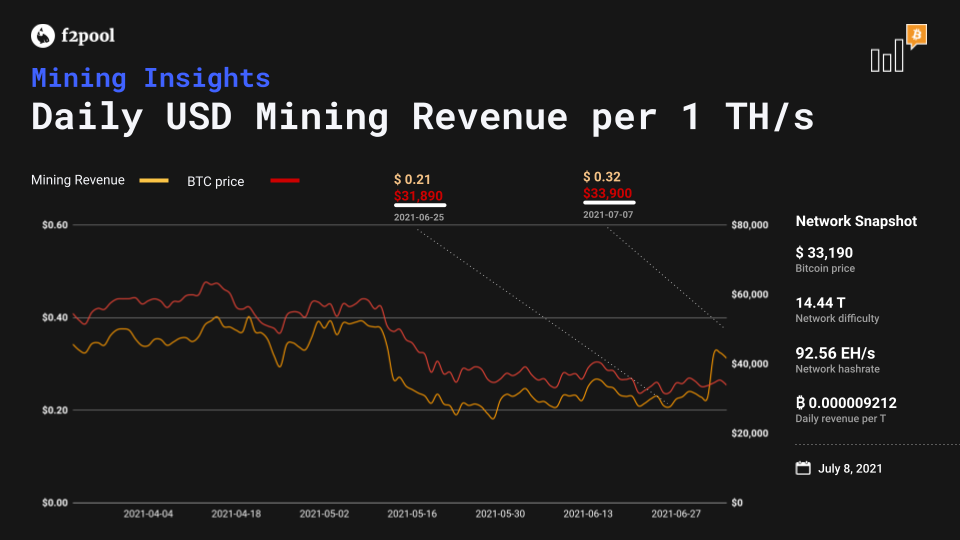 With Bitcoin's internal balancing mechanism, mining becomes more profitable with less hashrate competition as the nonce grinding becomes easier to solve.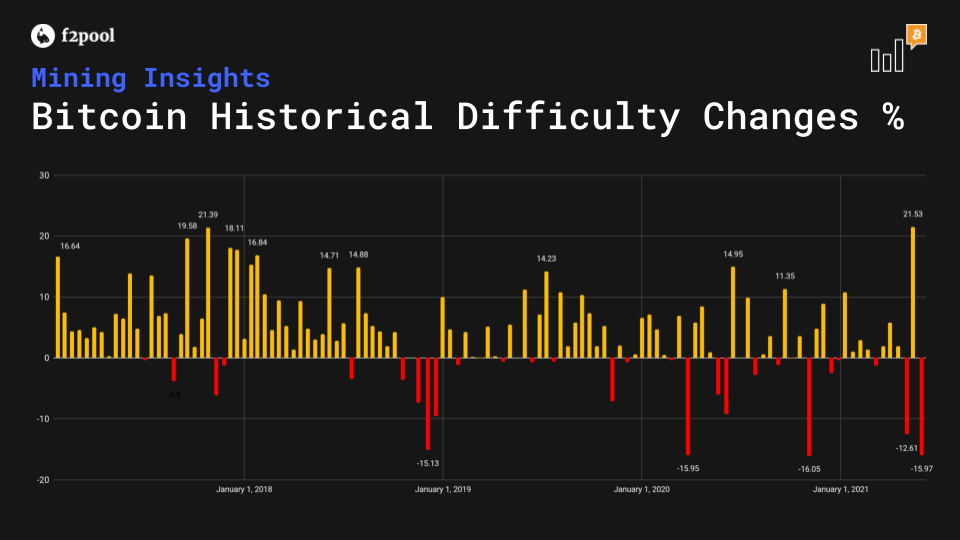 As seen in the above chart, bitcoin's profitability after the adjustment is $$0.32 per TH/s—50% higher than the last cycle.
Dev and network
Ethereum
With the Rinkeby testnet activated on July 7, all three testnets: Ropsten, Goerli and Rinkeby, have been live for the Ethereum London hardfork. To see how the BASEFEE was burned on testnet, you can view http://goerli.watchtheburn.com. Total fees burned can also be viewed on Etherscan.
London hardfork mainnet activation is expected on block 12965000, estimated to be mined on August 4. The block selected has been proposed after the recent ACD, and has been merged. Clients are planned to release in a week for node upgrade.
Litecoin
The Litecoin MimbleWimble June recap update is out. You can check estimated times for the MimbleWimble activation on http://wenmweb.com/.
Firo
The Firo community brought up discussions about reducing the max supply from 21.4 million to 21 million. There were discussions about maintaining the status quo and/or adding Monero-like tail emissions.
https://twitter.com/firoorg/status/1409035368352030725
Monero
COMIT shares recently updated their XMR<>BTC Atomic Swap tool, mentioning features coming with atomic swaps and a glimpse of what is to come.
Dogecoin
Dogecoin is calling for comments from the community on the fee reduction proposal. This proposal suggests reducing average fees 100x for standard transactions on the Dogecoin chain, splitting full control over all aspects of fees between miners and node operators, and other measures that aim to incentivize keeping the network healthy.
Beam
The BeamX introduction post is out. It's a comprehensive article to introduce the BEAMX DAO, how tokens are distributed, and the whole picture of the privacy-by-default and maximum confidentiality DeFi ecosystem.
Application and adoption
Handshake
ProjectDWeb. The DWeb foundation has announced 8 projects accepted into the incubator's first cohort. Each of the projects are leveraging Handshake for their myriad applications.
DigiByte
Digibyte released its June update recapping the network's updates and adoption.
Nervos
USD Coin (USDC) will be issued on Nervos in the coming months. According to the Centre's Announcement, USDC will be on ten new blockchain platforms.
Community
Ethereum
ETHGlobal hosted an MEV virtual summit. Learn about the evolution and application of MEV in detail from the video.
---
PoW Round-Up is our bi-weekly report on the major news and mining insights in and around the Proof of Work ecosystem. Monitor and help secure the PoW world with f2pool.