Today we're covering Bitcoin's difficulty adjustment, Ethereum's deflation simulation, and various community events happening in the PoW community!
Learn about industry news, development updates, community happenings, and other aspects of the PoW world.
Mining industry
Bitcoin
The latest difficulty adjustment happened Jul 18, 2021 with a -4.81% change. On the last 2-week cycle, the Bitcoin hashrate was stably climbing, producing the blocks with an average time of 10 mins 30 secs.
Miners in this 2-week cycle harvested $0.30 per TH/s, 30% higher than the previous two weeks. This is a fairly profitable level and attracts more people pursuing hardware and consistently joining the network.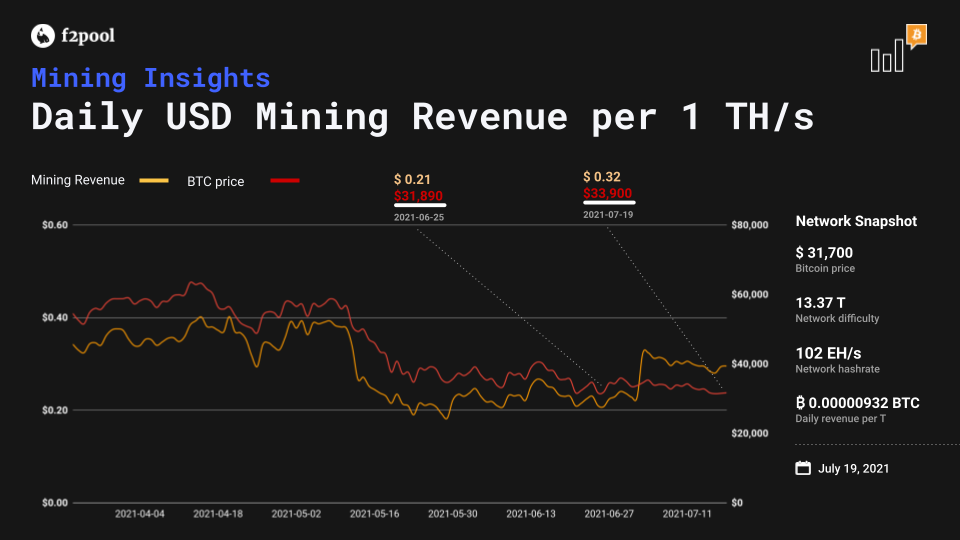 Paraguayan congressman Carlitos Rejala proposed a bill aimed at innovation in this country and crypto influence on the world.
It seeks to tighten control over Bitcoin mining in the country and offer investor protection from bitcoin businesses. It also indicates that bitcoin is not recognized as legal tender in the country which differs from recent developments in El Salvador. Read more on this bitcoin magazine post.
Dev and network
Ethereum
The London upgrade announcement was released and provided clients and FAQs for the community's reference.
How quickly could the baseFeePerGas be changed post-EIP-1559? Trenton Van Epps at Ethereum shared a twitter thread to simulate the change by modeling different scenarios.
What extent will Ethereum's "ultra sound" inflation be? Tim Beiko shared, at the current gas limit, the PoW chain would be deflationary with a base fee of ~150 Gwei, and PoS with the current daily issuance chain will be ~11 Gwei. Check out https://ultrasound.money/ some visuals illustrating this concept!
Ethereum Classic
Ethereum Classic is celebrating Independence Day on July 20. The Magneto hardfork is estimated for July 21.
Monero
Monero released XMR-BTC swaps 0.8.0. It adds the long-awaited functionality of automated maker discovery. It has been more than 1 year since the swaps project kicked off. This post summarized the progress, the latest release functions, and what's next.
Horizen
Horizen announced zkAudit with Celsius–the first and only fully decentralized, privacy-preserving audit blockchain built on the Horizen network.
Firo
Firo is working on a new privacy protocol and looking for feedback on naming it. The new scheme uses almost a completely different structure than Lelantus but still uses a modified Groth-Bootle (one-out-of-many) proofs to prove membership. Learn more here.
Application and adoption
Bitcoin
With more adoption of the Lightning Network, the Network's capacity increases are speeding up! It took only 5 days for the Lightning Network to reach 100 new bitcoin–compared with the last 100 bitcoin increase which took about 15 days. It took only 5 days from 1700 to 1800 bitcoin. At the time of release, the number climbed above 1880 BTC, increasing 19% in the past 30 days.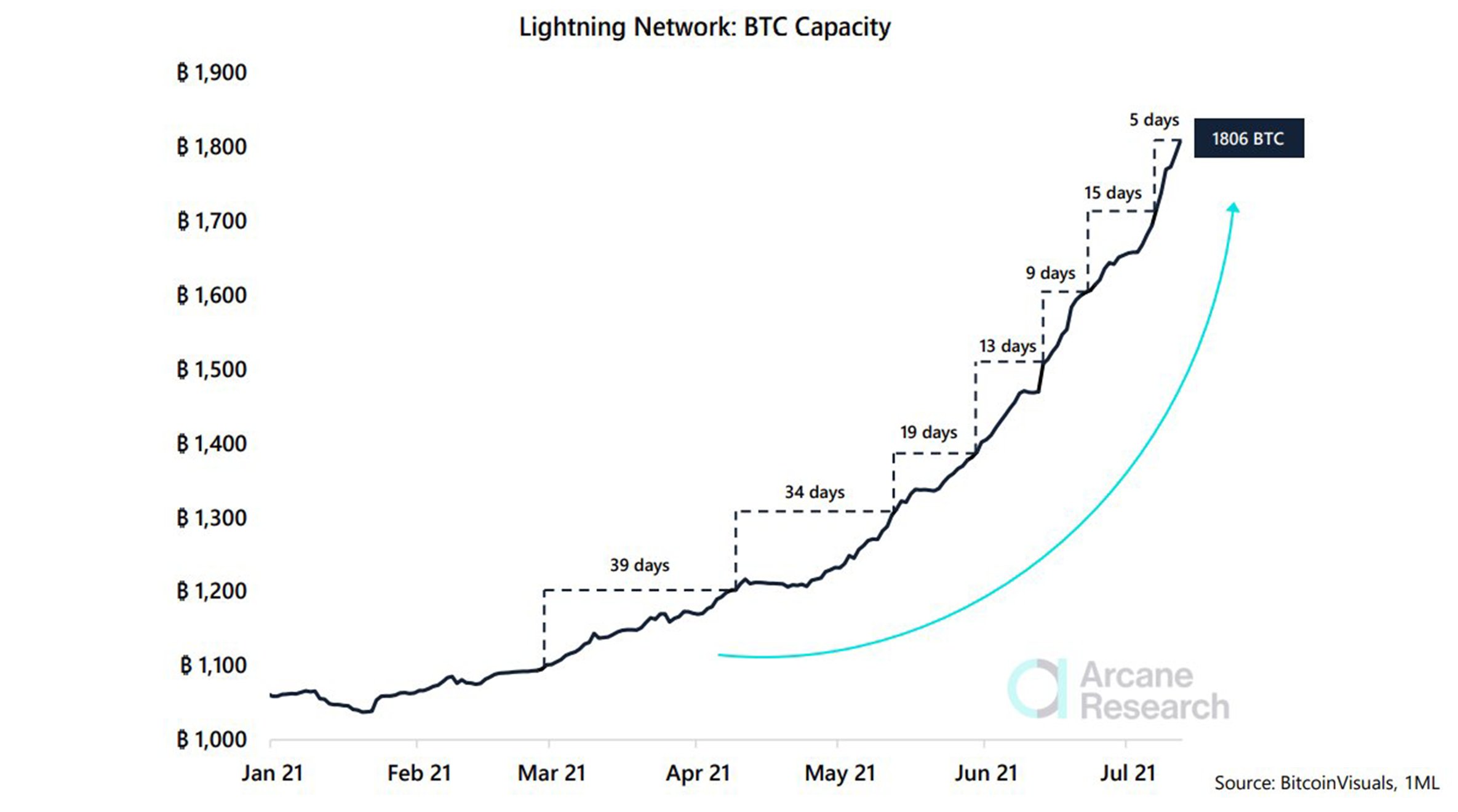 Ethereum
"Ethereum is now scaling trustless transactions per second. Absolutely massive." Uniswap V3 was deployed on Optimism mainnet earlier this week that scales the network even further.
Community
Bitcoin
The ₿ Word, a Bitcoin-focused event initiated by Jack Dorsey and many influencers is happening this week on July 21. This will bring an all around discussion that aims to spread more awareness Bitcoin.
Ethereum
Ethereum: The Infinite Garden, a character-driven film documenting the Ethereum ecosystem, just completed its crowdfund raised 984.16 ETH on July 16. It was the first documentary film to fundraise using NFTs and will drop a series of Infinite Garden NFTs tied to select on-screen credits in the film.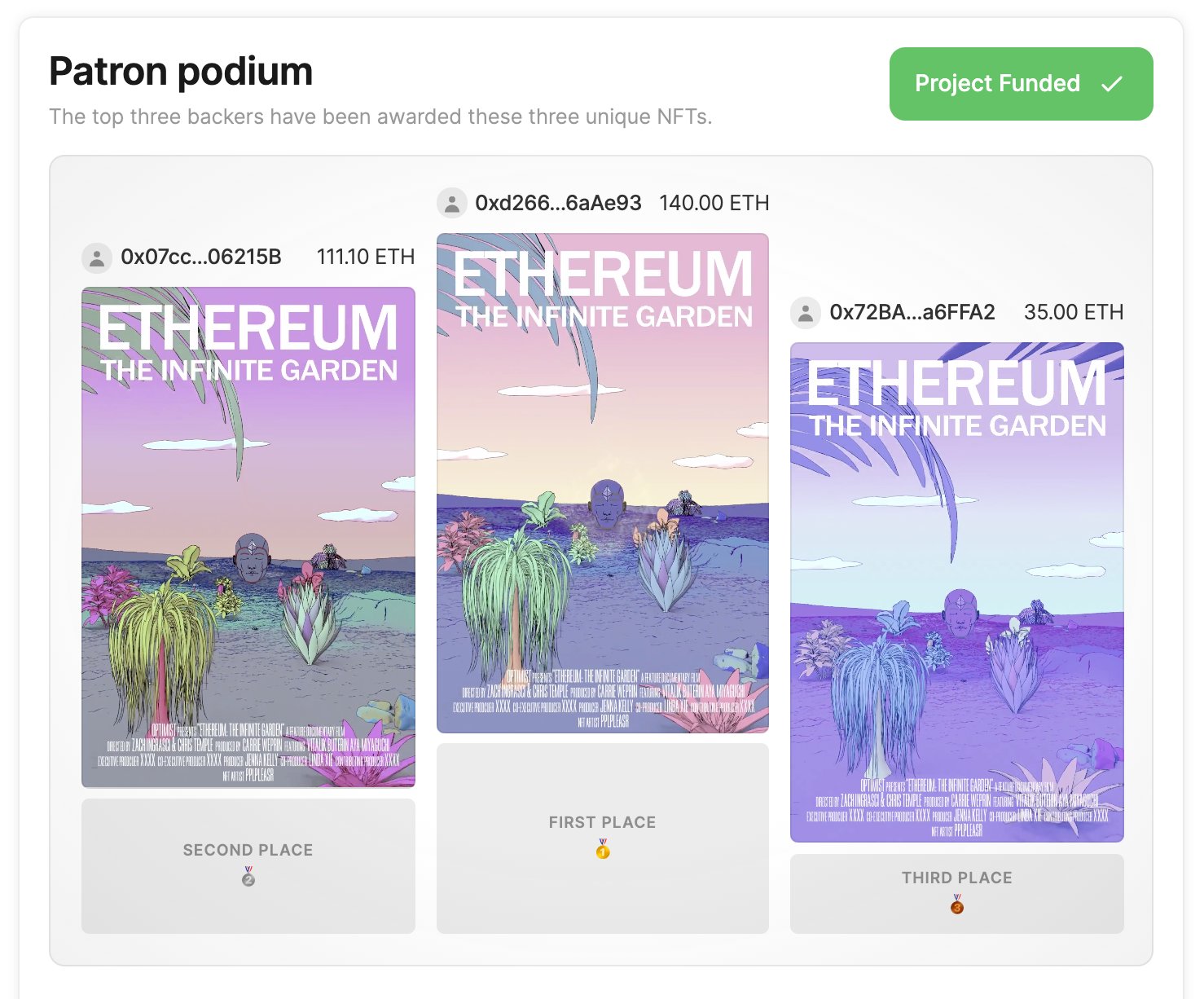 Dogecoin
On July 28, Dogecoin dev Ross Nicoll and Ethereum co-founder Vitalik Buterin will be chatting about Doge and Ethereum on Ross's twitch stream. DogeEthereum bridge will be a major topic of the stream.
Kadena
Kadena DAO was announced to boost Kadena's ecosystem via community-driven initiatives and aid the launch of our decentralized bridges. Before Kadena DAO's on mainnet, they are calling for community feedback. Read more on this post.
---
PoW Round-Up is our bi-weekly report on the major news and mining insights in and around the Proof of Work ecosystem. Monitor and help secure the PoW world with f2pool.