Even though it is a fall season right now, NFT summer heat still goes on. Jack revealed what the TBD platform really is, and more about new leaks on Bitcoin tipping on Twitter.
Learn about industry news, development updates, community happenings, and other aspects of the PoW world.
Mining industry
Bitcoin
The latest network difficulty was adjusted by an increase of 13.24% to 17.62 T. During the last 2-week cycle, the average block time was 8 mins 50 secs.
As a result of network difficulty rising, mining revenue reverted back to values similar to those at the beginning of August. It should be noted that it is the second biggest rise in difficulty this year, trailing behind May rising.
Revenue peaked at $0.41 per 1 TH/s and was corrected to the current value of $0.34 per 1 TH/s in the period of time between the 20th of August and the end of the month.
In other news, Canaan, the mining machine manufacturer, announced that it secured a mining machine selling order to Genesis Digital Assets for 20,000 Bitcoin mining machines. Canaan has granted Genesis Digital Assets an option to purchase up to 180,000 additional machines. Read more.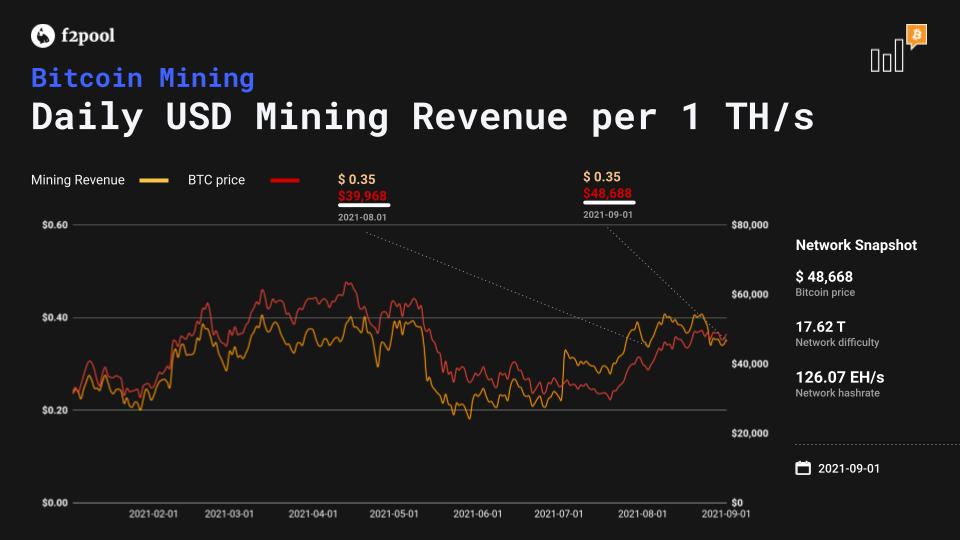 Ethereum
The number of coins burnt with EIP-1559 crossed 167,000 ETH by the 2nd of September. On August 27 and August 31, the network saw the two biggest amounts of gas fee burnt with each around 11000 ETH daily. The network also reached an all-time high of network difficulty at the 8440 T mark on the 31st of August.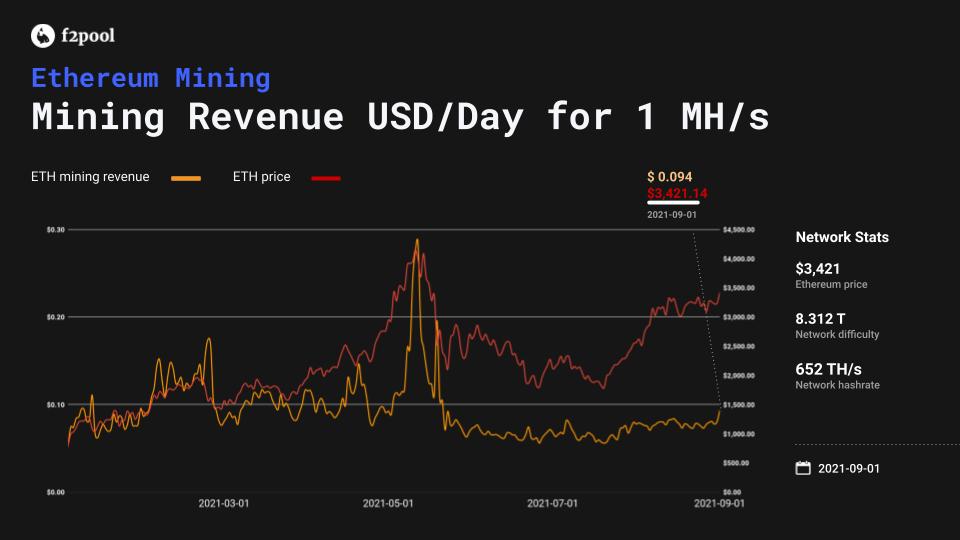 As a result of price bouncing back and increase of on-chain activity, the monthly mining income of Ethereum rose by 83% based on the data on this chart.
Dev and network
Ethereum
Go Ethereum released a new version 1.10.8 for nodes to upgrade and to fix a critical bug. However, a chain split was reported afterward due to certain nodes running on the old version. If you are still running on the previous version, please get the nodes upgraded to fix the bugs.
Heads up!

Geth v1.10.8 is out, fixing a security vulnerability in all live versions of Geth. All Geth users need to update.

Further details will be provided at a later date to avoid attacks on #Ethereum and downstream projects.https://t.co/VQ398K0TA4

— Go Ethereum (@go_ethereum) August 24, 2021
Arbitrum, layer 2 solution for ETH dApps scalability, is now live on mainnet. Now with the whitelist gone, everyone can test and use Arbitrum One. This article provides details on the current focus and future plans.
Ethereum Classic
Ethereum Classic reminds every Core-geth node operator to upgrade to v1.12.1, which contains a critical security patch. Make sure to do so as soon as possible.
Dogecoin
Dogecoin devs announced version 1.14.4. The update enables upcoming fee reductions, improves synchronization speed, and GUI options to add peers among others.
Dogecoin 1.14.4 Released - https://t.co/drdeTJYqR4

-Enables Upcoming Fee Reductions
-Improves Synchronization Speed (2.5x in some cases)
-RPC 'getpeerinfo' improvements.
-GUI options to add peers and import private keys, and peer traffic visibility
-Security fixes

— Dogecoin Developers (@dogecoin_devs) August 21, 2021
Beam
Beam 6.1 release is out, it marks an important milestone towards Beam's Confidential DeFi platform. Check out here to get the release notes and to download them.
Firo
FiroPoW testnet is launched! FiroPoW's algorithm changes every block making it difficult to build dedicated mining machines for it.
Firo's scheduled hardfork was completed successfully at block 401580. This update moves the Lelantus joinsplit payload into the vExtrapayload section.
Application and adoption
Bitcoin
Twitter is working on adding Bitcoin as a way of tipping, according to a leaked image shared by Alessandro Paluzzi. A MacRumors post adds more information about Twitter "Tip Jar" features in beta versions, including Lightning network, custodial, non-custodial wallets, and more.
Also, Jack Dorsey shared that the direction of TBD platform powered by Square has been determined. That new business is to build a DEX for bitcoin. In July, Jack tweeted about his new business focused on an open developer platform related to non-custodial permissionless and decentralized financial services.
Litecoin
The online payments giant PayPal announced that customers in the UK can now buy, hold and sell Litecoin
Dash
Dash Direct now features Airbnb among the supported services.
Dash announced a partnership with Horizen. This is the first time DCG has worked alongside another crypto team to build a shared platform.
Today we are thrilled to share the @horizenglobal and @Dashpay partnership!

This is the first time DCG worked alongside another crypto team to build a shared platform that will allow us to leverage the strength of our networks to increase our audience.https://t.co/uqRgN5hdhg

— Dash (@Dashpay) August 25, 2021
Community
Ethereum
Hudson Jameson, the previous organizer of Ethereum's ACD meetings, announced joining Flashbots. He is helping primarily in an operations capacity aiming at the scale and success of Flashbots.
I'm super excited to announce that today I am joining Flashbots! I'll be helping primarily in an operations capacity to help Flashbots scale and succeed as we journey through the exciting/scary future of MEV battles! 🧵 pic.twitter.com/ndEELnVDoU

— Hudson Jameson (@hudsonjameson) August 30, 2021
Execution layer client teams granted $1.5 million from application layer projects (Compound Grants, Lido, Synthetix, The Graph and Uniswap Grants) and Kraken, in addition to Ethereum Foundation funding. For more info, check this blog article.
Ethereum Classic
In dev call 18, topics such as Mystic Fork ECIP-1049 working with Core Geth and ETH/66 were discussed.
Hathor
Hathor announced a community faucet for new users to try out the Hathor network. The intention is for it to be used once to experience the speed of Hathor and get some free Hathor to try out the network.
Nervos
Nervos announced "Nervos Hackaton, Broaden the Spectrum", a virtual hackaton bringing the total Gitcoin prize pool to $200,000.
🗣️ BIG News!

We're excited to announce 'Nervos Hackathon, Broaden the Spectrum,' a virtual hackathon bringing the total @Gitcoin prize pool to $200K!💰

Find out how to participate starting this Sept. 👇 https://t.co/O5yKO11Hz5

— Nervos (@NervosNetwork) August 20, 2021
Digibyte
Digibyte had a pretty active month with dev updates, listings, and community updates. This article wraps up all the project activities.
---
PoW Round-Up is our bi-weekly report on the major news and mining insights in and around the Proof of Work ecosystem. Monitor and help secure the PoW world with f2pool.