Witness ATHs and the rapidly evolving financial system.
Learn about industry news, development updates, community happenings, and other aspects of the PoW world!
Mining industry
Bitcoin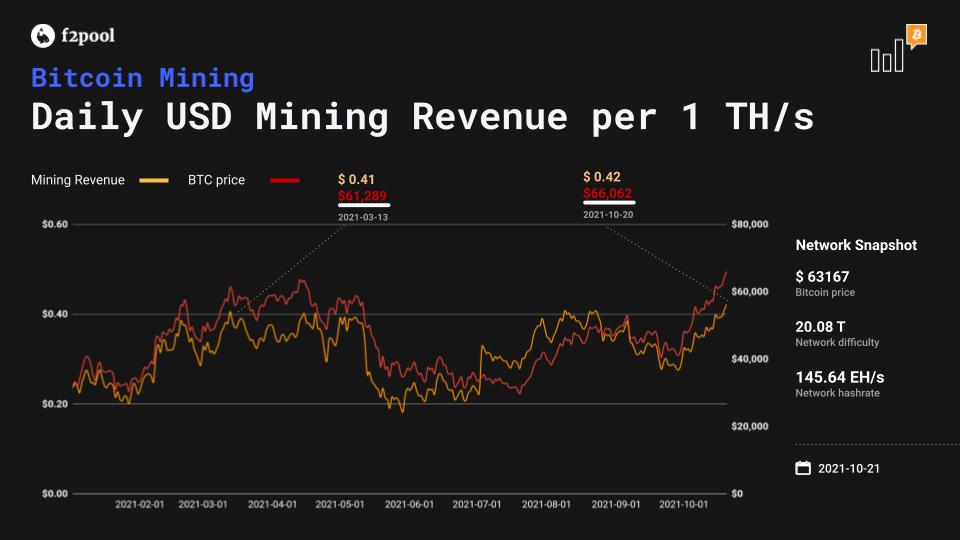 We just experienced a new Bitcoin ATH! This followed with Bitcoin mining revenue's hitting a new high this year to date, with $0.42 per 1TH/s. This is slightly higher than bitcoin's first highest point this year in the middle of March, with a unit revenue of $0.41.
The last difficulty adjustment cycle had an average hashrate of 143.75 EH/s. The network just witnessed the latest difficulty adjustment on October 19, 2021, the 7th increase in a row.
Ethereum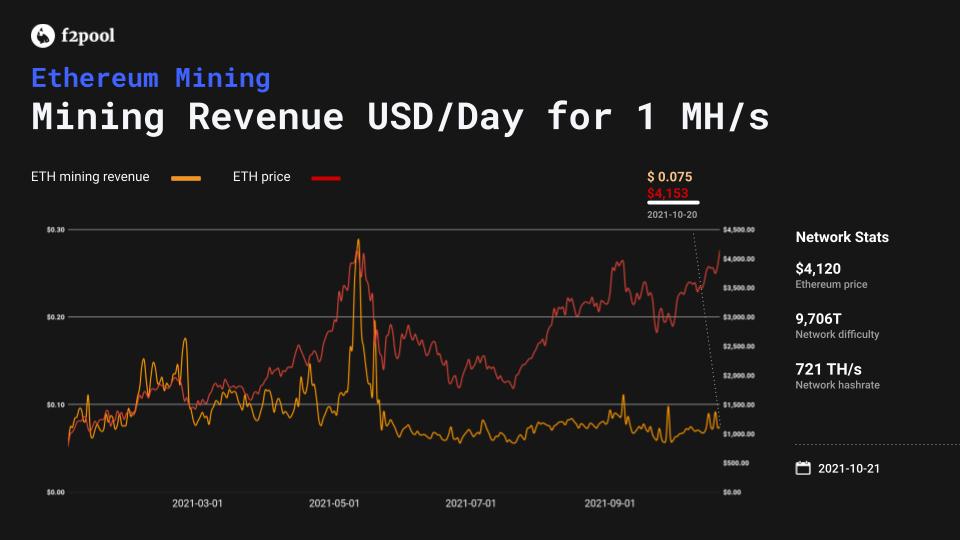 Compared to the end of last month, the current ETH mining rewards are slightly higher, stabilizing at around $0.075 for 1 HM/s. This is due to an increase in hashrate competition.
More than $2 billion worth of ETH was burned in the 70 days following the release of EIP-1559. It too, an ultrasound money on the way to ATHs. At the time of writing, more than 590,000 ETH have been burnt, with a rate of 5.32 ETH per minute.
Dev and network
Ethereum
Arrow Glacier, Ethereum's next upgrade, confirmed that the difficulty bomb will be delayed to June 2022. The upgrade will be deployed at the beginning of this December, brought by EIP-4345. The decision was made at Ethereum Core Devs Meeting #124.
In regards to the timeframe to conduct The Merge, Tim Beiko summarized on his Twitter that "…4 months is a generous timeframe from having the code done to seeing The Merge on the mainnet."
Flashbots Protect, which is a suite of tools that makes it easier to use Flashbots of frontrunning protection, has announced its first two Protect products.
Dogecoin
The Dogecoin community is calling for people to update node to v1.14.4, which introduces fee changes. Meanwhile, the upcoming v1.14.5 update will bring further improvements and is expected to bring more adoption to Dogecoin.
Firo
Fire v0.14.9.0 was released and will lead to activation of FirePoW and InstantSend on October 26, 2021. FirePoW will replace its current MTP mining algorithm. The starting DAG size will be slightly over 4GH and will increase by 8MB every 1300 blocks (~4.5 days).
Application and adoption
Bitcoin
Bitcoin prices skyrocketed to ATHs in the wake of the long-awaited Bitcoin ETF launch, an effort started back in 2013. Earlier this week, ProShares rang the bell, launching the first Bitcoin futures ETF $BITO. VanEck's ETF followed suit and was approved. It will begin trading next week.
Miami is set on enabling bitcoin as a payment option for salaries, taxes, and fees. This is listed as a top priority according to its mayor Francis Suarez in an interview.
PIMCO, a world-famous fixed-income investment plans to "invest more" in Bitcoin and digital assets; While Peter Thiel said he underinvested in Bitcoin.
Ethereum
Optimism's OVM 2.0 is released on the Kovan test network and will be deployed to the production Optimistic Ethereum network on November 11, 2021. Currently, the Layer 2 accumulated TVL of $3.94 B according to L2BEAT, increased 9.49% in 7 days. The top 3 protocols are Arbitrum, dXdY, and Optimism with a share of 61%, 22%, and 7% respectively.
Horizen
Horizen's platform Zendoo moves to its production environment testnet, one step away from its mainnet. People can Join the testnet to start using Zendoo and the SDK to deploy their own blockchain.
Hathor
Hathor announced its VISA integrated debit card featuring fiat on and off-ramp with Simplex to have a seamless way to spend HTR. Please check out this online AMA for the community to find out more about the partnership.
Ergo
Ergo Android Wallet now has a "Cold Wallet" option to store ERG coins. Check out its post with the included tutorial.
Community
Ethereum
ETHOnline hosted by ETHGlobal came to an end on October 15. There were 1160 hackers, 218 Projects, and 17 Finalists in 77 countries who participated in the event. Also, ETHGlobal's next event is just around the corner, starting from October 29, Attention on Unicode event.
Our next event is right around the corner!

Join us Oct. 29th - Nov. 10th for #UniCode—two weeks devoted to the growth of the Uniswap ecosystem.

Applications close soon, don't miss your chance to win over $125k in prizes🦄

👇https://t.co/NAw55djG4i

— ETHGlobal (@ETHGlobal) October 16, 2021
The Ethereum community is more vibrant than ever, according to data shared by Daren Matsuoka at a16z.
The Ethereum developer community is more vibrant than ever. We estimate that more developers have entered the Ethereum ecosystem so far this year than the previous two years combined. 🧵👇 pic.twitter.com/qnDQT5GK7Y

— Daren Matsuoka (@DarenMatsuoka) October 8, 2021
Litecoin
Litecoin became 10 years old on October 13, and has seen 100% network uptime in its 10 years of existence. While the community was celebrating its birthday, the Litecoin foundation released Litecoin: A Decade Of Resilience to recap the past decade.
Monero
Four Monero Community Crowdfunding System (CCS) projects have been funded by the community. Projects about atomic swaps desktop GUI, Seraphis Proof-of-Concept, and more development and translation projects are now work in progress.
Dash
The Dash core group Q3 quarterly call is conducted to talk about product development, marketing, and business development from the last quarter.
Beam
Beam had its October community roundtable talking about DeFi, BeamX, confidential NFTs, and a variety of related themes this year.
---
PoW Round-Up is our bi-weekly report on the major news and mining insights in and around the Proof of Work ecosystem. Monitor and help secure the PoW world with f2pool.