Square renamed to Block, Vitalik shared scaling rollups roadmaps, and more news.
Learn about industry news, development updates, community happenings, and other aspects of the PoW world!
Mining industry
Bitcoin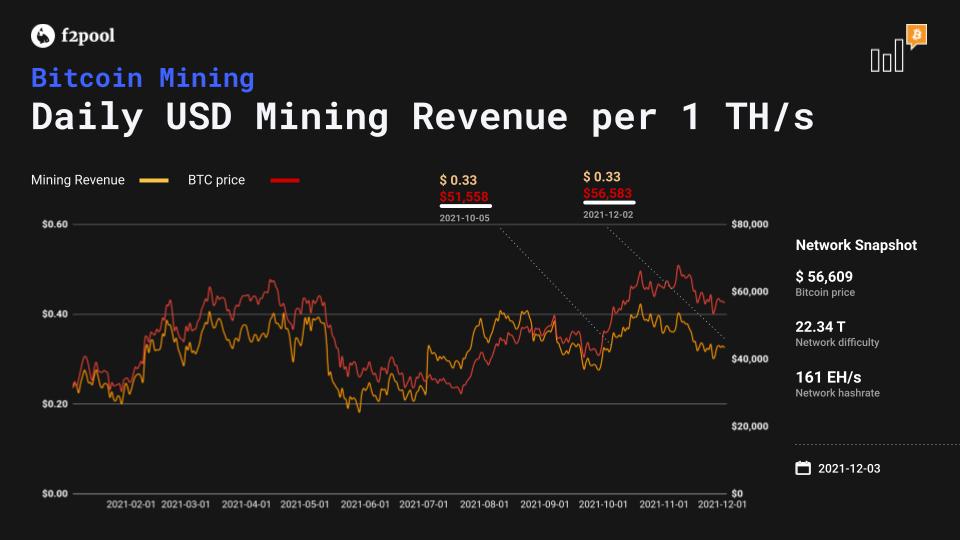 After 9 consecutive increases, Bitcoin's difficulty finally underwent a decrease of 1.49% on November 28, 2021.
The mining revenue remains around $0.33 per 1 TH/s mainly due to the price action. This is the same level that it was at the beginning of October.
Ethereum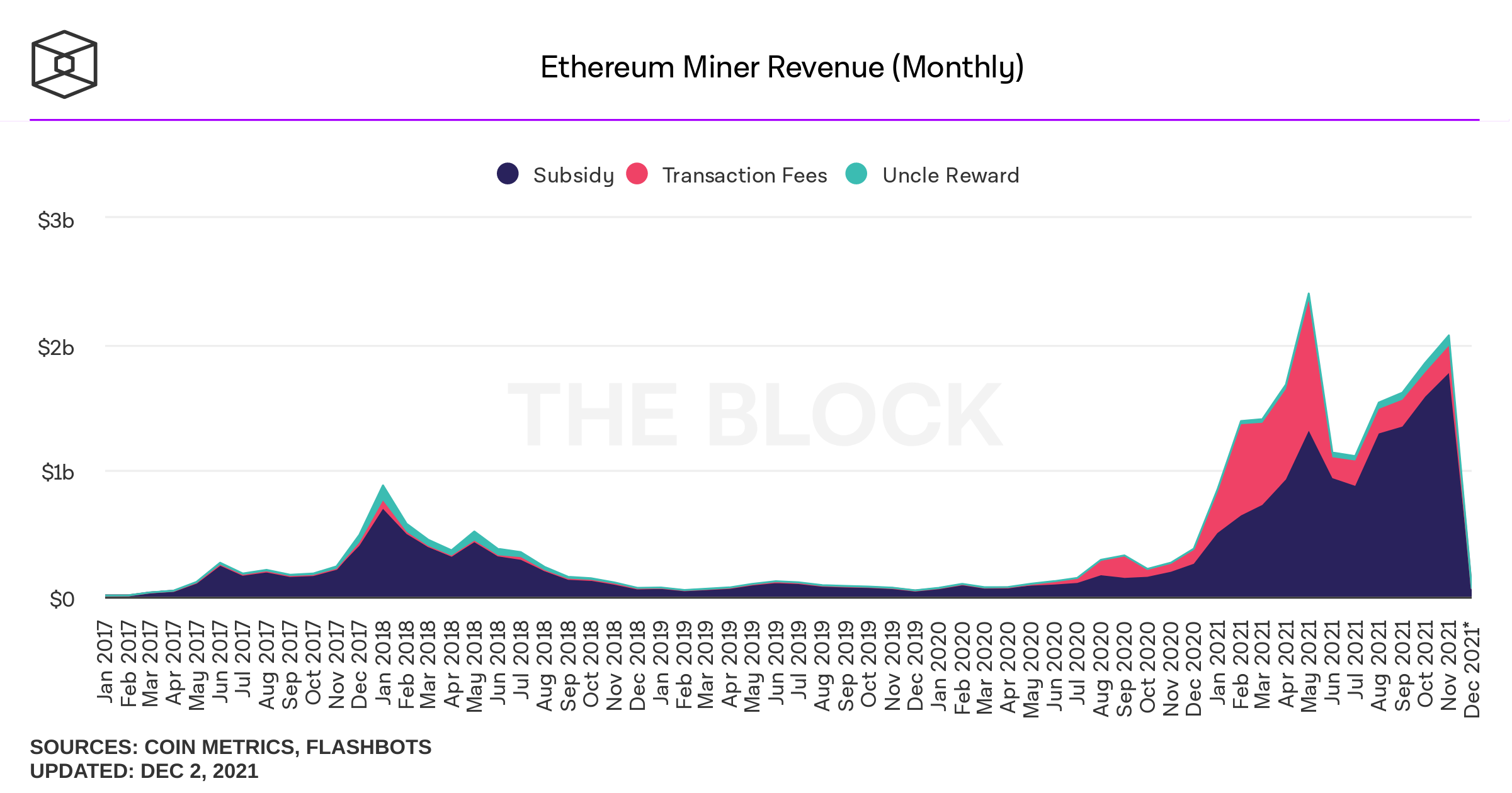 The network just crossed 1 million ETH burnt in 109 days since activation of EIP-1559, with the burnt rate of 6.35 ETH/min, offsetting issuance by 0.68x.
Since July, monthly revenue climbed from $1.11 B all the way up to $2.07 B thanks to the upward price action. The current unit revenue of Ethereum mining is around $0.075 per 1 MH/s.
Dev and network
Bitcoin
Bitcoin-dev.blog unveiled as a technical, open-content blog covering topics and projects Bitcoin developers work on. People can start submitting posts as contributors or donate to show support.
Ethereum
The Arrow Glacier upgrade is upcoming on block 13,773,000, which is estimated to happen on December 8, 2021.
Vitalik released a post sharing a step by step roadmap for scaling rollups, mentioning EIP-4488, or EIP-4490 as an alternative. The latest core dev meeting also discussed the two related EIPs.
A roadmap for how data space available to rollups can be greatly expanded (and hence rollup fees greatly reduced) progressively, starting from calldata gas cost reduction and continuing with step-by-step rollout of sharding:https://t.co/TixzvKInSN

— vitalik.eth (@VitalikButerin) November 25, 2021
Ethereum Classic
The Ethereum Classic Core Dev Call 20 discussed several ECIPs, including the ECIP-1104 to possibly bring an upgrade in January or Q1 of next year. The upgrade named Mystique is supposed to enable the Ethereum Foundation London network protocol upgrades on the Ethereum Classic network to enable maximum compatibility across these networks.
Horizen
Zendoo is live on mainnet. This launch completes Horizen's transition from a privacy-focused cryptocurrency to a zk-SNARK enhanced cross-chain platform powers blockchain and dapps.
Sia
Sia has just passed 2 PB of used decentralized cloud storage, check out more Sia statistics at siastats.info.
Firo
FiroDEX's public beta was released for decentralized and trustless atomic swaps.
Check out our public beta of FiroDEX and give it a go for decentralized and trustless atomic swaps! BTC/FIRO pairs and FIRO-BEP20/FIRO pairs are some good places to start. $FIRO

Stay tuned for our official release with @AtomicDEX https://t.co/0aYO1An5MJ

— Firo (@firoorg) December 1, 2021
Conflux
Conflux announced its v1.1.7 upgrade to optimize the transaction pool and fix some bugs.
Application and adoption
Bitcoin
Square has rebranded to Block which consists of Cash App, Spiral, TIDA, tbDEX and the teams supporting it. This news came out a few days after Jack Dorsey resigned from Twitter. The community is expecting Jack to work on helping increase Bitcoin adoption.
Ergo
Ergo partners with Waves Enterprise to build the future of oracle pools.
Kadena
Kadena announced Marmalade.art, its new standard for NFTs. Marmalade offers 100% on-chain transactions, low gas fees, and shared ownership.
Community
Dogecoin
The Dogecoin community is counting down for the full trailer of a new Dogecoin movie on December 6th to celebrate the Dogecoin Block 0 anniversary. The movie named Dogecoin Billionaire will tell a story about a young boy who stumbles his way into a Dogecoin fortune.
Dash
The Dash monthly newsletter is out covering the latest partnerships, integrations, and development updates.
Digibyte
The November DigiByte has been posted, sharing milestones and news about this month.
---
The PoW Round-Up is our bi-weekly report on the major news and mining insights in and around the Proof of Work ecosystem. Monitor and help secure the PoW world with f2pool.