Bitcoin and Ethereum's scarcity is becoming more prominent from the supply side, both are witnessing growth on the mining scale.
Learn about industry news, development updates, community happenings, and other aspects of the PoW world!
Mining industry
Bitcoin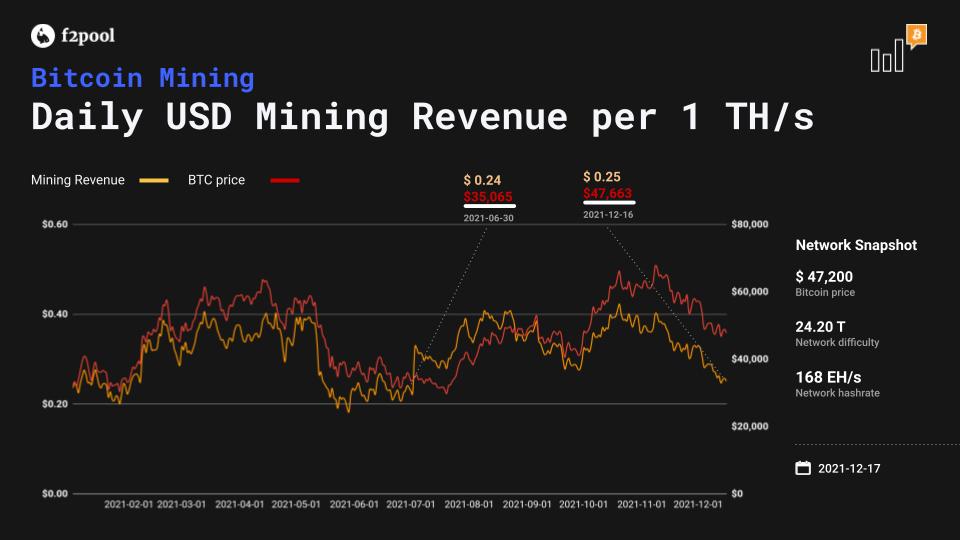 The mining revenue decreased to $0.25 per 1 TH/s, from $ 0.33 two weeks ago. This is due to the price action and high level of mining difficulty, causing fierce competition among miners. It's been more than 4 months since the price per 1 TH/s has been at this level.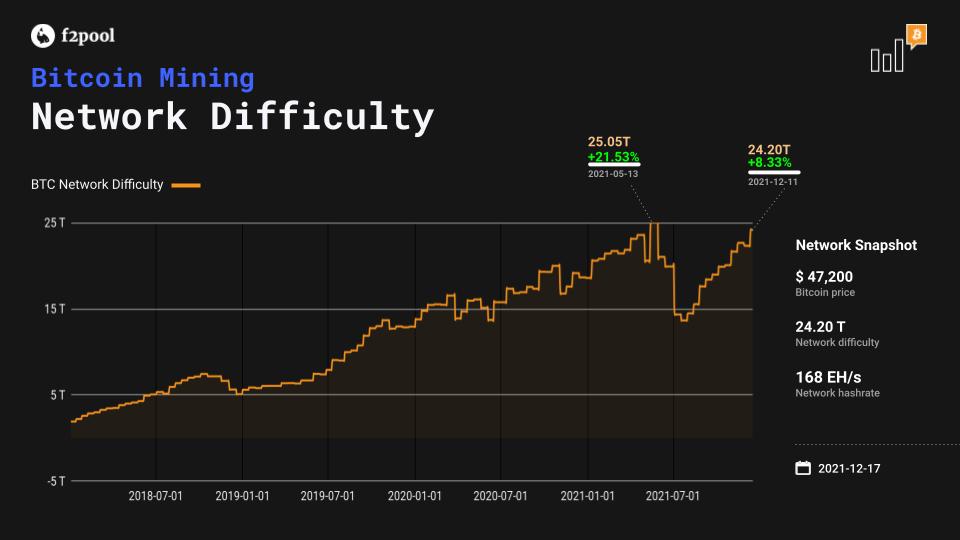 The Bitcoin network witnessed a significant difficulty increase of 8.33% on December 11, 2021. Despite a minor decline of 1.49% in the last two-week cycle, the trend remains positive and has been moving upwards since the end of July. It's at nearly the same level of difficulty ATH as during the middle of May when it was 25.05 T.
Ethereum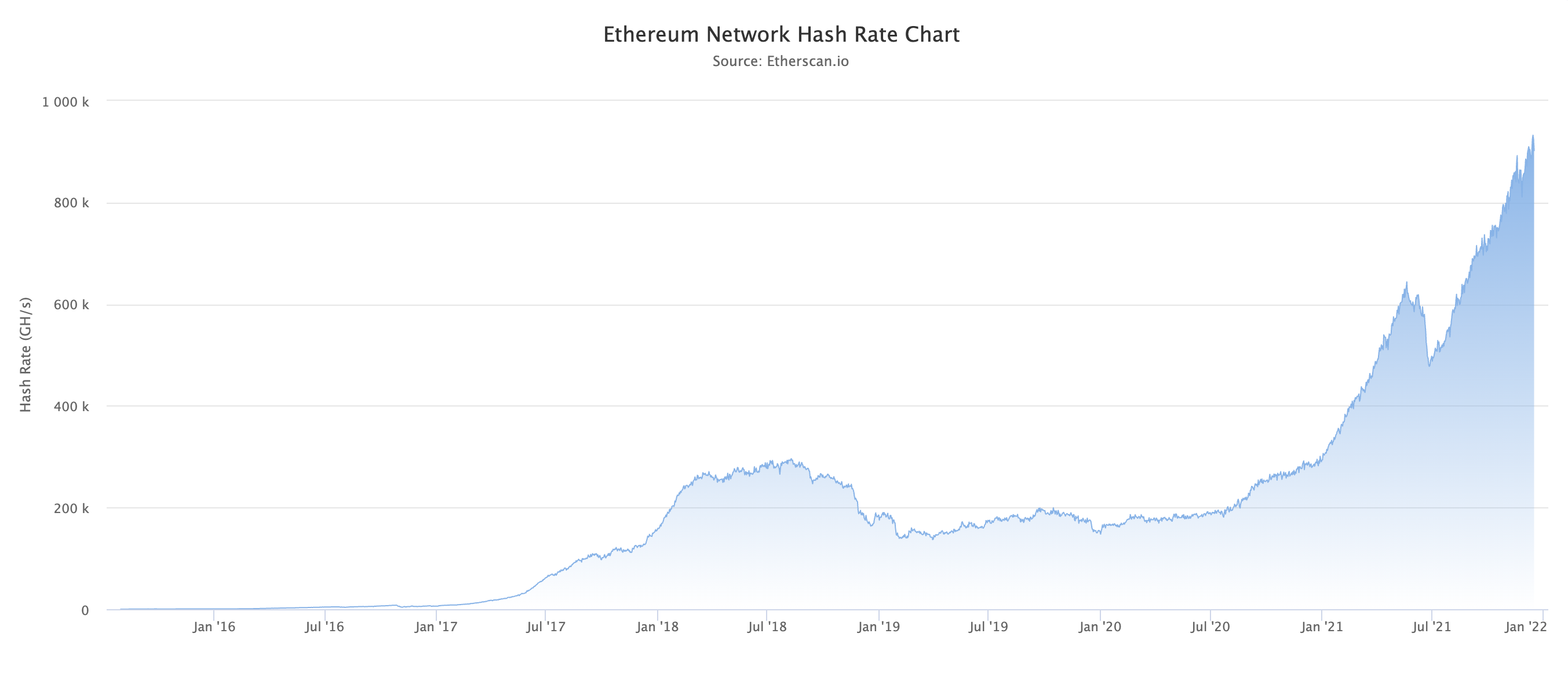 Like Bitcoin, Ethereum mining is experiencing hashrate growth this month. Its highest average hashrate of 932,658.5 GH/s was recorded on December 14, 2021. With combined factors of the price dropping and hashrate climbing, the current unit revenue of Ethereum mining is around $0.064 per 1 MH/s—compared to $0.075 at the beginning of December.
The network just crossed 1.21 million ETH burned in 132 days since activation of EIP-1559, with a burn rate of 6.28 ETH/min, offsetting issuance by 0.62x. During the most recent 30 days, ETH transfers rank top on the burn leaderboard.
Dev and network
Ethereum
Arrow Glacier upgrade was successfully performed at block #13,773,000 on December 10, pushing back the difficulty bomb to June 2022.
The last ACD meeting of 2021, #128 was hosted following the upgrade. EIP-4488 proposed to reduce rollup transaction costs, at the cost of more chain history growth. This proposal was discussed but will not be conducted before The Merge, with devs deciding to stick with the current plan and prioritize the transition to PoS. A full recap can be found in this thread.
Vitalik Buterin released his post Endgame, walking the readers through two main ways of scaling possibilities, and what it means to Etheruem ecosystems. He mentioned that, as a result of rollups, "block production is centralized, block validation is trustless and highly decentralized, and censorship is still prevented."
Litecoin
Litecoin MimbleWimble November recap update was released. As the updated roadmap shows, The first Litecoin release containing MWEB code, and the following miner signaling are expected to happen in January 2022.
Hathor
Hathor is counting down for its upcoming halving happening in about 3 weeks, the block reward is expected to be 16 HTR at the time of its halving.
Application and adoption
Bitcoin
Trezor hardware wallets are now able to support a new account type and Taproot addresses after users update Trezor firmware and run the latest version of the Trezor Suite.
Updates in Trezor Suite (21.12.1), Model T (2.4.3) and Model One (1.10.4)!
Biggest upgrades we introduce this month are:

Taproot accounts and addresses 🥕
The first DEX in Trezor Suite — @1inch — powered by @invity_io

More details about all improvements:https://t.co/l7N2cPqpdf

— Trezor (@Trezor) December 8, 2021
Ethereum
ConsenSys launched ConsenSys Rollups with the support of Mastercard. ConsenSys engaged Mastercard to co-develop key building blocks to make blockchain technology scalable on the Ethereum Mainnet or for private use.
Mastercard and @ConsenSys just announced a partnership to enhance #Ethereum scalability via zk-rollups

This partnership will provide enterprise-grade scalability and privacy capabilities to financial organizationshttps://t.co/pWoQ769IFA

— Crypto Gucci 🦇🔊| crypto-gucci.eth (@CryptoGucci) December 16, 2021
Firo
Firo released its native mobile wallet with Lelantus privacy technology. The android version is now available.
Kadena
X-Wallet, a web-extension wallet powered in the Kadena ecosystem will launch soon, allowing users to interact with Kadena dapps, view transactions, and more.
Sia
SkyDocs recently reached version 3.0, with an update bringing a complete UI refresh, Dfinity login, and hosting and storing directly on Skynet.
Community
Bitcoin
Jack Dorsey announced the ₿trust board that will think about how to best distribute 500 bitcoin towards development efforts.
Ethereum
Devconnect, a week-long gathering in Amsterdam, will be hosted on April 2022. It will feature independent Ethereum events—focusing on depth-first sessions, to talk, learn, or make serious progress on specific subjects.
👋👋👋...

Meet Devconnect: A week-long gathering in Amsterdam featuring independent Ethereum events, each with a unique focus.

Devconnect aims to bring people together in April 2022 to learn & make progress together.

More: https://t.co/jJb3cV7pIL
Visit: https://t.co/UkWYnKg014

— Devconnect (@EFDevconnect) December 13, 2021
Dogecoin
On December 6, the Dogecoin community celebrated the 8th anniversary of the #0 block. The official trailer of the movie Dogecoin Billionaire live at dogecoin.org.
Digibyte
Digibyte DigiByte Alliance was created in Wyoming to accelerate Innovation on the DigiByte blockchain. It focuses on raising funds for development, maintenance, and education.
---
The PoW Round-Up is our bi-weekly report on the major news and mining insights in and around the Proof of Work ecosystem. Monitor and help secure the PoW world with f2pool.