Bitcoin starts a new year in a big way with new hashrate ATH, billionaire buy-up, and solid progress on its adoptions.
Learn about industry news, development updates, community happenings, and other aspects of the PoW world!
Mining industry
Bitcoin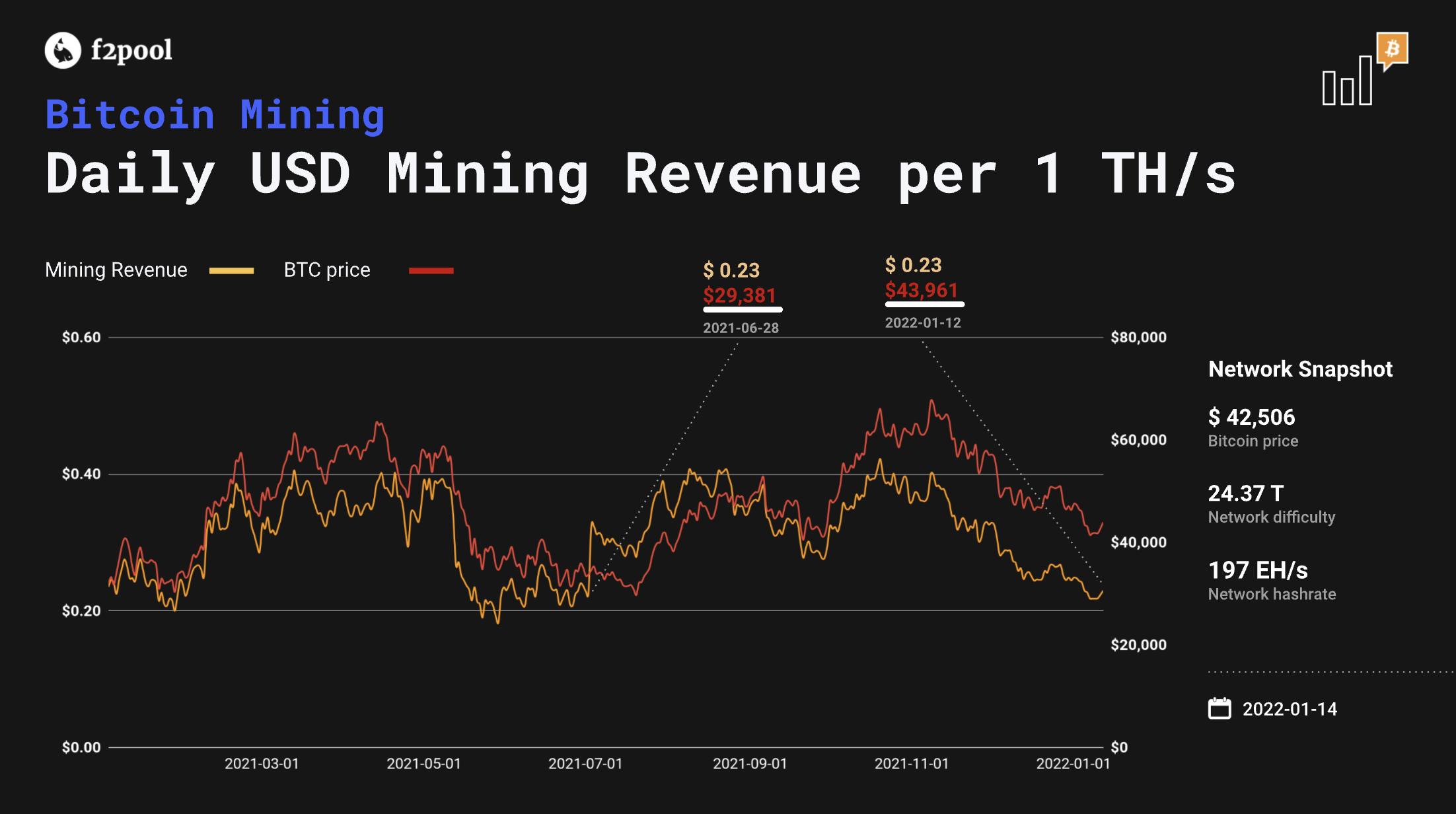 The bitcoin network hashrate reached new ATHs during the past two weeks, reaching close to 200 EH/s despite hiccups due to regional gridlock that affected bitcoin mining. With combined factors of the price dropping and hashrate climbing, the current unit revenue of Bitcoin mining is around $0.23 per 1 TH/s - the same level as the end of last June.
Block, led by Jack Dorsey, is now hunting for talent to develop next-generation Bitcoin mining ASIC. Jack tweeted that Block is officially building an open bitcoin mining system. Thomas Templeton, Block's general manager for hardware, shared his thoughts about solving the mining rig's availability, reliability, and performance problems.
Ethereum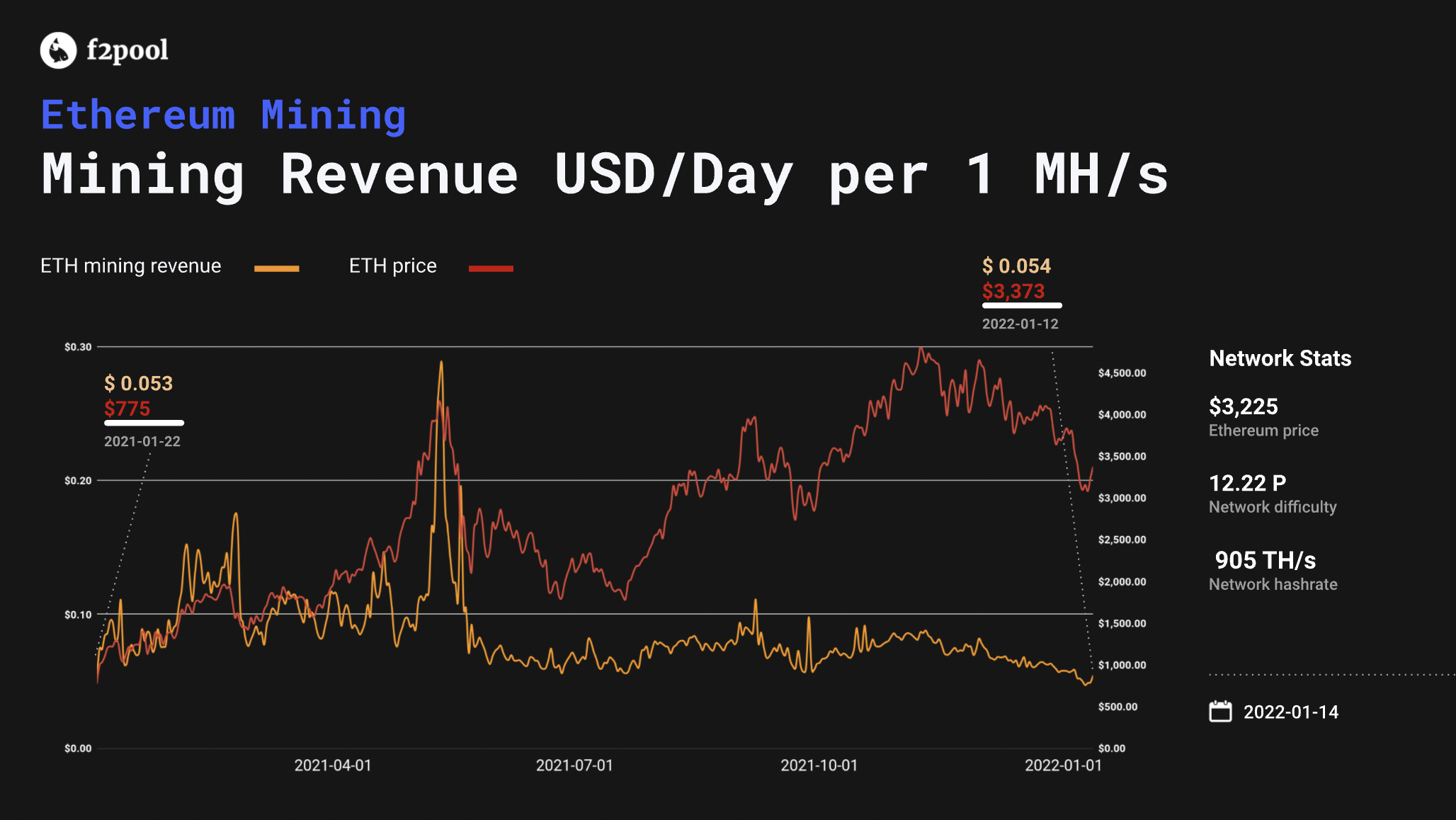 Ethereum network performs a similar hashrate trend to Bitcoin. The highest average difficulty of 12,425.837 TH was recorded on 2022-01-09, following the gains of network hashrate. As a result, unit mining revenue decrease to $0.0543 per 1 MH/s.
Dev and network
Bitcoin
The first BIP-119 deployment and review workshops wrapped up successfully on 2022-01-11. The workshops are scheduled as a recurring meeting to discuss BIP-119 reviews and deployments topics. BIP-119 is a proposal to achieve a next-generation smart contract for Bitcoin.
Ethereum
The first Ethereum Core Devs meeting of the new year was last week. The priority of EIPs to deploy is the focus of the call. Read this page to view conversations related to Shanghai planning.
Litecoin
The first release candidate of v0.21 with taproot support is now available for download. The formal version will be available after testing and signing by the devs. Find additional updates from the previous month on the MimbleWimble update post.
Litecoin MimbleWimble December Recap Update 🧑‍💻

📜 Code Vulnerabilities identified, documented and fixed
🎉 RC 0.21.1 w/ taproot now available!
✨MW (hopefully) final code review next week, RC to follow.https://t.co/yryKRdzvL4

— Litecoin.com (@LitecoinDotCom) January 10, 2022
Hathor
The second Hathor halving happened on block height 2102401 on 2022-01-08 when it was reduced to 16 HTR from 32 HTR per block mined.
Ravencoin
The first Ravencoin block reward halving occurred at block height 2,100,000 on 2022-01-11, about 4 years after its genesis block was mined. The block reward decreased from 5,000 RVN to 2,500 RVN.
Ethereum Classic
Starting in January 2022, development work on the Core-Geth client, a distribution of Go Ethereum will receive funding from the ETC Cooperative. Read more.
Decred
The Decred v1.7 RC2 release comes with bug fixes and improvements.
Application and adoption
Bitcoin
Cash App has added Lightning Network.
Jack Maller at Strike announced that Argentines who use Strike can hold a stable cash balance that can be spent instantly and with zero fees. He proposes Strike as a solution to counter the country's long history of hyperinflation.
🇦🇷 Welcome, Argentina! 🇦🇷

Today, we launch a superior financial experience to a country that faces hyperinflation, predatory payment networks, and unusable cross-border transfers

Today, we use the world's open monetary network, #Bitcoin, to give hope to the people of Argentina pic.twitter.com/Z2RYLxmKSL

— Jack Mallers (@jackmallers) January 11, 2022
Dogecoin
Adam Aron, the CEO of AMC Theaters, shared the company's timeline of Dogecoin support. It's estimated to be available in March - along with Shiba Inu.
I have been repeatedly asked when AMC expects to routinely accept Dogecoin and Shiba Inu for any and all payments made via the AMC web site and mobile app. I am being told that we are still well on track for the promised Q1 implementation, with exact timing most likely in March. pic.twitter.com/QSBvLAMHKx

— Adam Aron (@CEOAdam) January 6, 2022
Firo
Firo Electron Wallet 2.1.3 with MTP stripping and Firo Android Wallet 1.1.6 are available. The download is available here.
Horizen
Horizen unveiled its 2022 roadmap. This new year, they will focus on Blaze SDK, tokenization platform, EVM compatibility, and more. In Q1 2022, Horizen is concentrating on the tokenization platform. Check out the latest weekly insider for details.
Nervos
Pastel Network partners with Nervos to provide enhanced protection, security, and storage for users and blockchain developers using NFT dApps.
Ycash
YecWallet v4.4.2 is now available. The previous version expired on 2022-01-12.
Community
Bitcoin
On 2022-01-03, Bitcoin turned 13 years old since Satoshi Nakamoto created the genesis block. Happy Birthday, Bitcoin!
Thank you, Satoshi Nakamoto, whoever, wherever, whatever you are.

— Documenting Bitcoin 📄 (@DocumentingBTC) January 3, 2022
Another Happy Birthday to Bitcoin lightning networks, The lightning network paper was released on 2014-01-14, turning 8 years old.
Billionaire Bill Miller revealed that he is investing 50% of his net worth in Bitcoin and related companies such as Microstrategy, Bitcoin miner Stronghold Digital, and software company MicroStrategy.
Miller is the founder, owner, and chief investment officer of Miller Value Partners LLC, a $3.1 billion registered financial advisor. https://t.co/K1JZPjiGlr

— Bitcoin Magazine (@BitcoinMagazine) January 11, 2022
Ethereum
In a recent Reddit AMA, Vitalik Buterin shared his takes on why the future will be "multichain" but not "cross-chain." He also shared his research analyzing multidimensional EIP-1559.
From 2022-01-14 to 2022-01-16, ETHGlobal is hosting NFTHack - an event bringing together a virtual collective of passionate creatives and developers for a weekend NFT hackathon and summit. Save this YouTube page for the latest workshops and speeches at the event.
Next month, ETHDenver 2022 is hosting an offline event from 2022-02-11 to 2022-02-20. Applications are now open.
Dogecoin
Dogecoin community donated 163,428 DOGE to Team Seas, a fundraising project that completed its $30M goal to help make a better marine environment.
#teamseas reached their $30M goal!

the dogecoin community donated 163428 doge to help with the effort ~ an amazing show of generosity shibes :)

proud of the generosity of the community, much impressed!

well done, internet ~ good things can happen when we all work together https://t.co/Ea2zWOWIEc pic.twitter.com/n9GlzGySL0

— Shibetoshi Nakamoto (@BillyM2k) January 2, 2022
---
The PoW Round-Up is our bi-weekly report on major news and mining insights in and around the Proof of Work ecosystem.
Monitor and help secure the PoW world with f2pool.