Despite the price crash, the network's hashrate reached a new ATH, mining is still tasting good, and adoption is increasing.
Learn about industry news, development updates, community happenings, and other aspects of the PoW world!
Mining industry
Bitcoin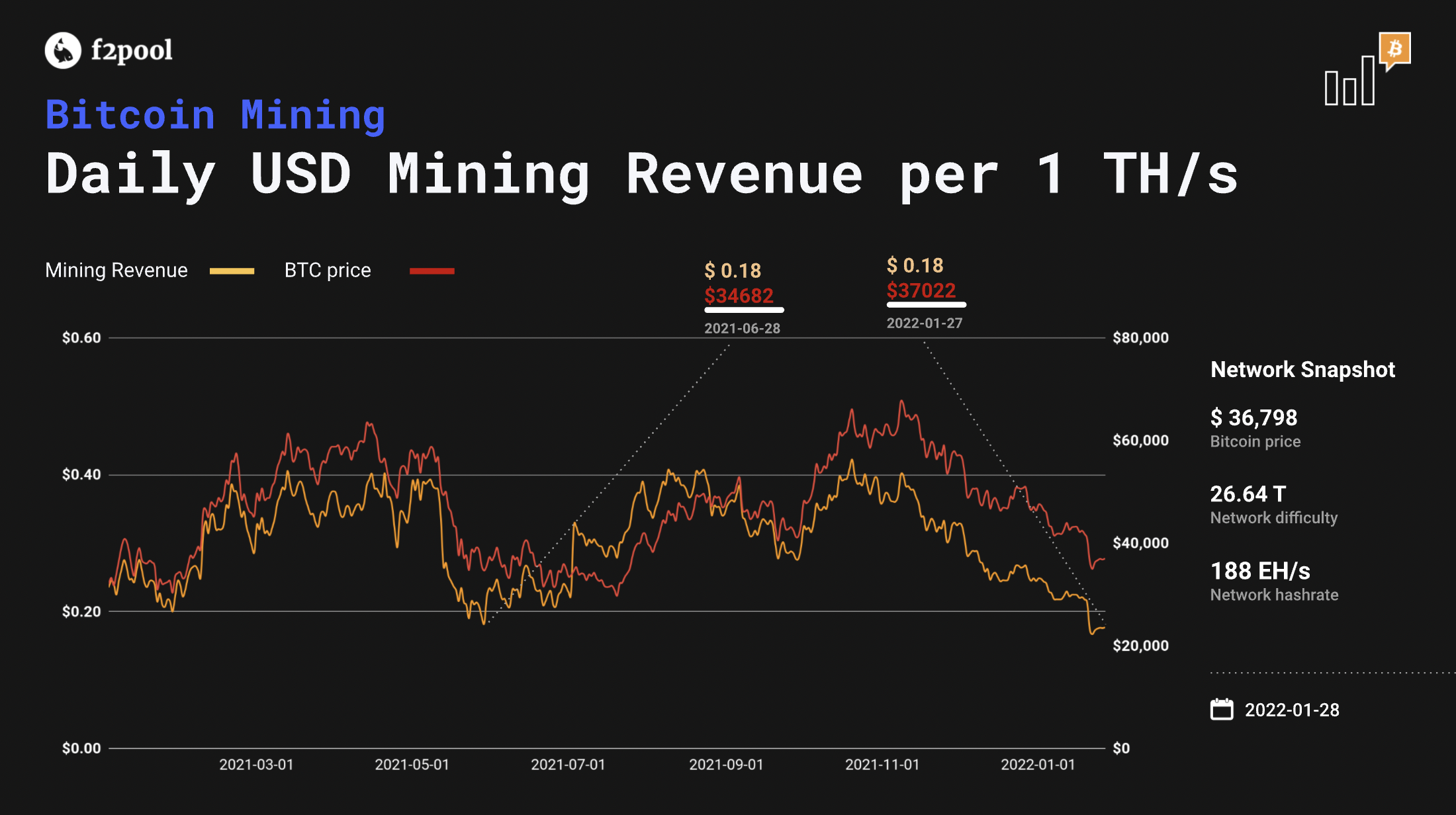 On 2022-01-21, the factors of market downturn and network difficulty ATH acted together on the mining profitability, starting another complex new two-week cycle. The current unit revenue of Bitcoin mining is around $0.18 per 1 TH/s, dropped back to the same level as it at the end of June 2021.
The recent significant adjustment of +9.32% reflected the recent fierce competition on hashrate. The good news is that, despite the massive drop in prices, most Bitcoin ASIC machines remain profitable. Advanced models are now in a safe price zone; even old models such as the Antminer S9 series can still keep on running with profits. The network hashrate is still stably growing.
More news about mining rigs. Intel closed the sale for its upcoming bitcoin mining chip. Intel and GRIID agreed on a deal that provides GRIID with fixed-price bitcoin mining ASIC hardware by Intel for orders placed before May 2023. Read more.
Ethereum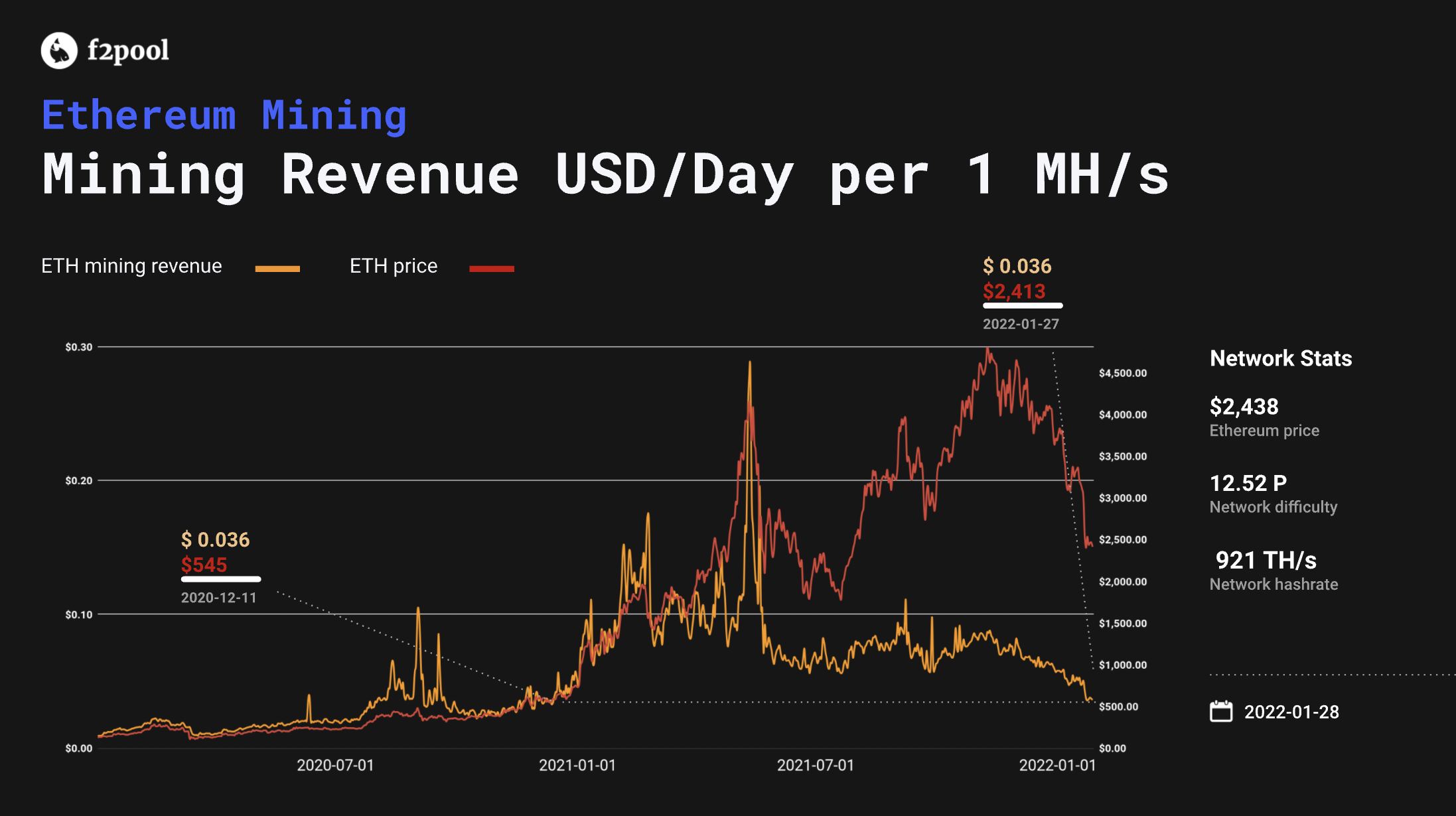 Ethereum profitability drops back to the level in December 2020, with similar combined factors of price and hashrate. The new ATH on Ethererum hashrate was recorded on 2022-01-26. Currently, the unit mining revenue decreased to $0.036 per 1 MH/s, despite the significant decrease in revenue, Ethereum miners, similar to Bitcoin miners, are also not threatened by the price change, as hashrate reflects.
Dev and network
Ethereum
The recent Ethereum Core Devs meeting took place on 2022-01-21. One of the main subjects in the discussion was some potential EIPs for the Shanghai upgrade. Read this thread for a summary of it.
Ethereum has terms updates. "Eth1" has been renamed to "execution layer" and "Eth2" to consensus layer," according to Ethereum's Q1 roadmap, for better clarification and inclusivity of Ethereum. As for the Merge, here is an updated webpage for more information.
Ethereum Classic
Ethereum Classic's Mystique hard fork will be activated at block 14,525,000, estimated to occur on 2022-02-13. The upgrade will implement some proposals (EIP-3529, 3541) of Ethereum's London upgrades on the Ethereum Classic network to foster compatibility across these networks.
ECIP-1104, called 'Mystique' is coming. It implements a subset of changes found in the Ethereum Foundation London hard fork.

We are reaching out to all #EthereumClassic node operators and provided a blog post detailing all the necessary information.https://t.co/B520ZasfKm

— ETC Cooperative (@ETCCooperative) January 28, 2022
Litecoin
Litecoin community is counting down for MimbleWimble enabling at the end of January. Instead of layer 1, this privacy-focused tech will be implemented through layer 2.
Dogecoin
Dogecoin developer is working on a payment channel on testnet, that allows sending several payments to a service.
A proposal was posted to repair 1.14.4 and 1.14.5 payouts, and the devs are getting closer to a solution to it.
Decred
​​Decred v1.7.0 "Based Bison" has now been released with four consensus votes.
Ergo
Ergo released its plans and predictions for 2022, mentioning Ergo Hackathons, Wallets, Bridges, and more aspects.
Firo
Firo v0.14.9.4 was released. This patches a bug concerning ProRegTx transactions. Mandatory upgrade for all node operators to ensure network stability.
Application and adoption
Ethereum
Twitter is adding NFT as a profile picture, by connecting their crypto wallets. Twitter Blue subscribers can now test setting an NFT as their profile picture in the iOS app. Currently, it only supports static image NFTs minted on the Ethereum blockchain. Check out this post to learn more about it.
Hathor
Hathorpay 0.2.12 was pushed with custom token values reflective of public pool pair ratios on Hathorswap.
Handshake
Bob Wallet 0.9.0 was released. It added new support for Name claims and SPV mode, along with a few UI/Performance improvements. Please make sure your seed phrases are securely backed up before the upgrade.
DigiByte
Digiwallet, an open-source wallet, and we DigiAssets v3 were announced recently. Click here for a detailed introduction of the new wallet, and here for downloading the explorer.
Nervos
Project Kami is live on Nervos and users can access the first large immersive NFT collection powered by Nervos' secure, scalable layered architecture.
Community
Bitcoin
Jack Dorsey announced a legal defense fund for developers working on Bitcoin and related projects such as the Lightning Network, Bitcoin privacy protocols, and the like.
Ethereum Classic
Ethereum Classic's latest community call happened on 2022-01-18. Topics such as ETC Community Fund, ETC DAO contingencies, and more were discussed.
Firo
Firo announced partners with DoTOracle to bridge tokens across multiple chains into our upcoming privacy tokenization layer Elysium.
Dash
The Dash's January newsletter is out covering the latest partnerships and development updates.
Kadena
Kadena has updated its 2022 live roadmap covering both the completed milestones and upcoming ones.
---
The PoW Round-Up is our bi-weekly report on major news and mining insights in and around the Proof of Work ecosystem.
Monitor and help secure the PoW world with f2pool.