In the past two weeks, we saw a speedup of institutional or nationwide crypto adoptions, network upgrades, and applications releases.
Learn about industry news, development updates, community happenings, and other aspects of the PoW world!
Mining industry
Bitcoin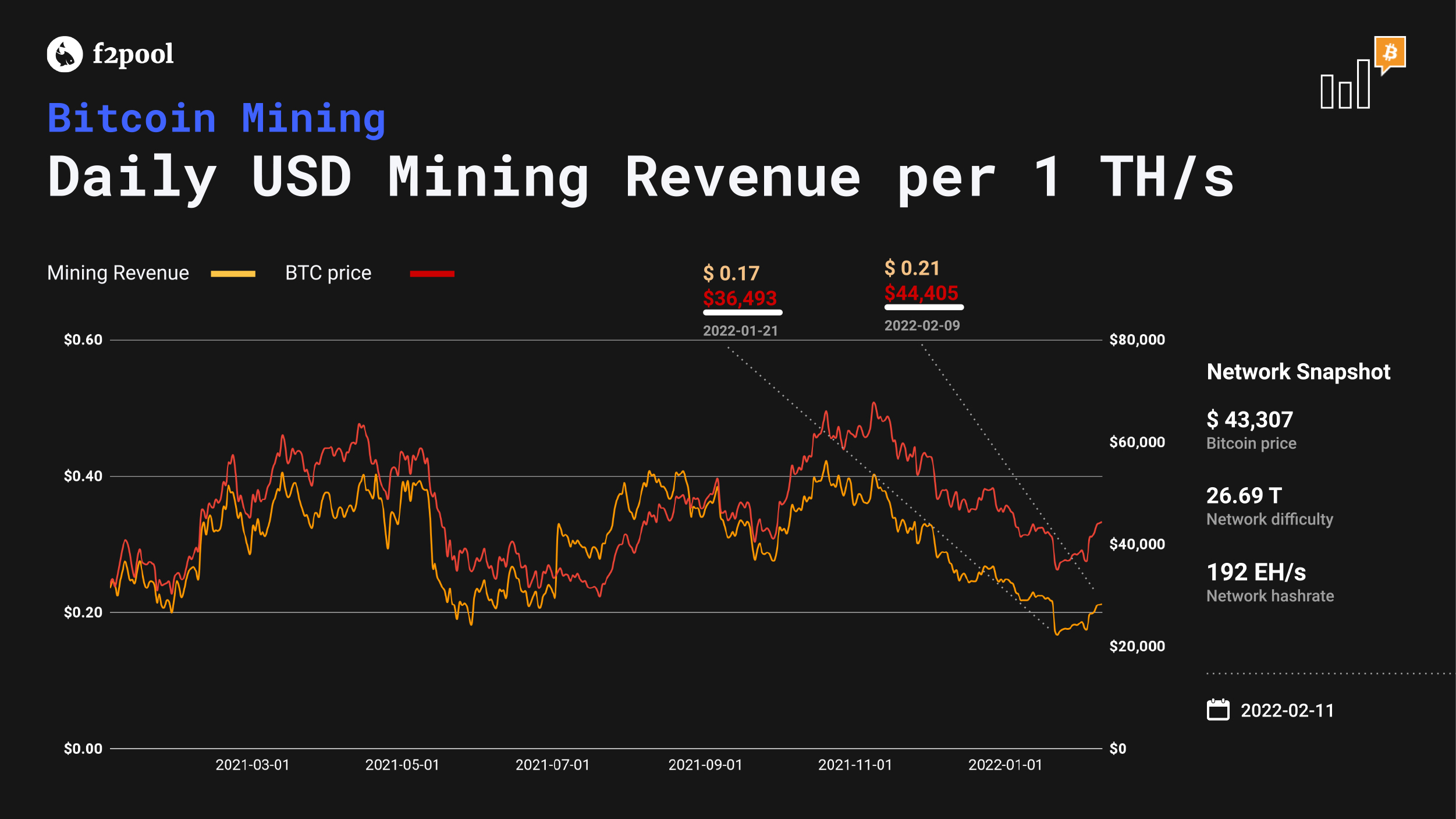 The network difficulty of Bitcoin has been stable with a slight increase of 0.18% to 26.69 T compared to the last 2-week cycle. Since the end of July last year, the difficulty has only increased, except for a small retreat 3 months ago.
While the market is showing an uptrend, we can that see a unit profit of mining Bitcoin is now back to $0.21 per 1 TH/s, compared to a one-year low point at $0.17 two weeks ago.
Ethereum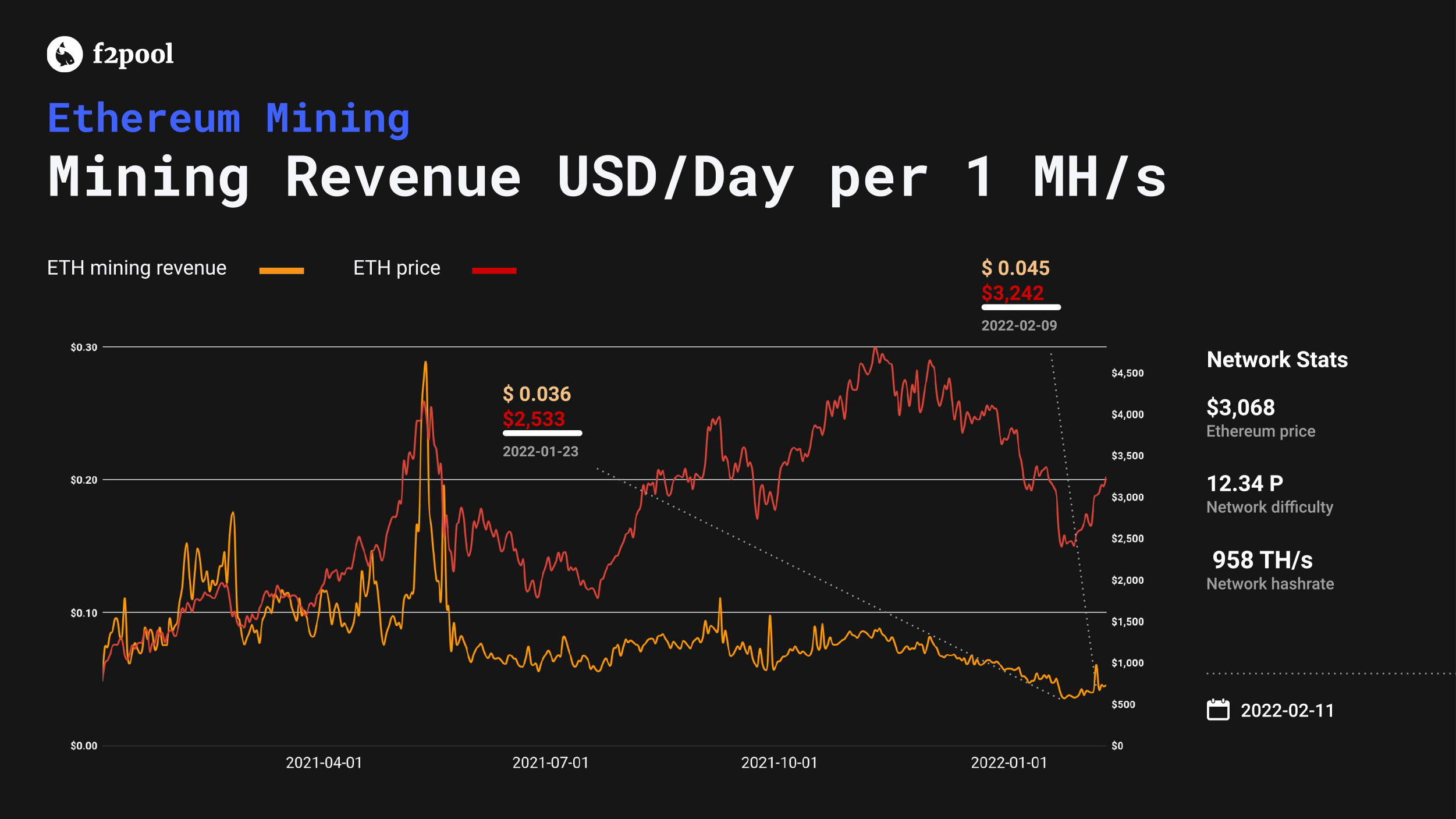 Like Bitcoin, Ethereum mining profitability bounced this week. The mining competition is still fierce, as the network records a new ATH on the highest hashrate on 2022-02-06.
Compared to $0.036 per 1 MH/s, the unit profit climbed to $0.045. High gas fees paid to miners in blocks pushed the profitability to a $0.065 level on 2022-02-05.
Dev and network
Ethereum
Ethereum's latest ACD continued the discussion about devnet, testntes, clients, and proposals related to the Merge. Several EIPs were explained for possible inclusion in the Shanghai upgrade.
Among the EIPs, The devs agreed on the highest priorities, the first subset of EVM EIPs, and transaction data cost reductions. Readers can refer to Tim Beiko's thread for a summary, or review the discussion in the recording below.
Litecoin
The Litecoin Core 0.21.2 upgrade will include several features, Mimblewimble and enhancements of Taproot being the most prominent in the release candidate. It will take time to complete tests of this version before a stable version is ready for community upgrade.
BREAKING: After years of development, Litecoin's #MWEB - Mimblewimble Extension Block upgrade will be included as part of the #Litecoin Core 0.21.2 release candidate, which also includes the security and privacy enhancing #Taproot upgrade. https://t.co/XIXqBt1INk

— Litecoin Foundation ⚡️ (@LTCFoundation) January 31, 2022
Application and adoption
Bitcoin
Bitcoin adoption is unstoppable just like its network. In recent days, it has just moved in big ways. Let's review:
KPMG Canada announced they added Bitcoin and Ethereum to the corporate balance sheet.
BlackRock, the world largest asset manager, plans to let its clients trade Bitcoin.
El Salvador plans to issue a $1 billion Bitcoin bond between 2022-03-15 to 2022-03-20.
Russia agrees to treat Bitcoin as a currency and plans to legalize local crypto exchanges.
As US inflation hits its highest mark in 40 years and inflation continues to climbs worldwide, we may just need a quote from Micheal Saylor to remind us of the value of Bitcoin.
Ethereum
GameStop is teaming up with Immutable X to launch an NFT marketplace later this year. In addition, they will launch a $100M IMX pool which will be used for grants to creators of NFT content and technology on Immutable X.
Dogecoin
Dogecoin devs are calling for testers for its beta version of a dogecoin wallet. This wallet is also experimenting with a Payment Channel.
Hathor
Hathor wallet v0.21.2 is live with fixes and new features - such as supporting NFT list previews for videos without an extension.
Ergo
Ergo synced up their Development progress last week, regarding NIPoPoWs, L2 solutions, Nautilus dApp connector, and more.
Firo
Firo shared that Firo mobile wallet is approved by Google Play. An upcoming iOS/Android mobile wallet name Campfire, with Lelantus support, was also submitted for approval.
DigiByte
The DigiAsset explorer is live, and its source code is shared on GitHub.
Kadena
X Wallet, the first official browser extension wallet for Kadena, is released by Kaddex.
Community
Bitcoin
The US government seizes $3.6 billion in Bitcoin tied to the 2016 hack of crypto exchange Bitfinex. Bifinex released a message to their community in response to the news, providing FAQs along with it.
Ethereum
Vitalik Buterin shared on Reddit a quick reminder of what shared security means. He answers what the security level can be if you are holding assets on a smaller chain that is connected to a larger chain.
Another post that Vitalik recently shared explains the current choice of block times and the tradeoff between speed and decentralization/safety.
The next Merge community call is scheduled for 2022-02-11. Infrastructures providers will discuss the preparation of the Merge on devnets.
ETHDenver 2022 is around the corner. View the detailed schedule and don't miss out on your favorite sessions.
Another ETH event: Devconnect is scheduled to take place in Amsterdam from 2022-04-18 to 2022-04-25.
Save the date(s)! Devconnect is scheduled to take place in Amsterdam between 18-25 April 2022.

Check out today's post for news on the schedule and the first announced events, our Co-Work space, an Amsterdam city guide, Volunteer call and more!https://t.co/y1jgvmJH9f

— Devconnect.eth (@EFDevconnect) February 1, 2022
Ethereum Classic
The latest Ethereum Classic community call talked about the upcoming hard fork coordinations estimated on 2022-02-13, ETC DAO, and more.
Ergo
Ergo will host an online summit on its YouTube channel from Feb 2022-02-17 to 2022-02-23. The theme is privacy with guest speakers who are experts in the blockchain industry.
Handshake
The community celebrated Handshake's two-year anniversary on 2022-02-03. The Shake released the article Year Two In Handshake reviewing network growth and the most significant developments in Handshake.
---
The PoW Round-Up is our bi-weekly report on major news and mining insights in and around the Proof of Work ecosystem.
Monitor and help secure the PoW world with f2pool.