BTC network difficulty drops slightly, ETH hashrate ATH, New Doge wallet, and more.
Learn about industry news, development updates, community happenings, and other aspects of the PoW world!
Mining industry
Bitcoin
Bitcoin saw its first drop in difficulty after six cycles of gaining in difficulty. With a -1.49% change, the next adjustment is estimated as another slight decrease.
Mining profitability remains at the same level as the previous 2-week cycle and hasn't fluctuated significantly, compared to 50 days ago, as prices remain stable.
Ethereum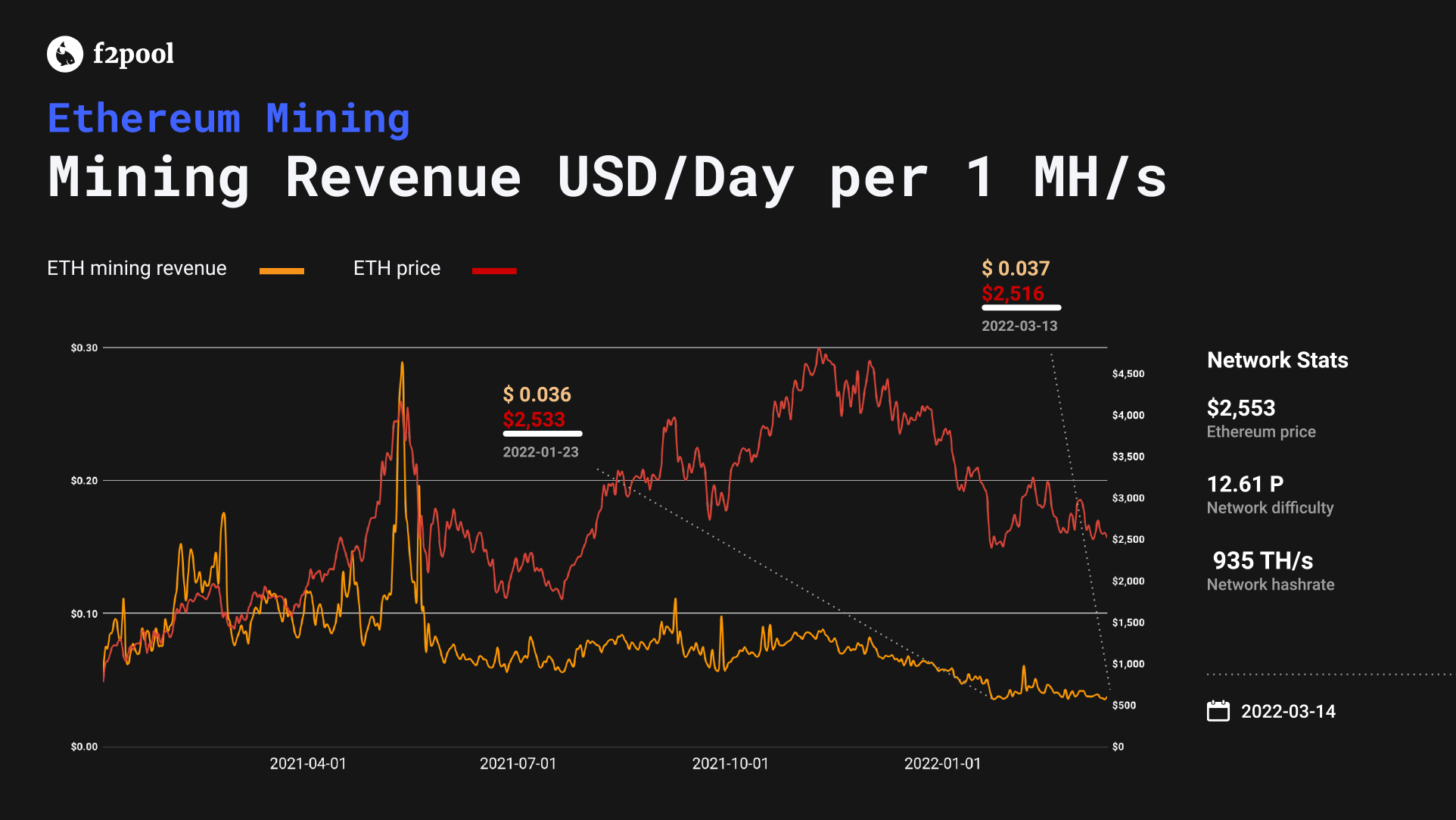 As a result of low participation in NFTs and Defi, the average gas price hit an eight-month low level below $4.1, which recently was a single-digit Gwei per transaction.
However, the network hashrate continued inflowing the past 2 weeks despite the market downturn. The highest hashrate was marked at 1,039 TH/s on 2022-03-12. Profit has dropped to a $0.037 per 1 MH/s level.
Dev and network
Ethereum
The name of The Merge was finally announced as "Paris". It follows the Devcon city name convention and highlights the first large community-organized conference.
Meanwhile, Kiln testnet launched The community is testing The Merge by running infrastructures, sending transactions, and testing setups before The Merge is available on other testnets.
And we chose.... 🥁🥁🥁

🗼🇫🇷🥖 Paris 🥖🇫🇷🗼

Following our devcon-city name convention, with a twist: Paris is where Ethereum's first large community-organized conferences, @EthCC and @EDCON_Online, took place 😁 https://t.co/7acV70BnXf

— Tim Beiko | timbeiko.eth 🔥🧱 (@TimBeiko) March 11, 2022
A previous core dev meeting happened on 2022-03-05. Check the EIPs and discussion for the future of ethereum in this video.
Decred
Four consensus agendas included in Decred v1.7 began voting on-chain. To check out the status, refer to this page.
Tallying begins at block 641,152. If quorum is met the agendas that pass will lock in at block 649,216, and the new rules will activate at block 657,280.https://t.co/weioVFuCx1

A summary of the proposed consensus changes and links to their respective DCPs are included below:

— Decred (@decredproject) March 11, 2022
Kadena
Kaddex and X Wallet team up with Simplex to bring fiat on-ramp services into Kadena DeFi.
Ergo
Ergo's latest dev update video is out covering Dexy stablecoin, Rosen Bridge oracle, and more updates.
Firo
Spats, Firo's research paper, was released to extend the Lelantus Spark to support confidential assets and provide privacy to a wider ecosystem.
Application and adoption
Bitcoin
Lightning network capacity reached a new high of 3534 BTC. Check different matric of the lightning network via https://1ml.com/.
Ethereum
Yuga Labs, the creator of Bored Ape Yacht Club, acquired the CryptoPunks and Meebits collections from Larva Labs and will give full commercial rights to the NFT holders.
Some big news to share today: Yuga has acquired the CryptoPunks and Meebits collections from @LarvaLabs, and the first thing we're doing is giving full commercial rights to the NFT holders. Just like we did for BAYC and MAYC owners. pic.twitter.com/lAIKKvoEDj

— Yuga Labs (@yugalabs) March 11, 2022
Dogecoin
MyDoge Wallet, a non-custodial online wallet of Dogecoin is available on the App Store.
Handshake
The first handshake NFT auction Handshake Tarot is happening on 2022-03-16.
Firo
​​Campfire, a private by default, open-source Firo mobile wallet is released.
Community and more
Bitcoin
EU just voted again on banning PoW mining. The ECON committee of the EU Parliament voted against the PoW-ban, with 32 against and 24 in favor, paving the way for an innovation-friendly crypto-regulation that will set standards worldwide.
Ethereum
Many Ethereum events are happening all around the world in March. There is Ethereum Rio from March 11 to 20, ETH Austin on March 17 and 18, and ETHDubai from March 29 to 31.
Handshake
HandyCon is going to live this week. There will be an online conference and hackathon in the upcoming days for builders and the broader community.
Horizen
The latest weekly insider of Horizen shared several updates, including the Tokenization platform, Web Wallet V, zkAudit, and more.
Kadena
Kadena's February report launched with a variety of ecosystem updates.
Digibyte
The Digibyte February update is out with the latest progress on partnership and adoptions.
---
The PoW Round-Up is our bi-weekly report on major news and mining insights in and around the Proof of Work ecosystem.
Monitor and help secure the PoW world with f2pool.