BTC and ETH difficulties hit ATHs, GameStop NFT platform, Exxcon's pilot mining program, and more.
Learn about industry news, development updates, community happenings, and other aspects of the PoW world!
Mining industry
Bitcoin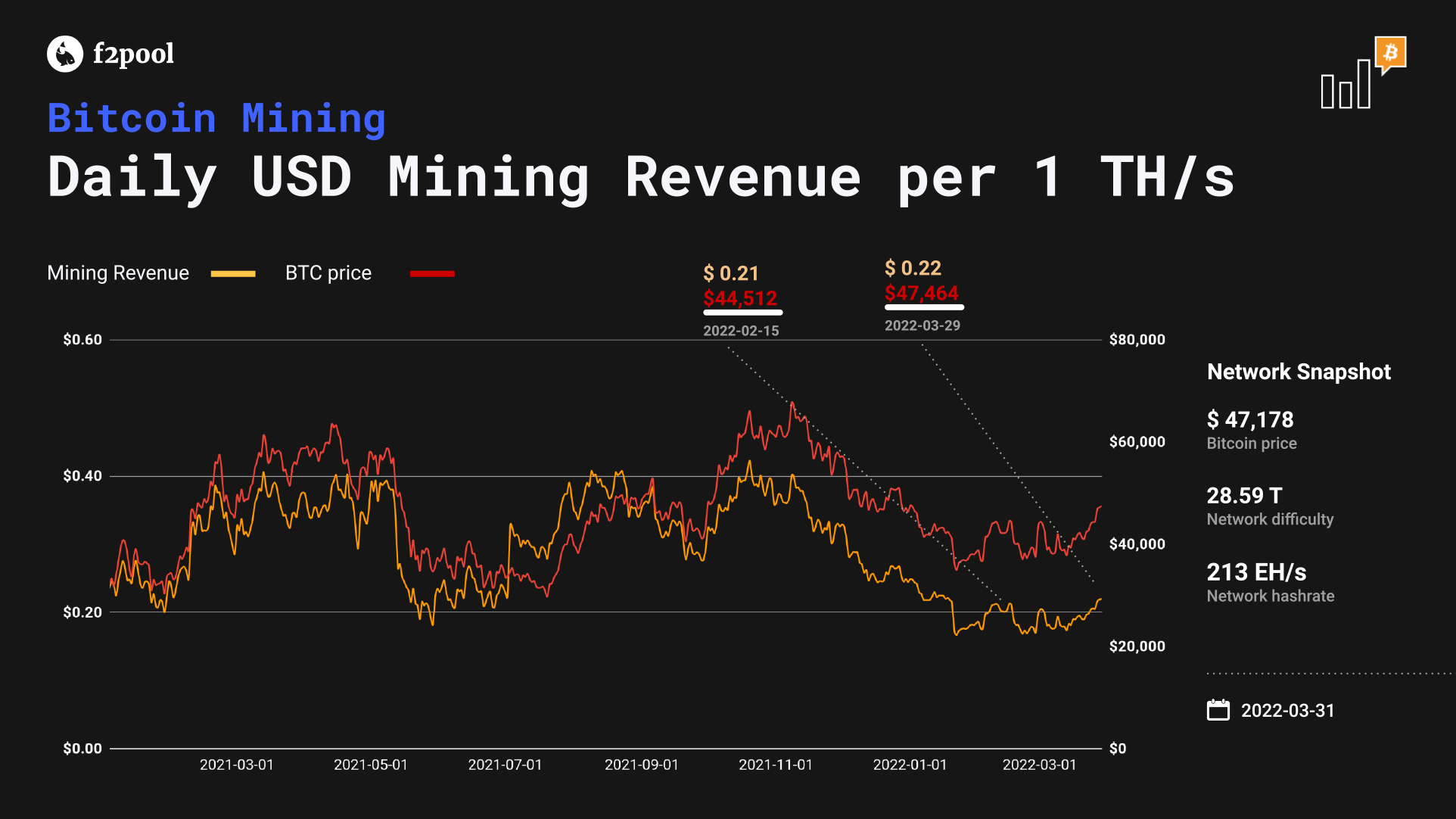 Bitcoin's latest network difficulty adjustment just occurred today, with a 4.13% gain Followed by the previous 2 consecutive slight drops. The average daily hashrate in the last 2-week cycle hit 204.58 EH/s as a new ATH.
As the market shows an increasing trend, mining revenue soars around 30% compared with that of 2 weeks ago, getting back to the level in mid-February this year.
For more news on enterprises entering the mining space, ExxonMobil has been working on a pilot program to mine Bitcoins in North Dakota for over a year, which turns wasted energy into a useful resource.
Ethereum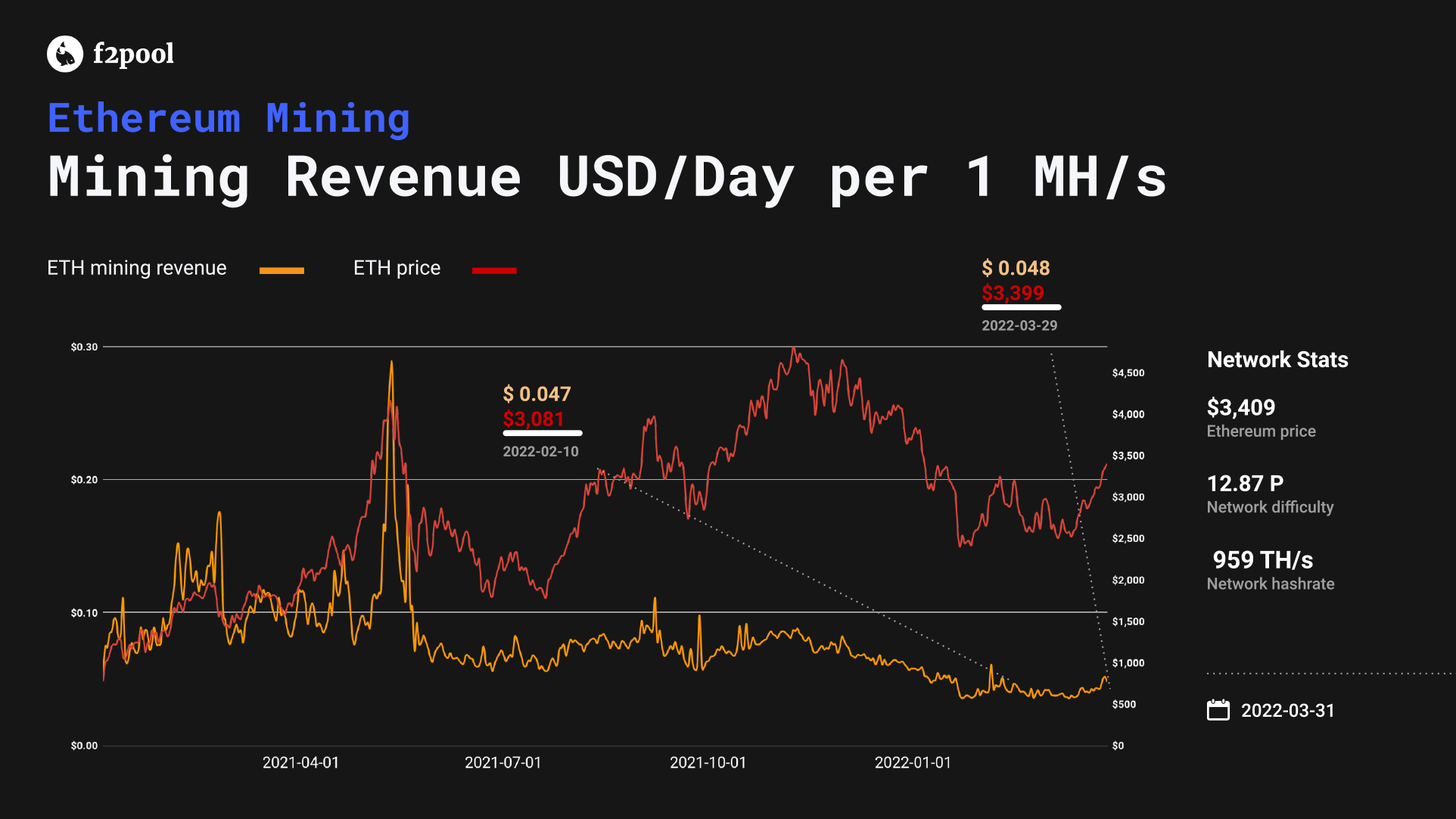 Following the bullish market, Ethereum recorded its new hashrate ATH as well. Its highest average hashrate of 1,041 TH/s was recorded on 2022-03-25. Its latest unit mining revenue is $0.048 per MH/s. It grew around 30% compared with that of 2 weeks ago.
For news related to mining rigs, it was reported that EU GPU prices fell by 25% in March, while the prices were still higher than the MSRPs. During the past quarter, the prices displayed a decreasing trend) as the supply went up.
Dev and network
Ethereum
The latest AllCoreDev meeting took place on 2022-03-19. The topic of The Merge, Shanghai upgrade, and a number of EIPs continued to be discussed, as the meeting was held a few days after The Merge was tested on Kiln testnet. Although some issues among several clients remain to be solved, the outcomes of the test are largely successful.
A post from Tim Beiko highlighted the major outcomes of the AllCoreDev meeting. With regard to mining, he added a note explaining how the difficulty bomb works. He also published a post showing block numbers change. He stressed that a safe merge is a top priority, compared to a quick merge.
Since last August when EIP-1559 was activated, 2 million ETH has been burnt at a rate of around 6 ETH per minute. In the past 30 days, the rate has dropped to ~2.6 ETH/min due to the low number of on-chain transactions. In the following chart, please have a quick look at the top apps contributing to Ethereum's journey to ultra-sound money.
Litecoin
Litecoin 0.21.2rc5 has been released. The community is now testing out MWEB for a final release.
Ethereum Classic
Ethereum Classic is counting down for its next block rewards reduction in fewer than 29 days. The block reward will be 2.56 ETC. Check this countdown page for updates.
Hathor
The latest versions of Hathor's desktop and mobile wallets have been released. A multisig feature in the headless wallet will be available.
Handshake
The next version of Bob Wallet will implement HIP-2, which will bring the well-known directory for wallet addresses.
Horizen
Horizen 3.1.0 is now available. It is a mandatory update for all exchanges, mining pools, node operators, and other participants in the ecosystem.
Kadena
Kaddex, the first gas-free Dex on Kadena, has announced its code had been 100% completed for launch.
Application and adoption
Bitcoin
MicroStrategy goes on stacking Bitcoin. A subsidiary of MicroStrategy closed a $205 million Bitcoin-collateralized loan with Silvergate Bank to buy Bitcoin.
Ethereum
GameStop will launch its NFT platform by the end of Q2. Its beta version was revealed by Loopring. The public can now sign up and try this Layer 2 NFT marketing on its beta version.
LooksRare has announced a new function of mining NFT with zero code required.
Dogecoin
Dogecoin has been added to crypto ATM operated by Bitcoin of America, a virtual currency exchange.
Community and more
Bitcoin
Bitcoin 2022 will be held next week in Miami Beach. Get ready to meet up with Bitcoiners all around the world!
There will be a Mega Meetup at Bitcoin 2022, where all Bitcoin meetup organizers and attendees are invited to talk about spreading the Bitcoin ethos through local get-togethers.

Share the below Eventbrite link with your meetup group and register yourself. https://t.co/VSqLSlzBVm pic.twitter.com/T7E90IiUu3

— Bitcoin 2022 (@TheBitcoinConf) March 30, 2022
Ethereum
Vitalik has released his latest article titled The roads not taken. In the article, he sums up the alternative, economics and technology-related paths that were not eventually chosen, and the lessons he learned in the years of the evolution of Ethereum.
Many technical and practical decisions in early Ethereum land could have turned out very differently.

For the better, for the worse? It depends on the specific case. Here's a few examples of some roads not taken (yet?):https://t.co/kD5qmDDvOJ

— vitalik.eth (@VitalikButerin) March 29, 2022
A sneak peek of the coming Ethereum events in April. ETH Portland will be held from 2022-04-07 to 2022-04-09. Devconnect is scheduled to take place in Amsterdam from 2022-04-17 to 2022-04-22.
The Ronin Bridge has been exploited for 173,600 Ethereum and 25.5M USDC after validators were compromised. More in this post.
Nervos
Nervos Foundation will hold an exclusive meetup in Dubai on 2022-04-01, discussing leading blockchain projects.
Dash
Dash's monthly update for March, which covers the development and ecosystem news, is out now.
---
The PoW Round-Up is our bi-weekly report on major news and mining insights in and around the Proof of Work ecosystem.
Monitor and help secure the PoW world with f2pool.