New ASICs were unveiled; increasing adoption was marked during Miami Bitcoin week.
Learn about industry news, development updates, community happenings, and other aspects of the PoW world!
Mining industry
Bitcoin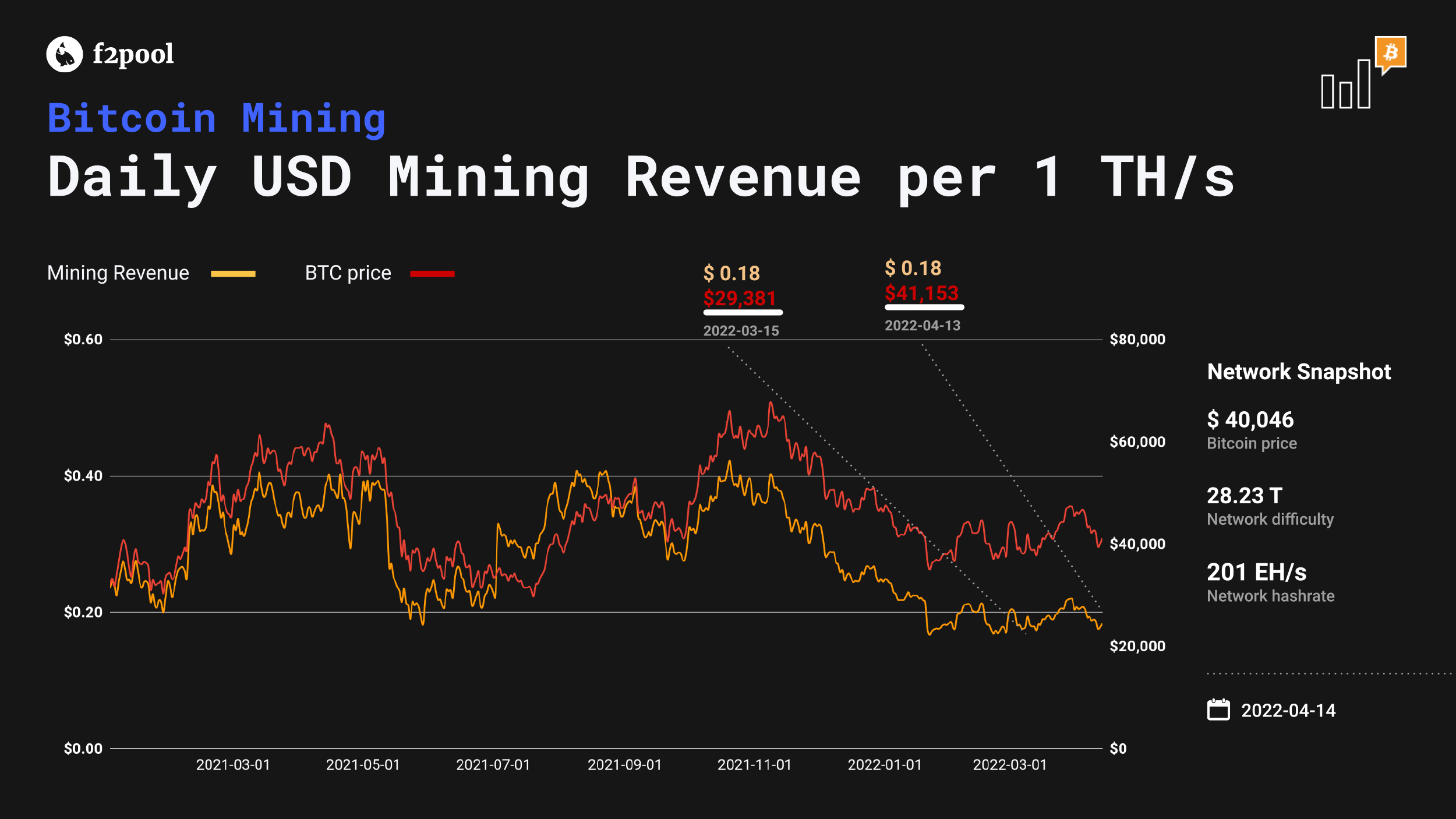 The Bitcoin network difficulty dropped 1.26% when the latest adjustment happened on 2022-04-14. While the price has not increased significantly, the unit revenue stands at $0.18 per TH/s, which has dropped back to the level about one month ago.
New machining rigs released during the past 2 weeks:
MicroBT announced its new Bitcoin miners featuring 5nm processors that achieve better efficiency. They are Whatsminer M50, M50, and M53, with a hashrate of 114 TH/s (29 J/T), 126 TH/s (26 J/T), and 226 TH/s (29 J/T) respectively. Click here to learn more.
Canaan, the manufacturer of Avalon miners, also released a new model A1266 as the company's most compact and quietest miner to date, at 100TH/S with 3500 W.
Intel has launched Intel Blockscale ASIC, the company's second-generation Bitcoin mining chip with a power efficiency of 26 J/T. Shipments to customers will begin in the third quarter of 2022.
Ethereum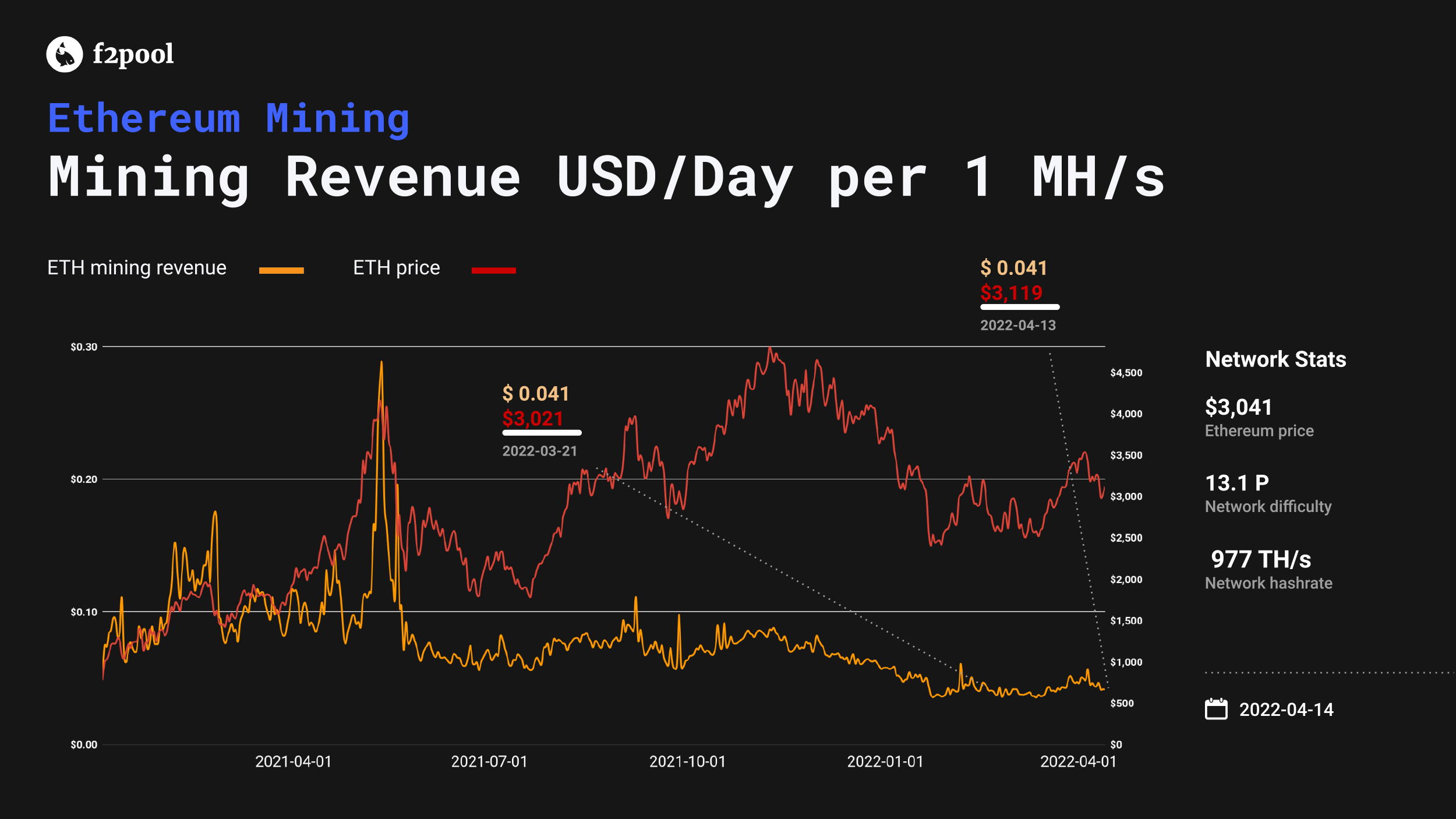 Ethereum hashrate keeps on climbing, while the mining revenue remains at the same level compared to 2 weeks ago. On 2022-04-11, the highest average difficulty (13.42 P), and hashrate (1060 TH/s) were recorded. The unit mining revenue of $0.041 is the same as that about 3 weeks ago, despite some pikes being marked on 2022-04-05 due to high fees being mined last week.
Dev and network
Ethereum
Although The Merge will not happen in June, the whole dev community has not been intensively testing and preparing for it. During the Core Devs call on 2022-04-29, decisions should be made in regards to the timing of forking public testnets. The devs might see if the clients are feature-complete, or if the difficulty bomb needs to be delayed.
To test The Merge, the devs are now working on shadow forks that allow us to see how nodes react when The Merge happens. The shadow forks only use a small number of nodes and do not disrupt the canonical chain.
The first mainnet shadow fork has been completed and it is scheduled for more tests next week.
On 2022-04-15, the latest Core Devs call will continue its discussions on The Merge updates and EIPs.
Litecoin
Main Litecoin mining pools have started signaling both MimbleWimble and Taproot. MimbleWimble will likely be locked-in in the next signaling window. If the target is reached, the activation should be available about 5 weeks from now. Track the signaling on this page.
Ethereum Classic
Less than two weeks until Ethereum Classic mining rewards reduction. Check the countdown page here.
Firo
Firo v0.14.9.5 maintenance release is out. This maintenance release is optional but highly recommended. It fixes various bugs and improves performance and user experience.
Application and adoption
Bitcoin
JAN3, a company aiming at accelerating hyperbitcoinization, has been announced during the Bitcoin 2022 conference. Announcements regarding adoption in Prospera in Honduras, Madeira, Mexico also came along on the Bitcoin 2022 stage.
Cash App, owned by Block, now lets users automatically convert paychecks to Bitcoin, and expands Lightning network support. Customers with Cash Cards can set the percentage of their direct deposits that are being automatically invested into Bitcoin.
The US inflation rate reached a 41-year high in March 2022, and Bitcoin continues to be one of the popular solutions and keeps on paving its way to the mainstream.
In a recent speech, Janet Yellen gave remarks on digital asset policies at American University, explaining the features and benefits of Bitcoin. She also acknowledged Satoshi's invention.
Treasury Secretary @SecYellen, "Satoshi Nakamoto proposed a decentralized peer-to-peer system for making and processing payments. The #Bitcoin white paper proposed a novel method for validating transactions using cryptography that addressed the so-called "double spend" problem." pic.twitter.com/hbAnVKmCTZ

— Documenting Bitcoin 📄 (@DocumentingBTC) April 12, 2022
Dogecoin
The free open-source store DogeGarden has been connected to the Dogecoin Blockchain.
DogeGarden free #OpenSource Store connected to the #Dogecoin BlockChain

#POS (Point of Sale) first preview

Simplicity is the key to any store owner be able to use is phone, tablet, touch screen station to navigate to all Categories and Products with the tip of the fingers. pic.twitter.com/yObdYFbuOt

— inevitable360 (@inevitable360) April 12, 2022
Hathor
From now on, Hathor's Headless Wallet no longer supports Node.js v8. Please migrate to Node.js v14 or v16, and upgrade to Headless Wallet v0.11.1.
Dash
Dash Core Group has released Dash platform v0.22 on testnet. Main changes include GroveDB, Verifiable Document Secondary Indices, Data Contract updates, Masternode Identities, and Inter-Validator Set Communication.
Nervos
Nervos CKB is going to receive a major network upgrade on the mainnet at epoch 5414. The upgrade is estimated to be released on 2022-05-10. It will bring brand new features such as cryptographic-friendly instruction sets, virtual machine versioning, extensible block header, and new cryptography standards.
Sia
Sia has released Embarcadero, a tool for conducting trustless swaps between Siafund and Siacoin.
Community and more
Bitcoin
It was a Bitcoin week in Miami. Over 30,000 people from around the world showed up in Miami for Bitcoin 2022, which has brought much good news related to the progress of Bitcoin. Read this post to review the event.
Pleb.fi/miami2022, a 2-day hackathon was held at the beginning of April in Miami. It was aimed to contribute to Bitcoin functionality accelerationism, and to build applications on Bitcoin using Sapio, Taproot, CTV, and more. Click here to read the recap of the event.
Ethereum
In the upcoming few weeks, people are preparing to attend Devconnect and ETHAmsterdam in April in Amsterdam, and Spaghett ETH in early May in Milan.
Ethereum Classic
ETC Cooperative has released its 2021 retrospective, and 2022 budget and roadmap.
Hathor
Hathor's annual report for 2021 has been released, ​​covering business, community, and tech progress made by Hathor Labs on Hathor Network.
Kadena
Kadena's March ecosystem report has been released. Here is a Twitter thread that sums up their achievements in the past month.
---
The PoW Round-Up is our bi-weekly report on major news and mining insights in and around the Proof of Work ecosystem.
Monitor and help secure the PoW world with f2pool.