New release of mempool explorer, Bitocin educational program and more.
Learn about industry news, development updates, community happenings, and other aspects of the PoW world!
Mining industry
Bitcoin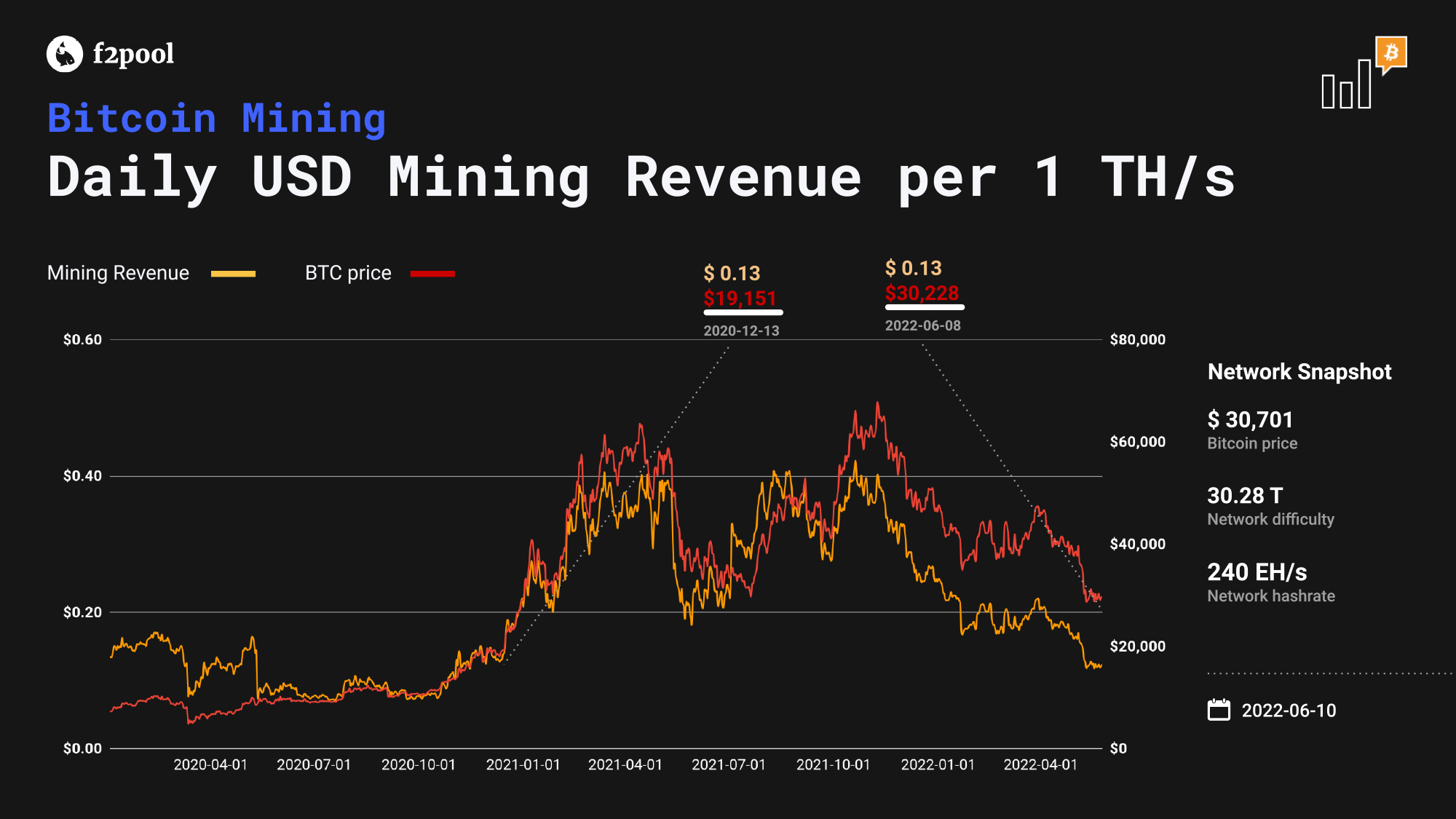 On 2022-06-08, the Bitcoin network difficulty increased by a rate of 1.29%, reflecting in the hashrate scale which was recovered slightly. Mining Revenue for 1 TH/s increased to $0.13.
What to note is that the network has just now made a new hashrate ATH at 266 TH/s, estimated from the actual block times.
In news about mining-related policy, New York State Senate has passed a bill that places a two-year moratorium on PoW cryptocurrency mining with fossil fuels. Governor Hochul decided to delay action on this bill and said "We'll be looking at all the bills very, very closely. We have a lot of work to do over the next six months." Read more.
Ethereum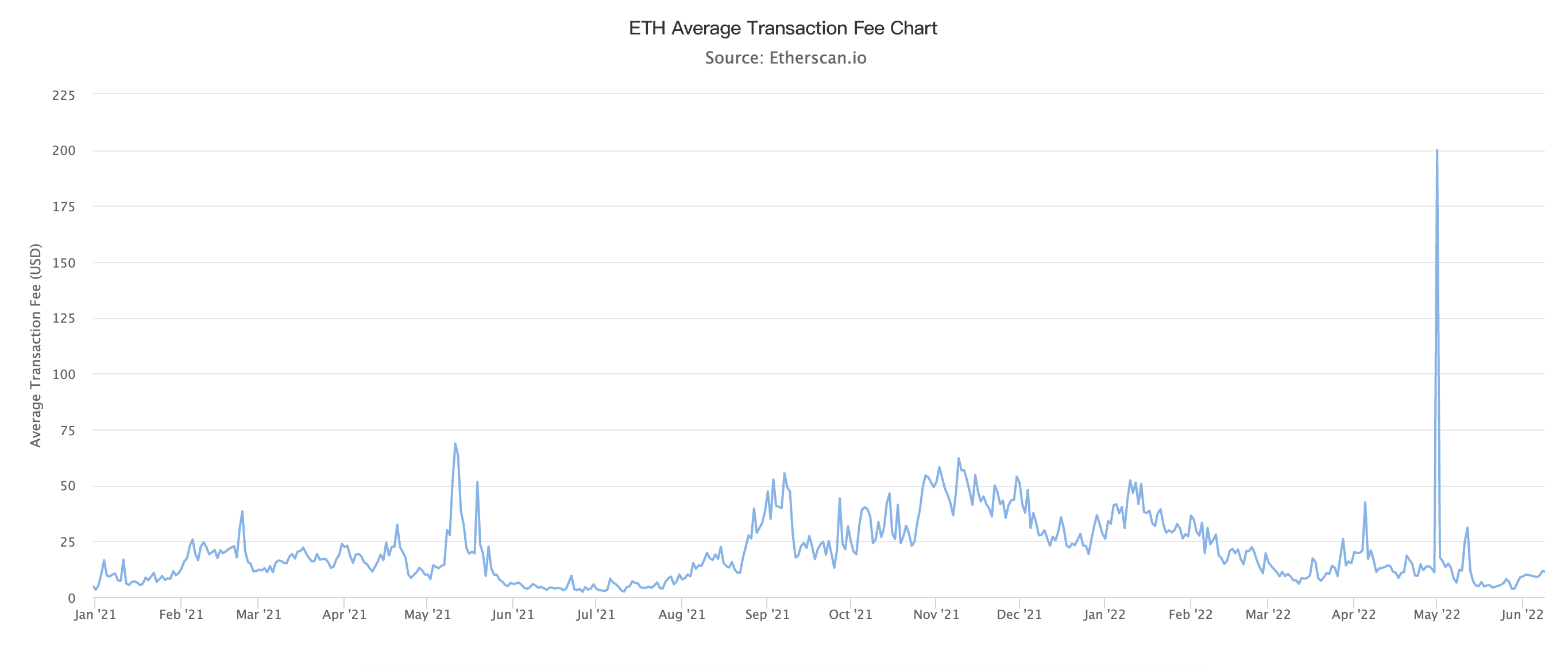 Ethereum average transaction fees have dropped to a 12-month low as the chart shows, and the same trend we've seen for the mining revenue which dropped from $0.024 to $0.022 per 1 MH/s, due to the difficulty bomb, which causes the average block time to become longer.
Industry news
To learn more about the mining field, we recommend you to read our Mining Industry News.
Dev and network
Bitcoin
The Mempool Open Source Project, mempool explorer for the Bitcoin community, has released its v2.4.0, with new mining dashboards, graphs, "bitfeed style" mempool block visualization and many more cool features.
We just released mempool v2.4.0 🚀
• new mining dashboard
• new blockchain graphs
• new mempool visualization
• new blocks / mining pool page
• and much more!

Coming soon to your own Raspberry Pi hardware powered by your favorite Bitcoin fullnode OS https://t.co/Y6PHKWFOL2 pic.twitter.com/F0j8UkP4SS

— mempool (@mempool) June 9, 2022
Ethereum
Ropsten testnet completed the merge test successfully on 2022-06-08, this thread recaps the event. The devs will monitor the chain over the next few weeks to make sure no client pairs go out of sync. More merges will happen on other Ethereum testnets.
The latest Core Devs Meeting took place on 2022-06-10. EIP-5133 that proposes delaying the difficulty bomb to mid-August 2022, has been discussed. The devs are aiming for a ~2 month delay, and for the upgrade to go live late June.
Dogecoin
Dogecoin devs are working on version 1.14.6. Network and security improvements, new functionality for the RPC interface, implementation of the dust limit enabled with 1.14.5, and more are expected in this new version. Learn more about the process with this release plan and checklist.
DigiByte
The DigiByte devs are working towards DGB v8.22, which will provide the most robust testing framework DGB has ever had, check the latest progress here.
Application and adoption
Bitcoin
Jack Dorsey's TBD has announced web5, which is built on the Bitcoin network. Web5 brings decentralized identity and data storage to individual applications.
Horizen
Horizen's token creation platform, TokenMint has announced its upcoming maintenance and next steps. The maintenance is to prepare for transitioning to mainnet.
#TokenMint will be undergoing maintenance between June 14-20th to prepare for the upcoming transition to mainnet! Learn what this means in our latest blog!https://t.co/ftm6N2ITqM

— Horizen | @Consensus '22 June 8-12 (@horizenglobal) June 8, 2022
Hathor
Hathor introduced its Enhanced NFT Metadata Standard. The main addition to the standard is a field for royalties, which can store information about different creators who should receive a piece of the payment on secondary sales.
Xaya
Xaya introduced Soccerverse rebranded from Soccer Manager Elite. Read more about it here.
Sia
The Sia network passed 3000 TB of used cloud storage on 2022-06-07. You may find the lastest stats by checking this link.
Community and more
Bitcoin
JAY-Z and Jack Dorsey are funding The Bitcoin Academy, a program for residents of Marcy Houses in Brooklyn, New York.
This program aims to provide education, empower the community with knowledge, and get rid of some of the barriers so that residents can learn more about Bitcoin specifically and finance in general.
It's been 1 year since El Salvador approved the Bitcoin Law. Check this story to review the Bitcoin adoption in this country for the past 12 months.
Ethereum
Devcon VI announced online applications and its participation details. Later this year, the Ethereum community will gather in Bogotá, the capital city of Columbia.
🥁📢 Ready, set and GO: We have embarked on the #RoadToDevcon!

🚨 Applications are open TODAY 🚨

Apply as a
🧱 Builder
📚 Student
🗣 Speaker
🌳 Supporter
🦄 Volunteer

PS: Ticket sales begin soon™️

Check the #Devcon blog for exact dates, forms & more:https://t.co/95Ec05OcK1

— Deva the Devcon Unicorn (@EFDevcon) June 6, 2022
The ApeCoin DAO approved an AIP to keep ApeCoin within the Ethereum ecosystem. Read the story here.
Decred
Decred's Politeia Digest 51 was released recapping new proposals and release ones during 2022-01-11 and 2022-05-30.
Kadena
Kadena released their Ecosystem May Report. The release of Pact 4.3, the newly launched builders Discord channel and more are covered in it.
Cryptos
The blockchain community is having a big week in Austin, TX for Consensus 2022. Topics like Finance, NFTs, regulation, Web 3, and the metaverse, and their wide-reaching effects are being presented by 2022-06-12.
---
The PoW Round-Up is our bi-weekly report on the major news and mining insights in and around the Proof of Work ecosystem.
Monitor and help secure the PoW world with f2pool!