BTC and ETH mining revenue updates, and more news from the PoW networks.
Learn about industry news, development updates, community happenings, and other aspects of the PoW world!
Mining industry
Bitcoin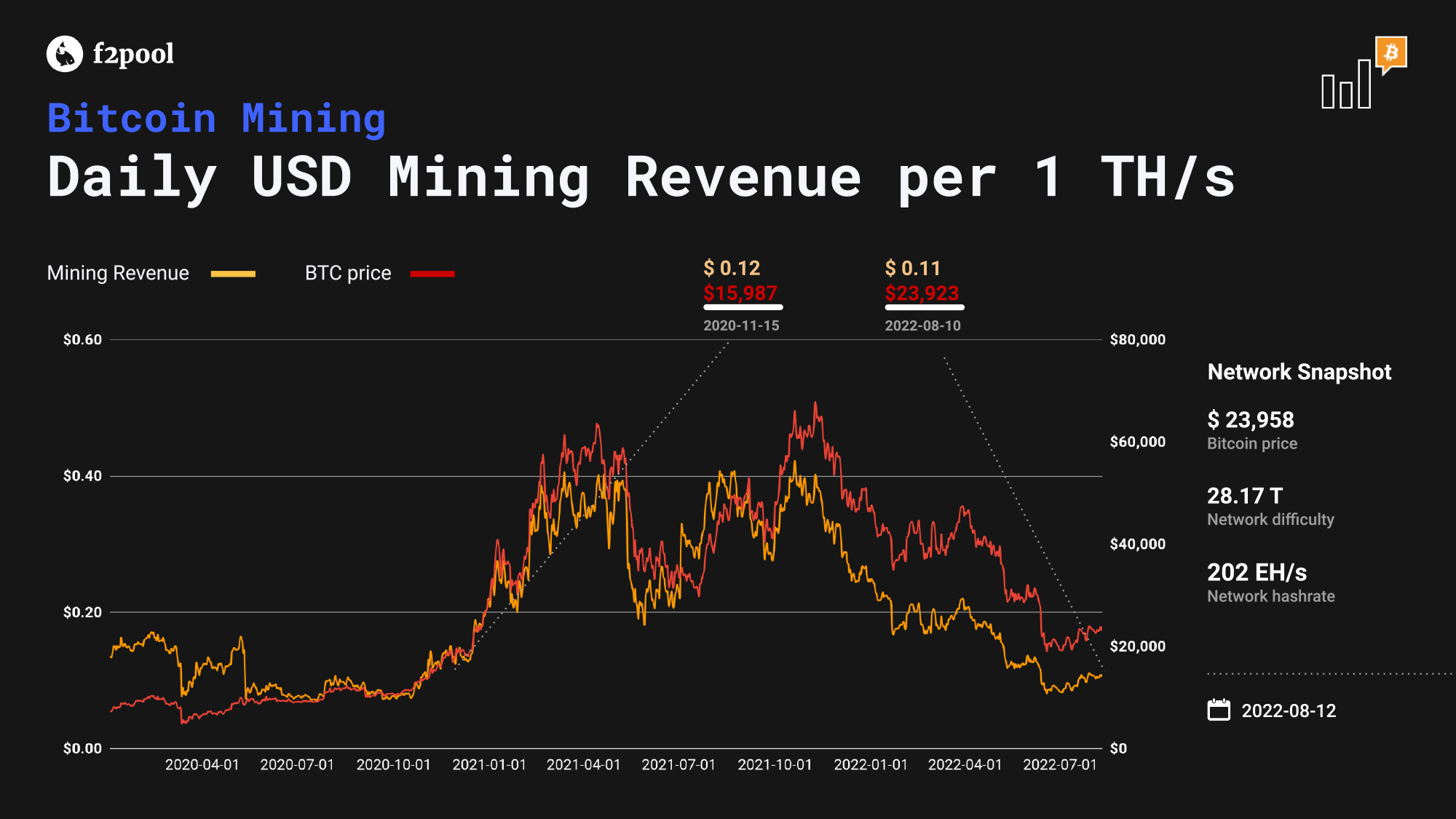 Bitcoin mining profitability has been stabilized at $0.11 per 1 TH/s during the past 2 weeks. Meanwhile, the recent difficulty adjustment of +1.74%, an increase following 3 cycles of fallings, could show the recovery trend of Bitcoin mining.
Ethereum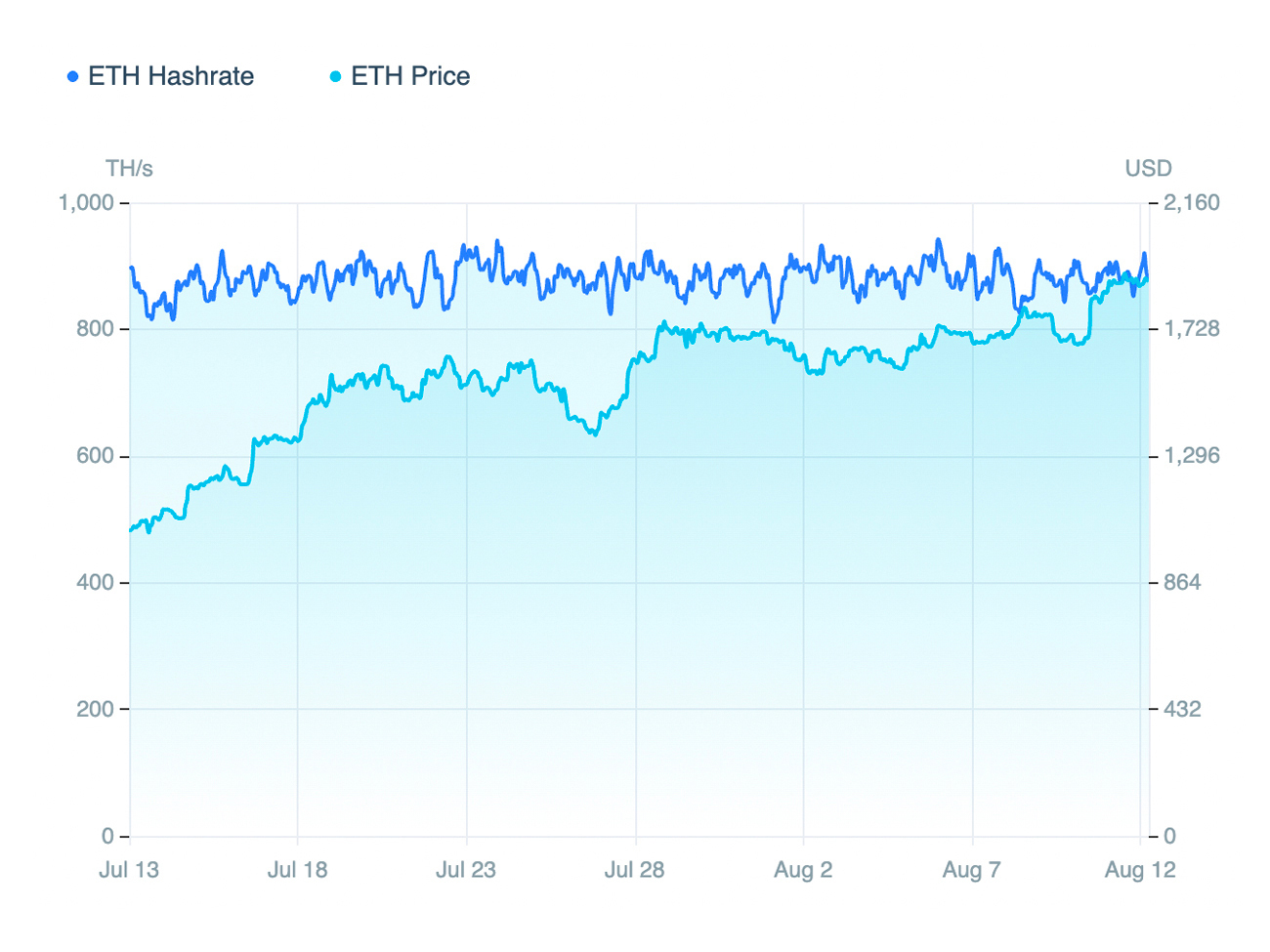 Ethereum mining revenue also sees climbs in the past two weeks. At the time of writing, it reached around 0.028 per MH/s. The total hashrate maintained at the same level while the coin price went up.
Development and network
Ethereum
The final testnet merge before the mainnet is completed, and the core devs have tentatively set the Total Terminal Difficulty (TTD) as 58750 E on the executive layer. It is estimated to happen around 2022-09-15. By that time, PoW mining of the Ethereum mainnet will be ended.
Tentative Mainnet TTD 👇

58750000000000000000000

Note: nothing is final until it's in client release, so do expect changes last minute due to unforeseen circumstances https://t.co/PQ0YOKpk1u

— terence.eth 🦇🔊 (@terencechain) August 11, 2022
Litecoin
In the July progress shared by Litecoin core devs, the development of new P2P messages has started in July to better support light clients.
Dogecoin
Dogecoin Foundation has released libdogecoin v0.1.0, the first version of this C library to enable direct integration of Dogecoin into many different platforms in a lightweight manner.
So after several months, many late/sleepless nights, and one false launch, #libdogecoin v0.1 is now ready play with right here:https://t.co/hcYXnt8UJX

Huge props to the rest of our small lib team, @KBluezr and Jackie (github: jaxlotl) , for the insane effort.

More to come.

— Michi Lumin (@michilumin) August 5, 2022
Horizen
Horizen shares their alpha EVM, showing ZEN on MetaMask and the functionalities of the chain.
Application and adoption
Bitcoin
BlackRock, the world's largest asset manager, has launched a private trust , which offers US-based institutional clients exposure to spot Bitcoin with services provided by Coinbase.
Lightning network capacity has crossed 4500 BTC and hit a new ATH. By the time of writing, it reached 4573 BTC with an 8% growth in 30 days.
Handshake
A proposal for Handshake Decentralized SLDs (second layer domains) has been released. It is for decentralized SLDs being anchored to the HNS root zone, based on the ERC-721 NFT standard. It is deployed on the EVM L2 blockchain.
Nervos
Godwoken, the EVM-compatible optimistic rollup running on Nervos, has been updated to version 1.4. Learn about the highlights of the changes by reading this thread.
Community and more
Ethereum
The sixth, and also one of the last Merge Community Calls, is scheduled on 2022-08-12 at 14:00 UTC.
As MakerDAO is considering selling up to $3.5 billion USDC for ETH due to worries about the risk of contagion from the ban of Tornado Cash, Vitalik comments on Twitter that it was a terrible idea, and no single type of non-ETH collateral should be allowed to exceed 20% of the total.
Errr this seems like a risky and terrible idea. If ETH drops a lot, value of collateral would go way down but CDPs would not get liquidated, so the whole system would risk becoming a fractional reserve.

— vitalik.eth (@VitalikButerin) August 11, 2022
Ethereum Classic
ETC Cooperative has released an ​​open letter to Chandler Guo regarding the proposed ETHPoW fork, explaining that the fork requires a huge coordination task, and the Merge is only weeks away, thus a potential hard fork is not feasible.
Hathor
The Hathor Labs Q2 report is out, noting that they have been syncing up their operations and milestones during the past quarter.
---
The PoW Round-Up is our bi-weekly report on the major news and mining insights in and around the Proof of Work ecosystem.
Monitor and help secure the PoW world with f2pool!