GPU hashrate is redistributed to other networks, but not all can bring positive income.
Learn about industry news, development updates, community happenings, and other aspects of the PoW world!
Mining industry
Bitcoin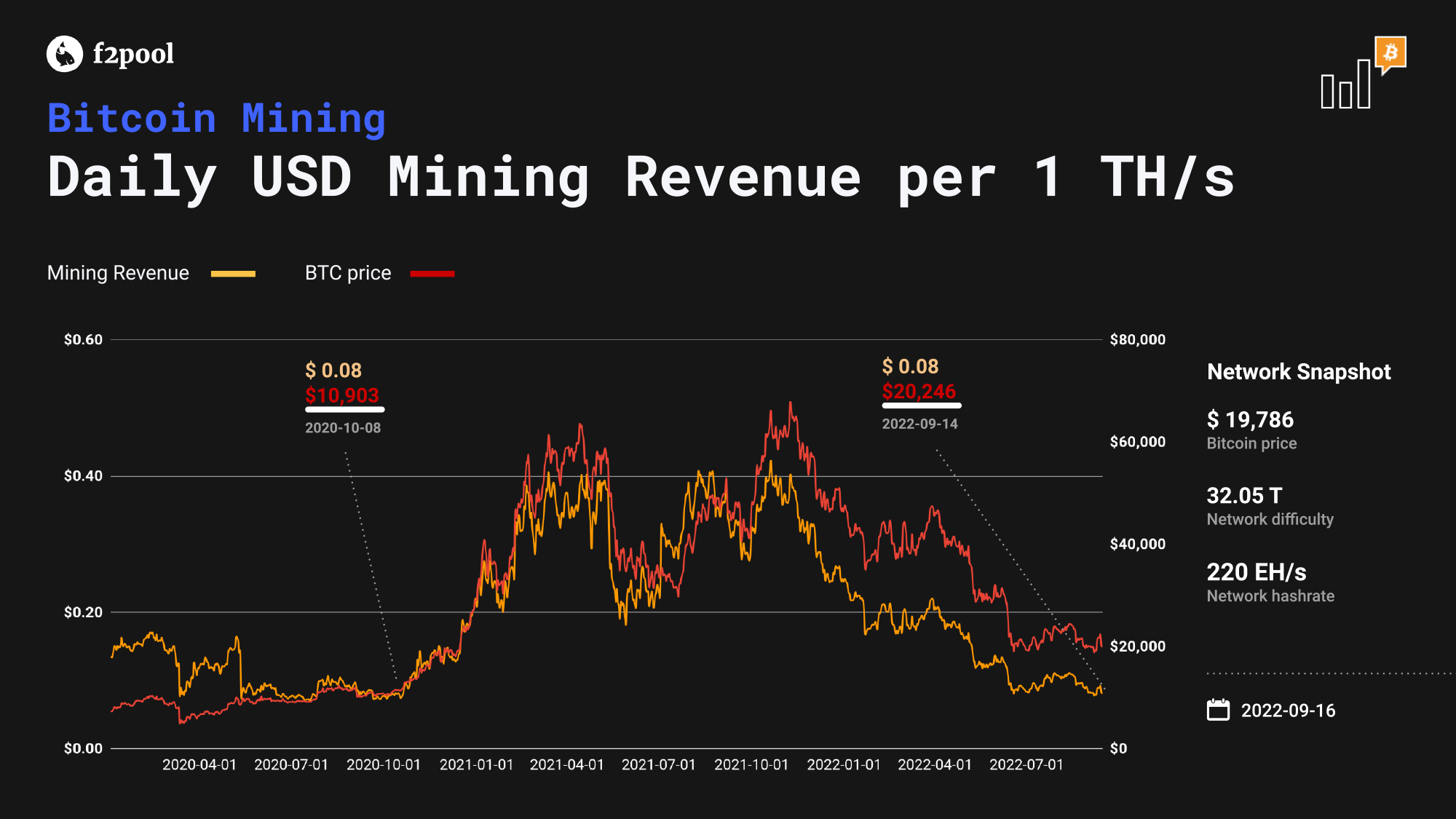 The Bitcoin mining competition remains as fierce in the recent 2 weeks. The latest mining difficulty saw a rise of 3.45% on 2022-09-14, and the average hashrate over the past 2 weeks just hit 230 EH/s, setting a new ATH. However, as the Bitcoin price recovered slightly in the meantime, mining revenue has stayed at $0.08 per 1 TH/s.
After Ethereum completed its transition to Proof-of-Stake, Bitcoin is now accounting for 93% regarding the overall market cap among the Proof-of-Work coins.
GPU coins
Ethereum hashrate was staying high as recent days by the final PoW blocks. There were no significant outflows of hashrate in advance to the termination of mining. After all, it was the most profitable coin to mine with GPUs.
Within 24 hours after the Merge, the previous hashrate from miners including ASICs and GPUs, was busy switching to other coins. You may check out the hashrate charts below, taken from the f2pool official site, about the huge inflow of hashrate in Ethereum Classic, Ravencoin, Ergo, and Conflux.
Those alternative networks are secured with the highest hashrate ever, but in terms of revenue from running mining rigs, miners are having a harder time.
1. Ethereum Classic
ASICs are fine. Ethereum Classic takes over the main part of previous Ethereum ASICs, gaining from approximately 80 to 240 TH/s in 24 hours, translating to a 200% gain. With prices unchanged so far, GPUs are only bringing negative incomes, since the revenue in dollar exceeds the electricity costs.
2. Ergo
Ergo sees its biggest jump in percentage, 7 times of its hashrate, increasing from 30 to 210 TH/s in 24 hours, then down to 170 TH/s. Ergo is GPU-only mineable coin, and with the current price, none of the GPUs can make a profit for now.
3. Ravencoin
For Ravencoin, the number is rose a bit over double, from 10 to 22 TH/s then dropped back a bit. At the time of writing, only some Nvidia 3060 and 3070 cards can bring profit.
4. Conflux
The number tripled for Conflux from 1000 to 3000 GH/s. There are still many rigs, such as 2080, and more efficient GPU machines gaining revenue, though the unit revenue also decreased following the hashrate gains, since the price remains at the same level.
5. EthereumFair and EthereumPoW
The two hard fork chains arrived as planned. EthereumFair started seamlessly following the end of Ethereum mining, then Ethereum followed a few hours late. It should take more time before we could see those forks getting stabilized, but people are curious about how things will go with these forks. Currently, the ETHW hashrate is at 80 to 90 TH/s, which can be from a mix of ASICs and GPUs.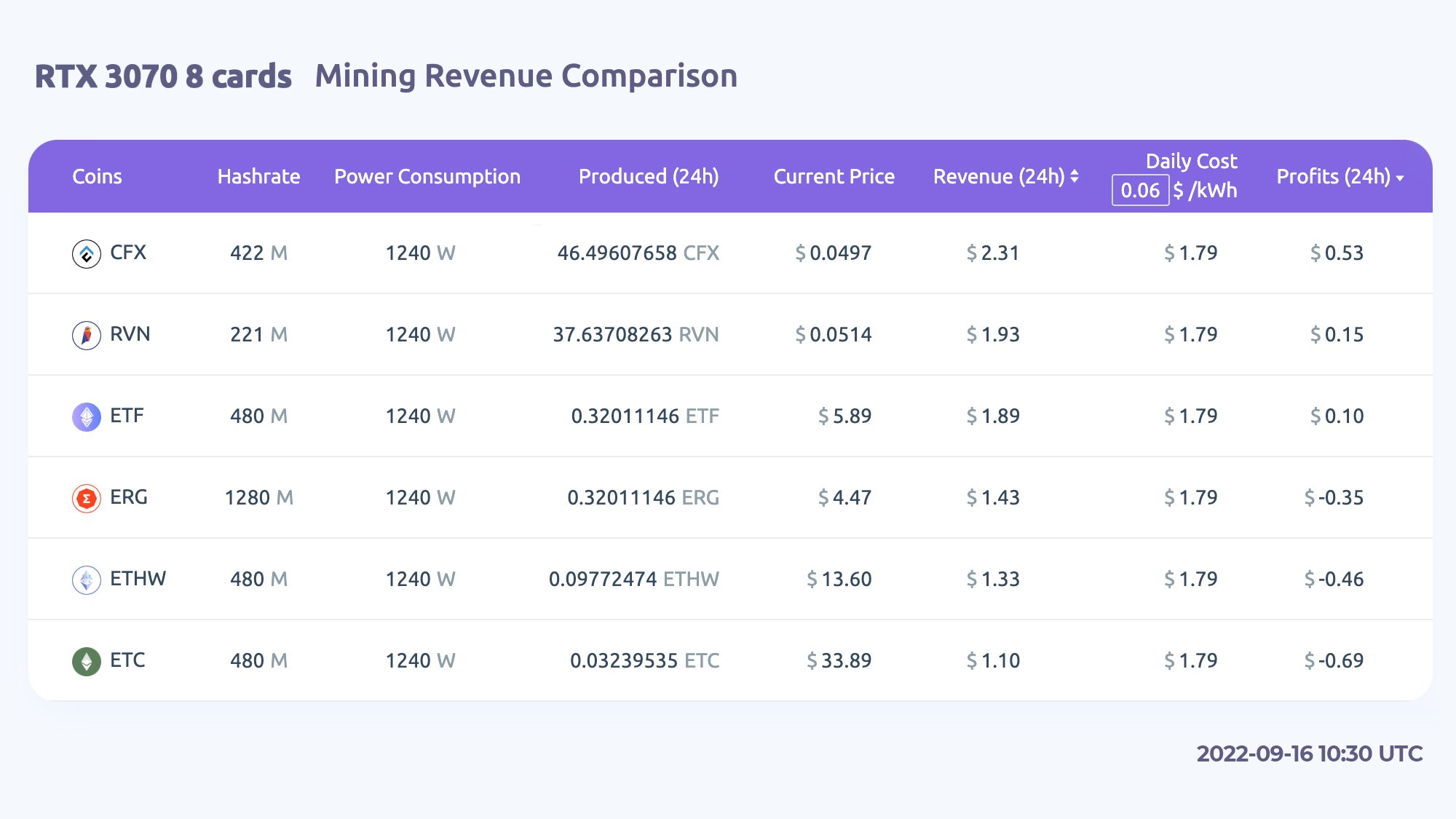 With the current price level of new alternatives, most of the GPUs are mining at a less profitable rate. The post-Merge time, for the GPU miners is quite challenging so far. With the current price level, we estimated that only 20% of the GPU hashrate can be taken over by the coins and stabilized in a longer term after the Merge. We expect that with all the miners, the price will surge, and good days are soon to come.
Development and network
Ethereum
The last Ethereum Proof-of-Work block, #15537393, was mined by f2pool on 2022-09-15. Now the Ethereum story continues with Proof-of-Stake, after the successful transition.
And we finalized!

Happy merge all. This is a big moment for the Ethereum ecosystem. Everyone who helped make the merge happen should feel very proud today.

— vitalik.eth (@VitalikButerin) September 15, 2022
Litecoin
According to Litecoin's August progress, code for syncing MWEB headers and UTXO leafsets and LIP-0006, which documents P2P protocol changes for light client MWEB support, are out for review. Read more.
Dash
Dash v18 has been activated. To learn the improvement made, please check out this post.
Community and more
Bitcoin
The community was celebrating Bitcoin networks' 5000th day of running!
Baltic HoneyBadger 2022, the biggest European Bitcoin-only conference was held at the beginning of September in Riga. This event consisted of various educational and networking panels and talks. Review it by this blog post.
Dogecoin
Dogecoin foundation has announced Dogeathon, a Dogecoin Hackathon that individuals and teams can join virtually, or in person in Australia, from 2022-11-15 to 2022-11-19.
Kadena
Kadena has released their latest monthly report recapping the progress in its ecosystem.
---
The PoW Round-Up is our bi-weekly report on major news and mining insights in and around the Proof of Work ecosystem.
Monitor and help secure the PoW world with f2pool!