BTC difficulty hit its biggest YTD gain, adoption news from Mastercard, BNY Mellon and Google.
Learn more about industry news, development updates, community happenings, and other aspects of the PoW world!
Mining industry
Bitcoin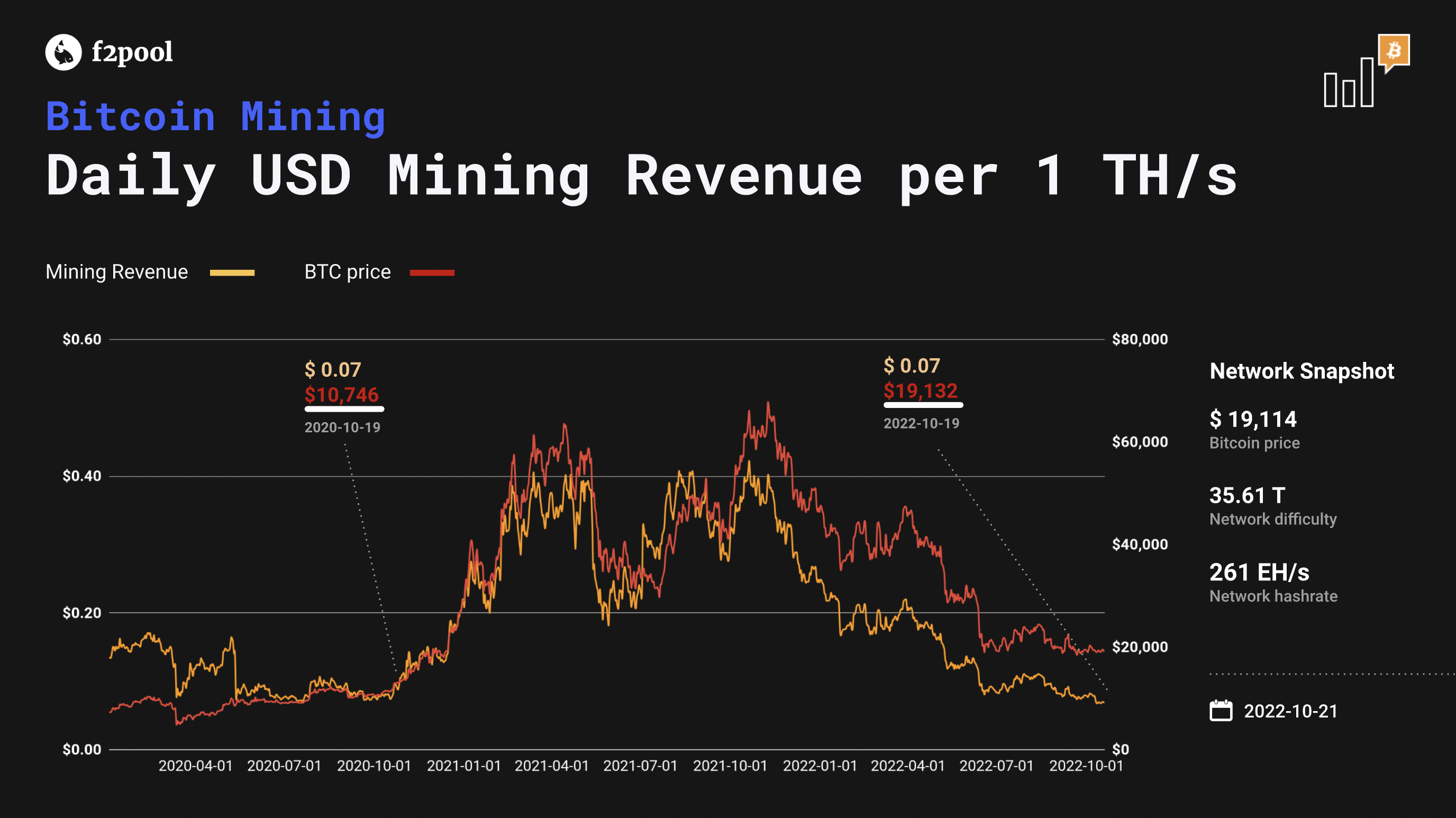 On 2022-10-10, the Bitcoin network saw its highest difficulty growth rate year to date, with a 13.55% increase.
According to the estimation based on the block time so far, the next difficulty adjustment should be upward for more than 5% as well. As more machines get back online in North America and new ASICs are being shipped, the current network hashrate is around 260 EH/s.
This results in a drop in mining revenues which is now staying at $0.07 per 1 TH/s, the same level as 2 years ago.
Etchash and Ethash coins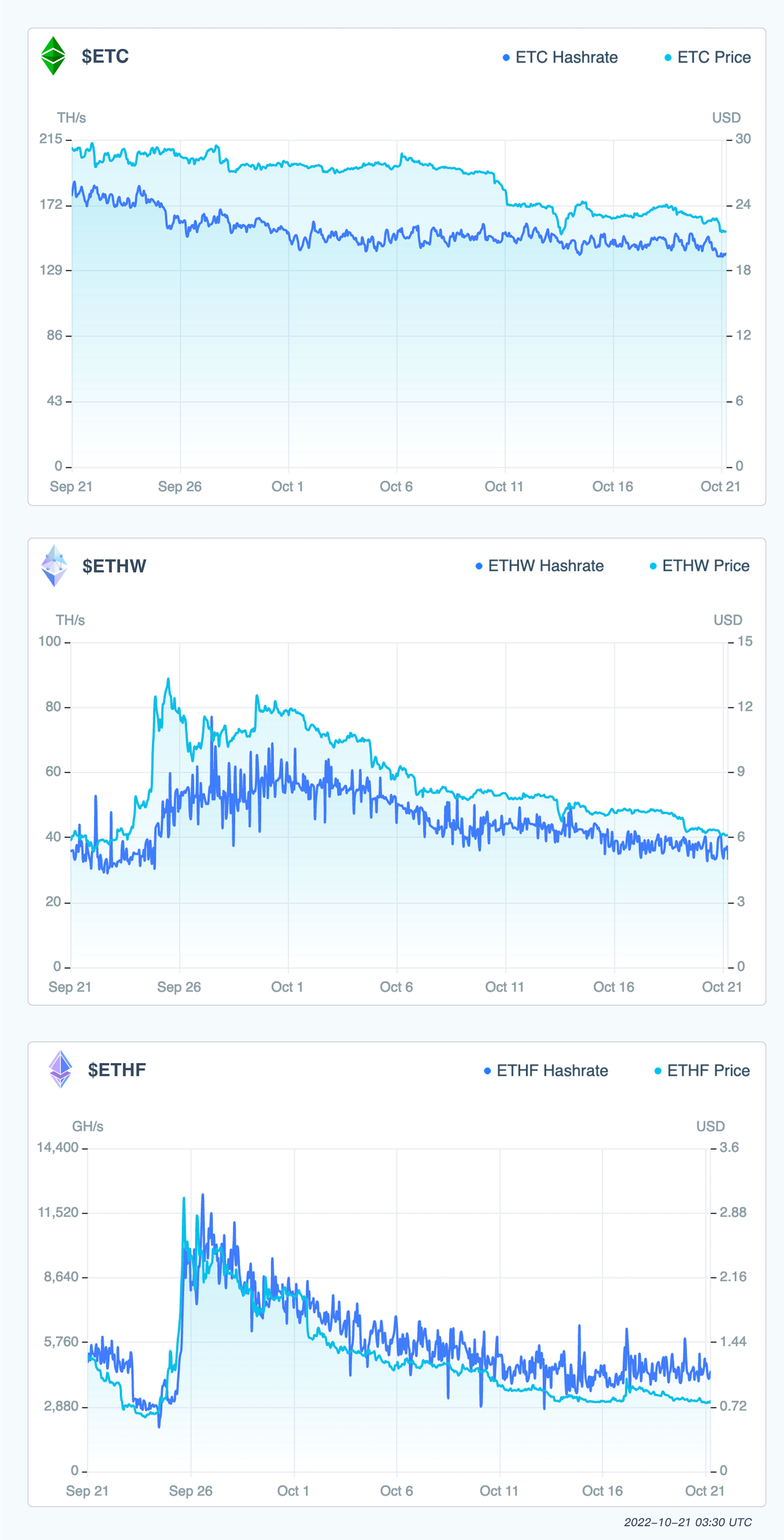 From the beginning of the month, the hashrate of ETC, ETHW, and ETHF hasn't changed much. ETC stabilized at around 150 TH/s, while ETHW and ETHF hashrate declined slowly. Their hashrate scales at an approximate ratio of 10:1, similar to their ratio of prices.
Other GPU coins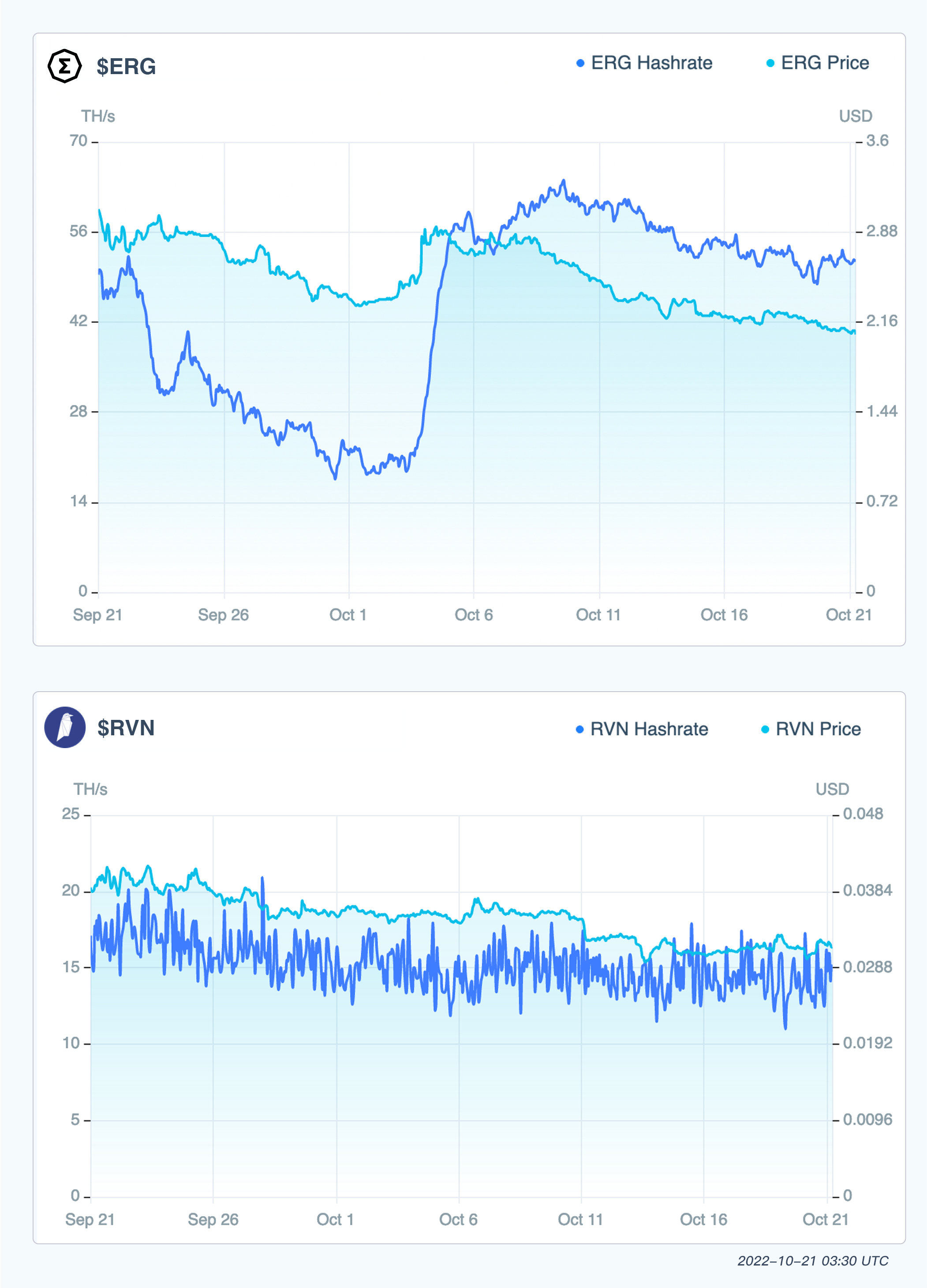 GPU prices are declining after Ethereum mining ended, though Nvidia has removed the LHR limit on their products.
Affected by the bear market, GPU coin prices are still sluggish. The mining revenues for many GPUs are now bringing only negative returns concerning electricity costs. Miners are only mining preemptively and are expecting a comeback on the price level.
ERG hashrate made a significant climb at the beginning of October, while RVN hashrate has basically been stabilized.
Development and network
Bitcoin
The BitcoinCore 24.0 release candidate 2 has been released, and now open to testing. Here is a testing guide.
Litecoin
Litecoin core dev shared progress in September related to light clients. The code for supporting retrieval of MWEB UTXOs for use by MWEB light clients is out for review. It was designed so that light clients can request UTXOs in batches, and verify that each batch is committed to by a recent block.
Horizen
Horizen is closing in on the mainnet release of NFTs on TokenMint. For more check here.
Application and adoption
Bitcoin
Mastercard is launching a program to let financial institutions offer cryptocurrency. Mastercard and Paxos will handle regulatory compliance and security.
America's oldest bank, BNY Mellon announced it has added BTC and ETH as its custodial offerings.
The world's largest custodial bank says 75% of their clients are either investing or considering investing in #bitcoin and digital assets.

BNY Mellon's clients own $43,000,000,000,000https://t.co/HSAHAlt1o8

— Documenting Bitcoin 📄 (@DocumentingBTC) October 17, 2022
Google partners with Coinbase to accept crypto payments for cloud services, it will start accepting crypto payments for cloud services early next year.
Decred
DCRDEX v0.5.3 has landed with Litecoin support. It allows atomic swaps with no exchange fees, and a full custody of their coins. Check more here.
Hathor
Atomic Swaps are now supported on Hathor's Headless Wallet. All Hathor assets are supported, so you can swap HTR, custom tokens and NFTs.
Handshake
Bob Extension, the browser extension for the non-custodial Handshake wallet is back in the Chrome web store.
Community and more
Litecoin
The community celebrates Litecoin's 11th anniversary! The Litecoin blockchain has been running for 11 years without any downtime.
Fun fact: Litecoin blockchain started on October 13, 2011, but the genesis block was actually mined about a week earlier. It was mined exactly 11 years ago on October 7, 2011, 7:31am UTC. https://t.co/lArbbucLGU

— Charlie Lee Ⓜ️🕸️ (@SatoshiLite) October 7, 2022
The Litecoin Summit is around the corner in Vegas starting this Friday. The live stream is also available.
Verge
The community celebrated the 8th anniversary of the Verge Currency.
Ethereum Classic
ETC DAO is calling for the community to join and contribute to the open edition of "Mastering Ethereum Classic" book, modified on the open source work of "Mastering Ethereum".
Dash
Dash's latest monthly newsletter is out. In the last month, the highlights include a new wallet version on iOS, activation of Dash Core v18 and so on. The introduction of high-performance masternode is also included in this episode.
Decred
Decred September Journal has been released. Recapping highlights such as DCRDEX v0.5 public release, LTC trading pairs on dex.decred.org, Decred Lightning Network and more.
Digibyte
Digibyte has released their September update summarizing the news and milestones.
Kadena
Kadena has released their September ecosystem report, view more in this thread.
Sia
Sia foundation has announced the Sia Foundation's Grants Program. This is to fund research, development, developer tools, and anything in support of their mission of user-owned data while enriching the Sia ecosystem.
Conflux
Conflux has announced the launch of their Incubation Program. It will provide early-stage teams with up to $100,000 in funding to launch their projects on Conflux Space.
---
The PoW Round-Up is our bi-weekly report on major news and mining insights in and around the Proof of Work ecosystem.
Monitor and help secure the PoW world with f2pool!