Bitcoin mining revenue hasn't changed in the past month, GPU miners joining Aleo.
Learn more about industry news, development updates, community happenings, and other aspects of the PoW world!
Mining industry
Bitcoin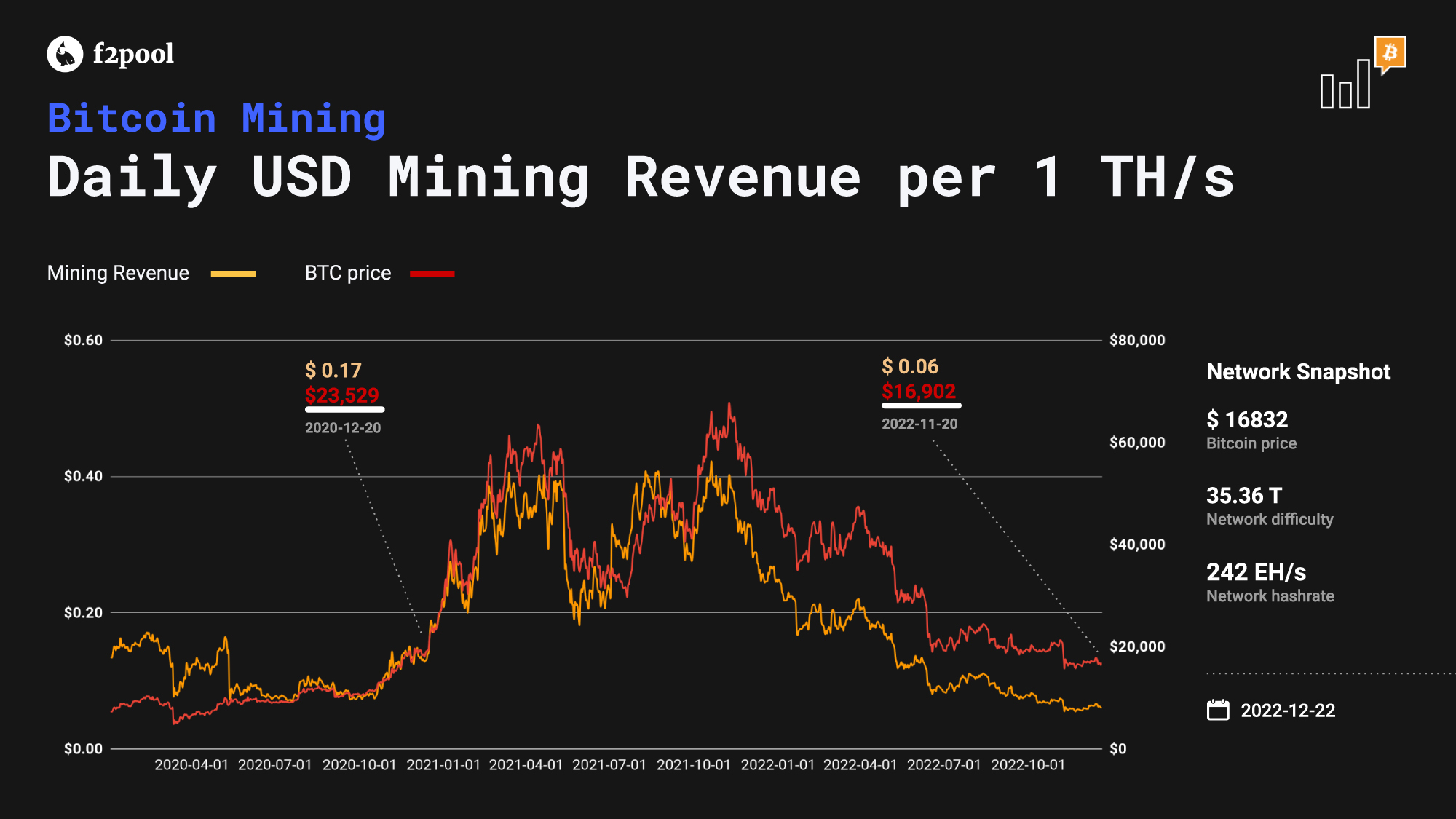 On 2022-12-19, the Bitcoin network saw an increase of +3.27 % in mining difficulty. The current difficulty is 35.36 T. Two weeks ago, a decrease of 7.32% just brought the most significant difficulty drop in the year 2022. With these ups and downs in the mining difficulty and a slight increase in the price, the mining unit revenue maintaining at $0.06 per 1 TH/s, still, becoming a new low record over the past 5 years.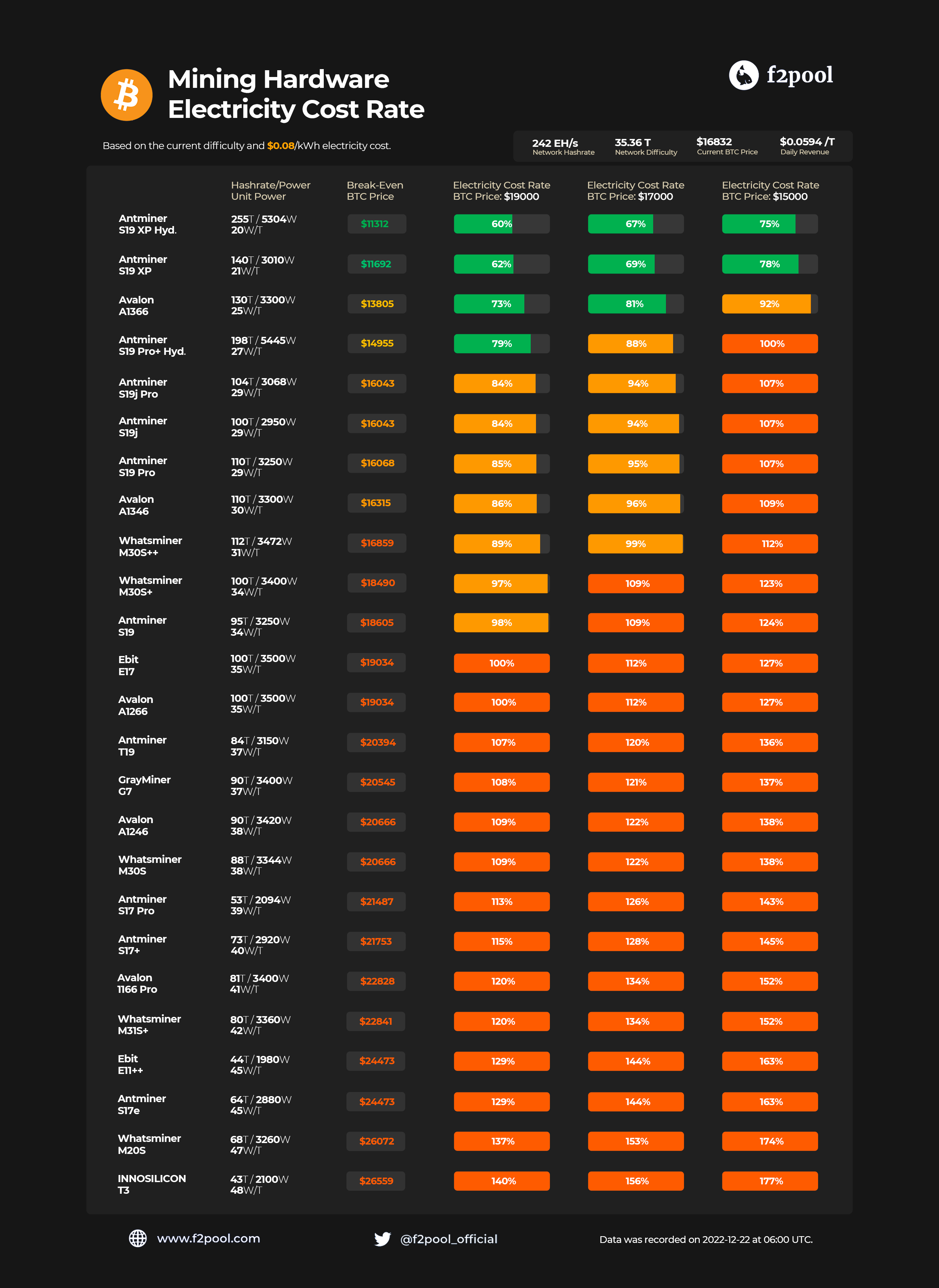 With the electricity price level at 0.08 kWh, the overall status of mining rigs' cost rates is quite similar to one month ago, less than 10 models can still bring positive profits. Details are shown in the above table.
Aleo
The GPU minable network Aleo, kicked off its incentivized testnet 3 at the beginning of December. For Proof-of-Work miners, the incentives account for 7.5M credits. The incentive period will last until 2023-01-26 or until all 7.5m credits have been released—whichever comes first. The current incentivized credit has reached 1.21M as of the time of writing. Track the incentives on their block explorer, and know more about how to mine Aleo at f2pool by clicking here.
Today marks a significant milestone for Aleo. We have just turned on incentives for our Testnet 🎉

We are getting closer to launching our mainnet and we invite you to join our mission💙

👇Here is what you need to know & how to start collecting Aleo Credits pic.twitter.com/03Nn4lbb4o

— Aleo (@AleoHQ) December 2, 2022
Development and network
Bitcoin
Bitcoin Core 24.0.1 has been released, with code to ensure you are connected to other full RBF (Replace-By-Fee) nodes. Here for the release notes.
Litecoin
Litecoin core dev has added MWEB fields to PSBT format to better support hardware wallets. Check the details in the link.
November Progress:

* Added MWEB fields to PSBT format to better support hardware wallets

Details: https://t.co/5yuneBE0Sr
* Click "Log In", then click the X to avoid registering

— David Burkett Ⓜ️🕸 (@DavidBurkett38) December 8, 2022
Hathor
Hathor is counting down to its third halving estimated to happen on 2023-01-10. The block rewards from the block height of 3,153,600, rewards are going to be 8 HTR.
Hathor has also released two useful features, read-only wallets and external notifications for developers in the Headless Wallet. Click here to read more.
Kadena
Kadena has released Chainweb Node, version 2.17. This release will change the current Pact and Chainweb Node experience for dApp developers and users.
Application and adoption
Bitcoin
According to a press release, the Hong Kong Stock Exchange has supported trading the CSOP Bitcoin Futures ETF starting 2022-12-16. It is the first of its kind available in Asia.
Strike, a service provider of the lightning network now supports sending USD to any supported phone number or bank account in Nigeria, Ghana, and Kenya, over Bitcoin's lightning network.
🪄 SEND GLOBALLY 🪄

you can now send US Dollars, which are received as local currency, to any supported phone number or bank account in Nigeria, Ghana and Kenya

the receiver doesn't need a bitcoin wallet, a particular account, or even a smartphone

global payments reimagined 🌍 pic.twitter.com/2sa9bR92gW

— Strike (@Strike) December 8, 2022
Decred
Decred has released Bison Relay, a peer-to-peer social media. It enables "zero knowledge communications" so that only the intended recipient can see the content. It is with built-in Lightning Network payments, for monetizing the content you desire.
Handshake
Handshake has released Excerpt, a new peer-to-peer blogging platform. Writers can host blogs on domains they self-custody. Readers can access and self verify Excerpt blogs access by light client resolver. Such as Fingertip.
Community and more
Dogecoin
2022-12-06 marked the 9th birthday of Dogecoin. Happy birthday, Dogecoin!
Dogecoin merged mine with Litecoin and is now growing as one of the biggest networks in mining revenues.
Ethereum Classic
ETC Cooperative has introduced Ethereum Classic Course to the community, it will be including 4 parts with 38 classes from the history, to the mechanism, and further into the outlook of Ethereum Classic.
Kadena
Kadena has updated Live Technical Roadmap for 2023, explaining plans for Kadena.js, Pact, and Chainweb.
Sia
The State of Sia is back to the Sia community, updating monthly about the development and team of The Sia Foundation.
---
The PoW Round-Up is our bi-weekly report on major news and mining insights in and around the Proof of Work ecosystem.
Monitor and help secure the PoW world with f2pool!