BTC machine electricity cost rates, community news on PoW networks.
Learn more about industry news, development updates, community happenings, and other aspects of the PoW world!
Mining industry
Bitcoin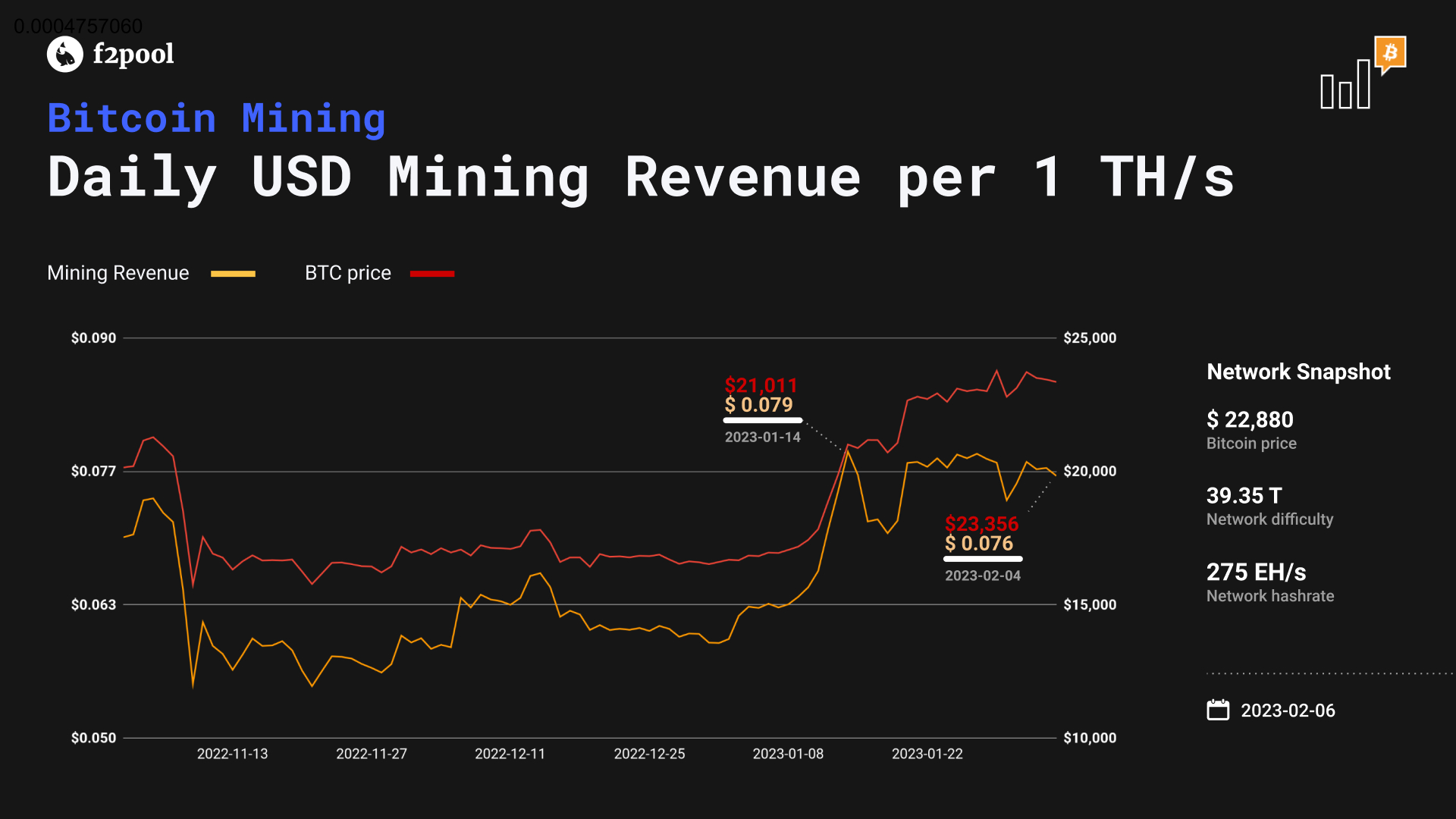 Thanks to the stable and slight uptrend on Bitcoin price, Bitcoin mining profits have mainly stayed around the level of $0.07. Looking back at the past 3 months, the highest point was marked on 2023-01-14.
Latest network difficulty was still seeing an increase to 39.35T, marking a new all-time-high. As price has also gained, the electricity cost rate for mainstream machines is yet to have a drastic increase. If we want to see most of the machines in the list generating profit, the BTC price needs to reach $25,000 and above. Please check the specific cost rates in the following table.
Litecoin and Dogecoin
On 2023-01-26, litecoin witnessed its all time high on hashrate, to 776 TH/s, following a good performance in the market. Since November 2022, Litecoin and its merged mining coin Dogecoin have been gaining popularity in mining. Let's review the mining revenue of Litecoin and Dogecoin.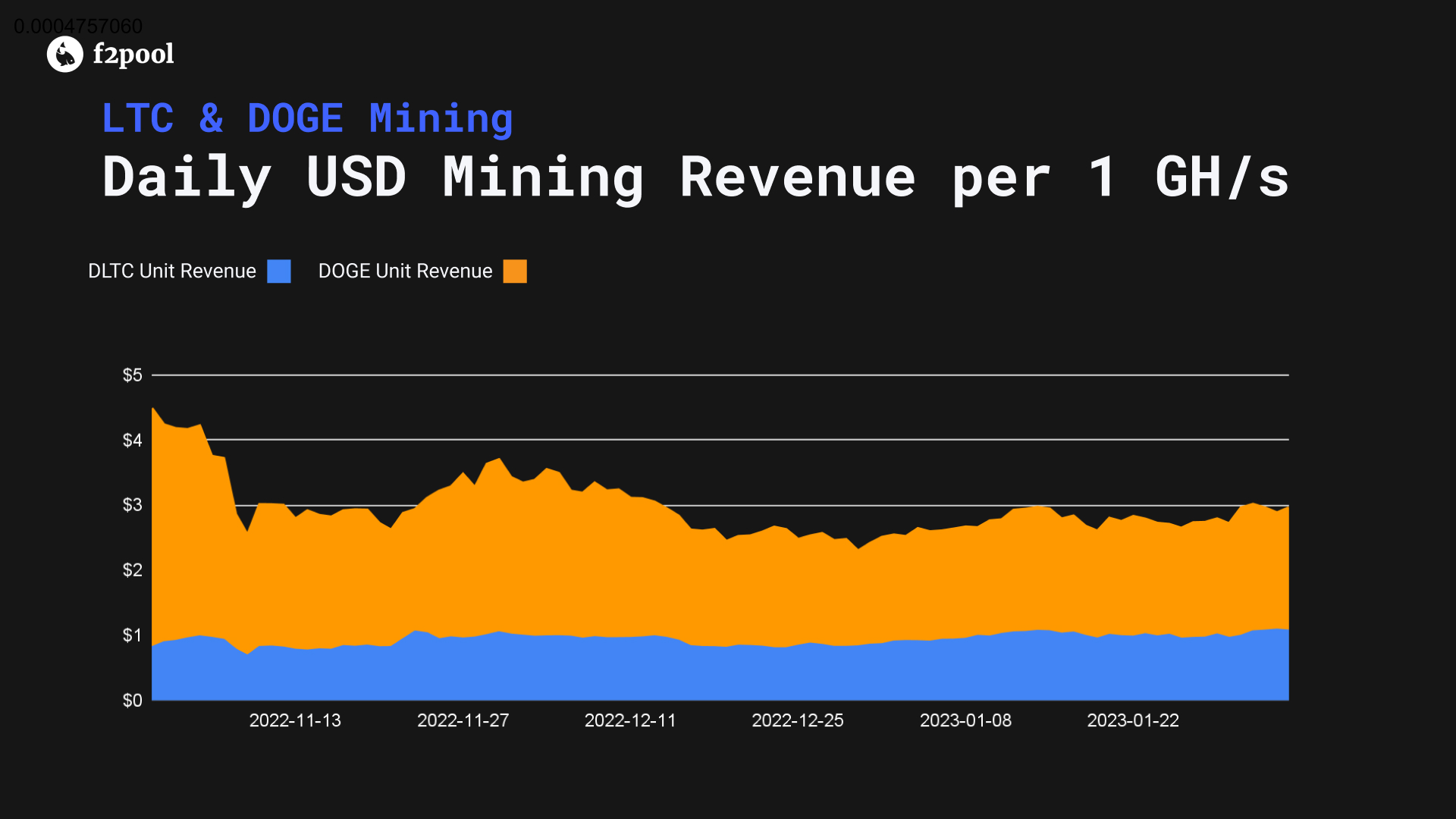 Aleo
Aleo mining ended on 2023-01-31. Around 3.1 million Aleo credits have been mined by a total of 49k Provers in this incentivized testnet stage. To recap this stage, you may refer to this following thread.
We are proud to announce that Phase Two of the Aleo Testnet was a huge success 🎉

Aleo is getting closer to Mainnet, and we invite you to be a part of the journey.

Here's all that Aleo accomplished and what to expect next👇 pic.twitter.com/py5jozjxjr

— Aleo (@AleoHQ) January 31, 2023
Development and network
Horizen
ZEN 3.2.1 is now available, preparing for the upcoming release of EON. This is a mandatory upgrade to be completed prior to 2023-02-20.
HorizenEON, Horizen's public EVM-compatible smart contract platform, is now live on Dune Testnet. It is now on the invite-only testing stage. Learn more in their Discord.
Handshake
HSD V5.0.0 has been released. It includes major node and wallet changes for the Handshake full node daemon.
Application and adoption
Bitcoin
Damus, a decentralized social media platform backed by Jack Dorsey, launched its application on App Store this week. It's the client of Nostr on iOS, based on cryptographic keypairs. It is also integrated with Bitcoin Lightning Network and allows users to send tips to creators. Learn how Nostr works here.
Hathor
Hathor has updated their mobile and desktop wallets preparing for the rollout of the new Wallet Service. Also, according to the latest post, they are expecting more web integration and dApps are coming to Hathor Wallet.
Community and more
Dash
The community celebrates the 9th anniversary of Dash. View a brief history in the following thread.
Evan Duffield liked the concept of internet money and launched Dash on January 18th 2014, under the name of XCoin, which was later changed to DarkCoin, and finally deemed another rebranding to "Dash", which is short of "digital cash" on March 25th 2015. pic.twitter.com/OLM3PPROEP

— Dash (@Dashpay) January 18, 2023
Handshake
2023-02-03 marked the 3rd anniversary of Handshake. Check out the milestone that Handshake community has achieved these years in the tweets.
There will also be a meetup for the HNS community on 2023-02-07 in Austin, TX, for utilizing web3 domain in business.
Horizen
ZenIP 42204 for the deprecation of the Horizen mainchain shielded pools was submitted recently. The goal is to ensure Horizen does privacy technology the right and sustainable way to drive ecosystem growth and minimize risks.
Decred
The latest Politeia Digest is out, recapping recent proposals that are under discussion and approved.
Sia
The February episode of The State of Sia has been released, updating about progress on apps and new tools, The Grants Program and Operations team.
---
The PoW Round-Up is our bi-weekly report on major news and mining insights in and around the Proof of Work ecosystem.
Monitor and help secure the PoW world with f2pool!