BTC unit revenue 5-month high, hashrate surging on KDA and CFX.
Learn more about industry news, development updates, community happenings, and other aspects of the PoW world!
Mining industry
Bitcoin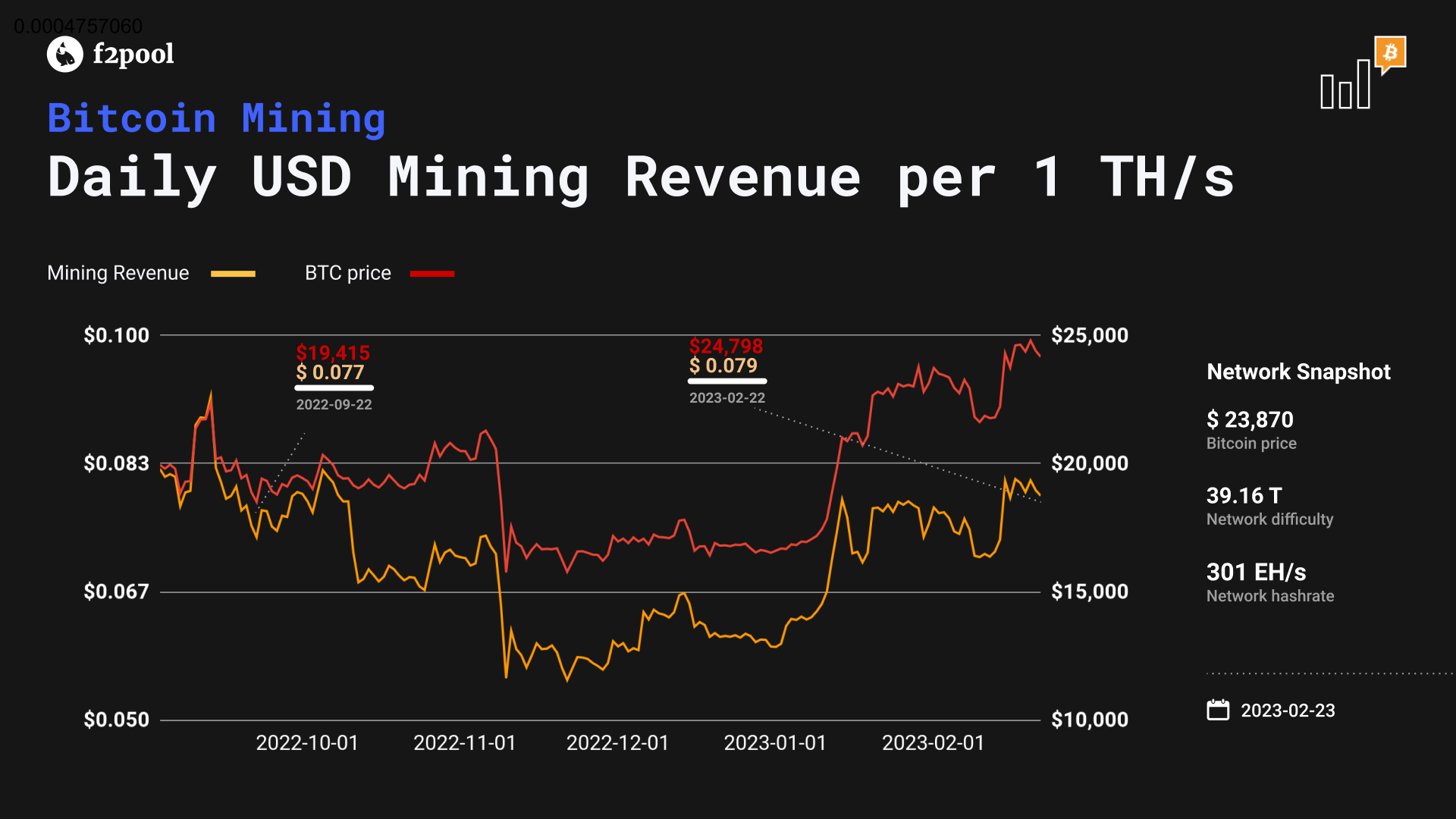 During the last difficulty cycle, Bitcoin mining unit revenue hit a 5-month high, due to the bull run approaching $25000/BTC. It once reached above $0.08 per 1 TH/s.
New hashrate is constantly joining the networks, making average block time faster, thus contributing to another significant gain of 9.95% on the difficulty. The latest difficulty has reached 43.05T — For the first time this number went up above 40T since Bitcoin's genesis block.
This aggregates the competition of miners, by making the cost rate higher. Check the latest table below to view the breakeven BTC price and electricity cost rates for mainstream ASICs.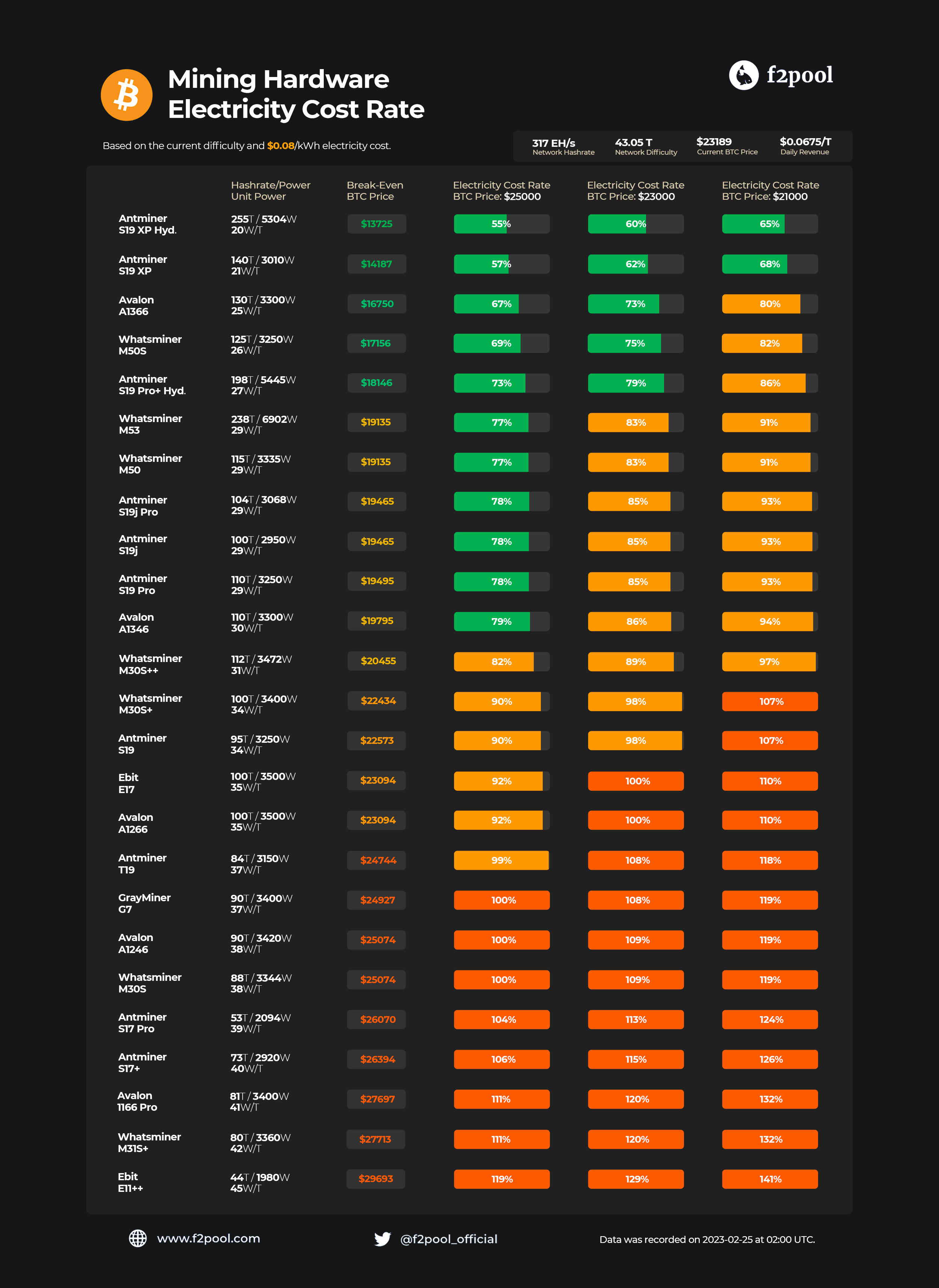 Litecoin and Dogecoin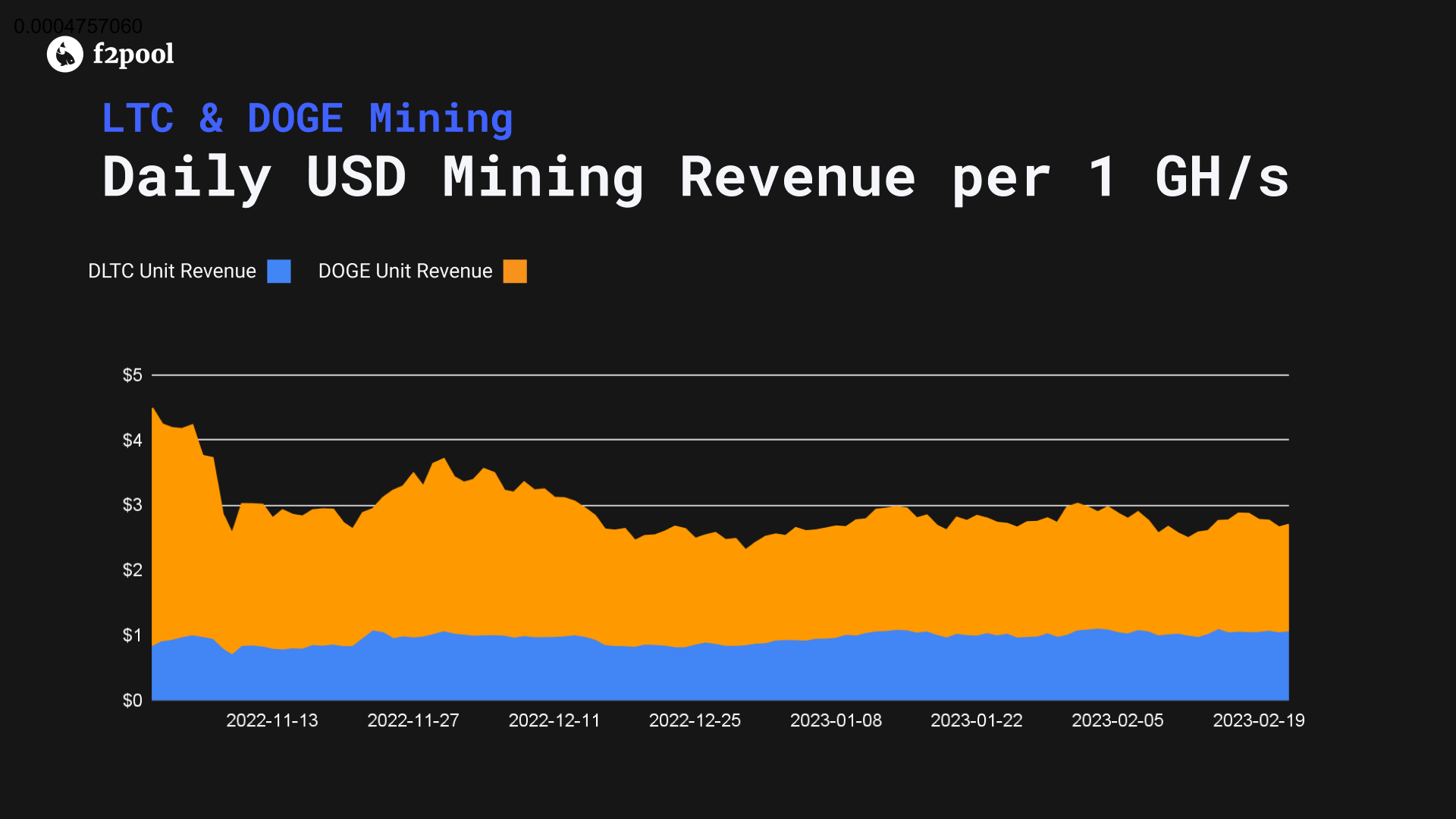 On 2023–02–15, Litecoin's hashrate marked its new ATH of hashrate to 886 TH/s, followed by the ATH on the difficulty to 24.48 M on the next day.
Generally, Scrypt miners' unit revenue hasn't seen significant changes during the past month, though on a slight slope, at the time of writing, the LTC+DODG revenue per TH/s is $2.57.
Other coins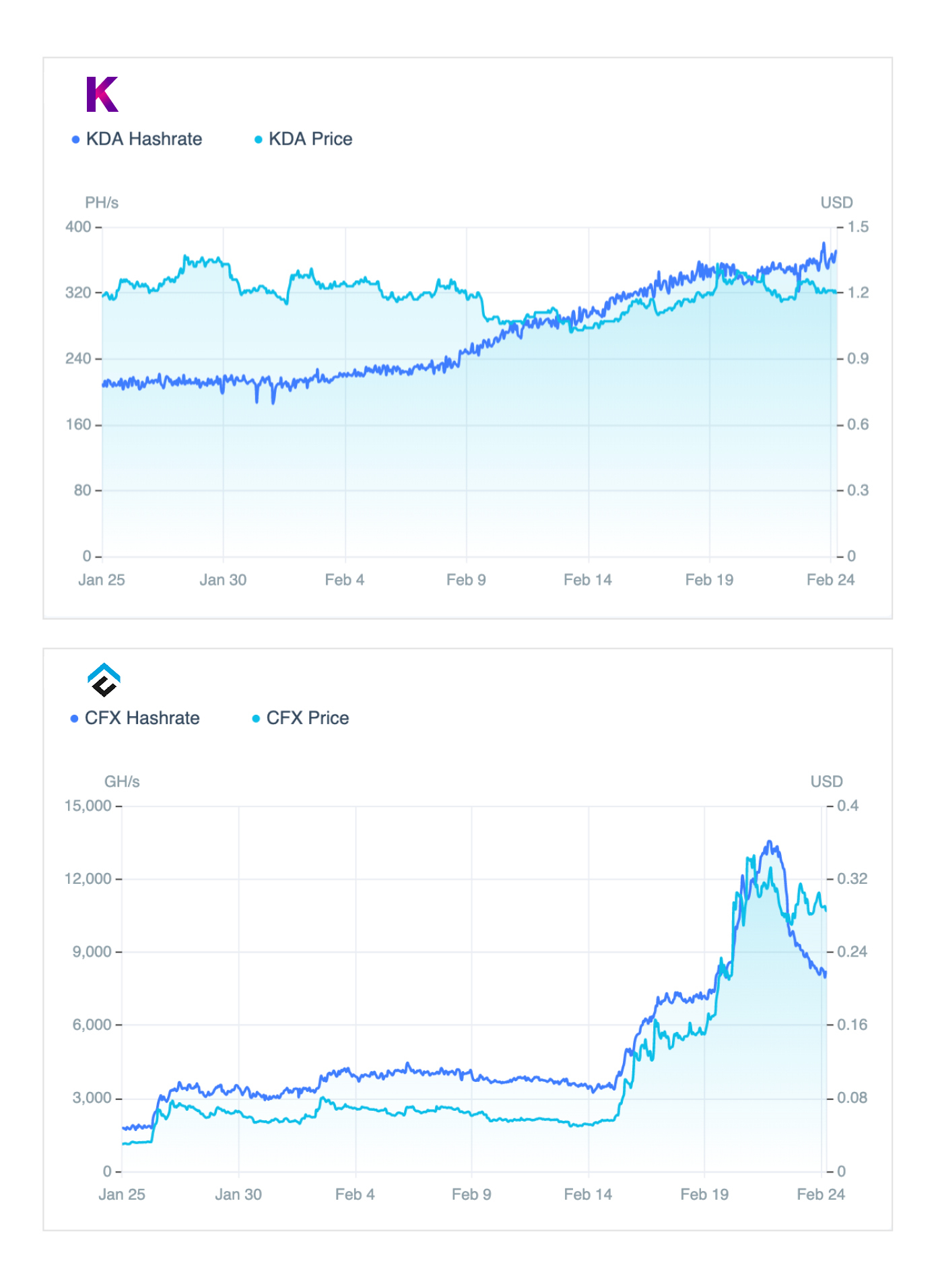 The top gainers on hashrate percentages over the past two weeks were Conflux and Kadena.
Conflux's hashrate started climbing with its coin price starting 2023–02–15, used to reach its highest point at the rate of 280%, then started to go down, due to mining rewards halving leading to its mining reward to 1 CFX per block. At the time of writing, the hashrate is still 100% higher than the time it started picking up.
Kadena has seen its hashrate gain from 2023–02–07 at 220 PH/s, to the current 386 PH/s, the reason is estimated as the new generation of ASIC gradually influx to the network.
Application and adoption
Litecoin
Following Bitcoin's new wave of Ordinal NFTs, Litecoin also started its Inscription journey. On 2023–02–19, a developer forked Ordinals on Litecoin, and inscribed MimbleWimble whitepaper, as the first Oridnal NFT on it. Litecoin also has Taproot in its protocol, making it possible to implement similar applications supported by Taproot on Bitcoin. By 2023–02–23, over 20,000 Litecoin Ordinal NFTs have been inscribed in the network.
Decred
Bison Relay, a peer-to-peer social media on Decred has released its v0.1.4, with bug fixes and performance improvements.
Handshake
Bob Wallet V2.0.0 has been released. It adds support for multi-signature wallets, the ability to transfer names to HIP-0002 address aliases, and includes HSD V5 with better batching for bulk actions.
Kadena
Chainweaver 2.2.3 is out with quicksign support for desktop applications, the quicksign API allows wallets to sign multiple transactions in a single request.
Ergo
Ergo's sixth ErgoHack is complete, with a varied selection of amazing submissions. The proposals were marked here.
Community and more
Decred
Decred January Journal is out recapping the recent development and ecosystem progress.
At the beginning of February, the community also came together and celebrated Decred's 7th anniversary.
#Decred is now 7 years old🥳🎂🦬

This year, we had a lot of fun celebrating this event.

Decrediton, Lightning Network, DCRDEX, Politeia, Self-funded Treasury, Consensus changes, Bison Relay, and many more features have been developed.

And let's not forget our strong community. pic.twitter.com/M6ZhvWczqZ

— Insaf NORI 🦬 (@in_insaf) February 7, 2023
Handshake
HandyCon 2023 has announced its speaker list. This will be the third online conference dedicated to Handshake that will start from 2023–03–08 to 2023–03–10.
Horizen
The ZenIP 42204 survey was closed with an overwhelmingly positive response. 75.3% of survey takers are favorable to the deprecation of shielded pools, 12.7% are neutral, and 11.9% are not favorable. Thus, the project will begin moving forward with ZenIP and plan the changes into a future ZEND software release.
---
The PoW Round-Up is our bi-weekly report on major news and mining insights in and around the Proof of Work ecosystem.
Monitor and help secure the PoW world with f2pool!